The First Of April: Links For Quilters, Fools and Fun
Lazies, I have a hodgepodge of links for you today. My April Fool's treat for you, I finagled (whined relentlessly) a sneak preview of two items – a day in advance – just for us! Plus, some fun links to get you in the spirit of April Fool's day tomorrow.
A Must-See Sneak Preview – Quilter's April Fool's
AF Enterprises, a fictitious subsidiary of Quilter's Warehouse, offers this year's 'new' dream quilt product. This is a long-standing April Fool's tradition aimed at our quilter's funny bone and satisfying the notions needs of your silly inner quilter. Thank You to John at Quilter's Warehouse.com for posting a day early just for us!
http://www.quilterswarehouse.com/itemdesc.asp?ic=AFE2008
See the gallery of AF Enterprise products from previous years here:
http://www.quilterswarehouse.com/storeitems.asp?Bc=AFE
Sneak Preview – Patchwork Party – Summer Edition
The next Patchwork Party starts tomorrow, April 1st, but we get a sneak preview today! Start here with the gallery. Thank You to Deb of Stitchin' Heaven for posting a day early.
http://www.patchworkparty2008.com/gallery.html
The Best of the Foolish Best
The Museum of Hoaxes offers a fun list of the top 100 hoaxes. My favorites: The Swiss Spaghetti Harvest and Whistling Carrots – together with my whining from earlier, it's meal time!
http://www.museumofhoaxes.com/hoax/aprilfool/
Printable Pranks
FamilyFun.com offers a wide range of pranking ideas and resources. Hands down, my favorite is the printable pranks. I love this one. Since my hubster does not read my blog, I may have to make up a box of Reece's Sneezes for him. Start here, then surf a bit.
Make your own box of prank candies.
Pat Sloan Starts The Fun Early
A few weeks ago, designer Pat Sloan hosted a 'Sew Along' through her blog. Pat sent her Sloanies out and about around the Internet for some fun. One of my favorite links from that event is MagMyPic.com where you can make fake magazine covers with your photos.
http://www.magmypic.com/
Here's the magazine cover I made with my dog Honey to the right, and her sister Sweetie to the left. Pat will keep us posted on details for her next event.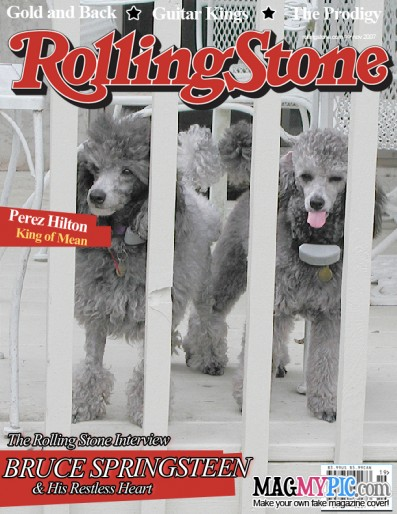 History of April Fool's Day
Where it all began. While I couldn't pin down any facts, here is a nice offering for the possibility of how April Fool's Day began.
http://www.museumofhoaxes.com/hoax/Hoaxipedia/April_Fools_Day_-_Origin/
Tell Me About It
Have a fun link to share? Post it in the comments for all Lazies to enjoy.
Enjoy!
Joan
[tags]April Fools, Patchwork Party[/tags]