Stir Up A Batch Of Trendy Purses Using Your Favorite Kitchen Textiles
Lazies, What better way to unwind after dinner, than to clear the table, grab the placemats, pot holders, and tablecloth and head to your sewing room to cook-up a purse or two. Today's guest blogger, Cheryl Weiderspahn of Homestead Specialties pattern company, shows us how in her book 'Low-Sew Boutique'.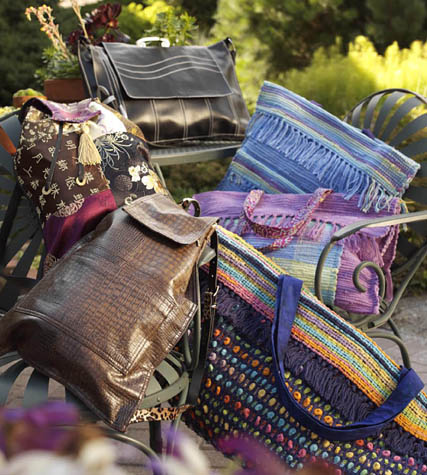 Purses, totes, back packs and more from kitchen textiles.
Here's Cheryl
Like a scene from Cinderella, lowly household necessities magically transform into royal fashions fit for a queen. . . . . "With Cinderella safely off to the ball in her Pumpkin-turned-Coach, Fairy Godmother dusts off her hands and assesses the humble cottage. Just nicely warmed up after Cinderella's extreme make-over, she was ready to have a little more creative fun! With no one at the treadle, the machine starts buzzing.
Under the direction of Fairy Godmother's Low-Sew magic wand…
– A placemat floats from the table to the wall cabinet latch and handle. Poof! Together they transform to a Summer Classic Clutch fit for a princess.
– At her cue, the hearth rug shakes itself and twists and turns into a Beach Tote!
– Potholders and oven mitts transform into a fur-trimmed Winter Ensemble of hat, mittens, scarf and purse.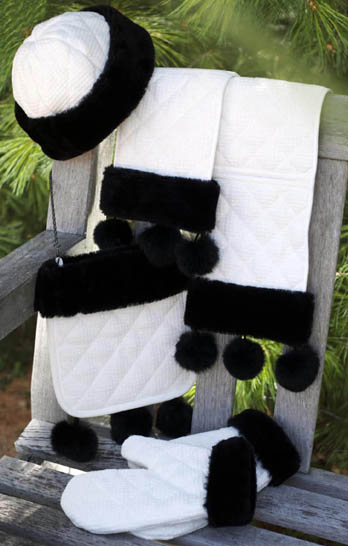 Black and white Winter Ensemble.
Giggling with delight, she mischievously eyes the chicken wire, egg timer, feather duster and wooden spoons to make the Three Minute Egg Purse.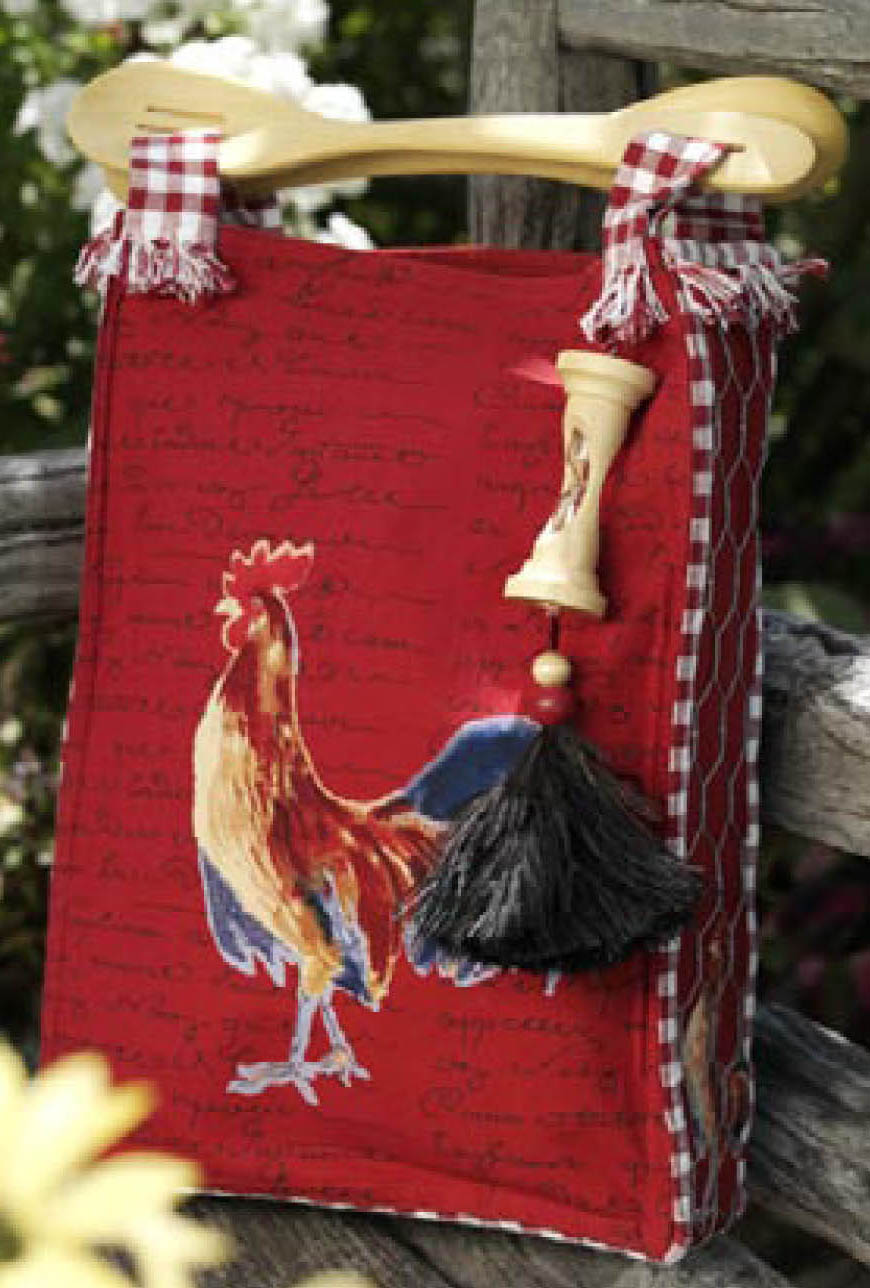 Three Minute Egg Purse
Oh, the mean Stepsisters will be so envious!"
Cinderella calls it "magic."
Teen and twenty-something crafters call it "re-purposing" or "altered art."
Green enthusiasts call it "environmentally responsible."
Budget-conscience sewers call it "recycling" or "thrifting."
Experienced seamstresses call it "time-saving shortcuts."
I call it "Low-Sew Boutique."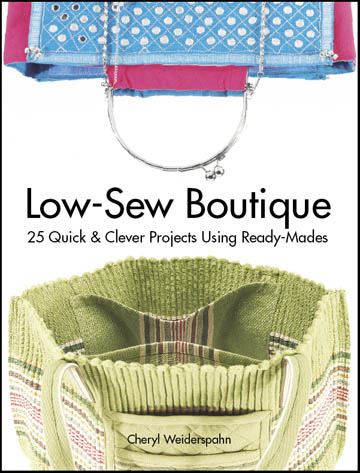 Low-Sew Boutique by Cheryl Weiderspahn.
Sewing With Ready Made Items
But whatever you call this trend, sewing with ready made items allows you to take advantage of supplies that are already measured and cut out, the edges are hemmed and the back is already lined for you!
Choosing Materials
Choose imitation leather or upscale fabric that is already pieced and quilted, embroidered and embellished, beaded and bound, or feathered and fringed. (All at an affordable price!) Quickly create stylish boutique-worthy bags while taking full advantage of someone else's skill by cleverly re-purposing ready-made, prefinished items.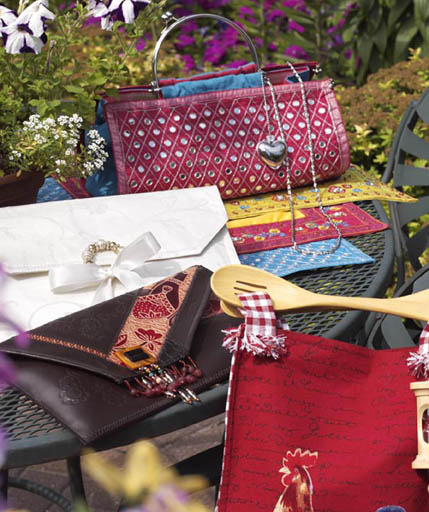 Love the wooden spoon for a purse handle!
Spotting Purse Potential
Learn to recognize "purse potential" in quirky kitchen supplies like wooden spoons, tea strainers, egg timers, placemats, potholders, tea towels, cloth napkins, coasters, oven mitts, table cloths, rugs and napkin rings.
Even common household and hardware items like feather dusters, soap dishes, chicken wire, belts, necklaces, wood hangers, cabinet latches and handles, metal grommets, window screening and clear vinyl give a professional "I-can't-believe-you-made-that" touch to your projects.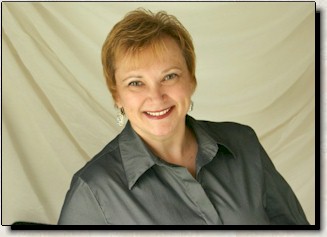 Author and designer Cheryl Weiderspahn.
Expert Tips From Cheryl
Some of the "out of the normal realm of garment sewing" techniques include using Jeans Needles when sewing through the heavy layers. If your machine flat-out refuses to sew through the bulky layers, glue with E6000 Glue and clamp with pinch-type clothespins. Boning or stays (from your old prom gown) give edges needed structure. And get out your manly screw drivers, hammer and needle-nose pliers. Let the testosterone flow! (No belching!)
Low-Sew Boutique Challenge
Cheryl just announced her Low-Sew Boutique Challenge (details on her website here.) There are great prizes for this challenge!
Gotta Have The Book!
Order your autographed copy of 'Low-Sew Boutique' at http://www.homesteadspecialties.com/.
See Cheryl In Action
You can see Cheryl's creative magic in an episode of Kaye's Quilting Friends online, sharing her 'Wear a Vest 48 Ways' episode at KayeWoodTV.com here.
Question & Answer Event With Cheryl
We are having a Q&A event with Cheryl at my Yahoo group today through Wednesday (March 10-12). Join us for the fun.
Or post questions/comments here at the blog for Cheryl. She'll choose a handful of questions and we will have a follow-up post here this Thursday with Cheryl's responses.
Enjoy!
Joan
[tags]Cheryl Weiderspahn, placemat purse[/tags]