Spring Quilt Market, Part 3
Lazies, Catch-up with Part 1 and Part 2 of our story.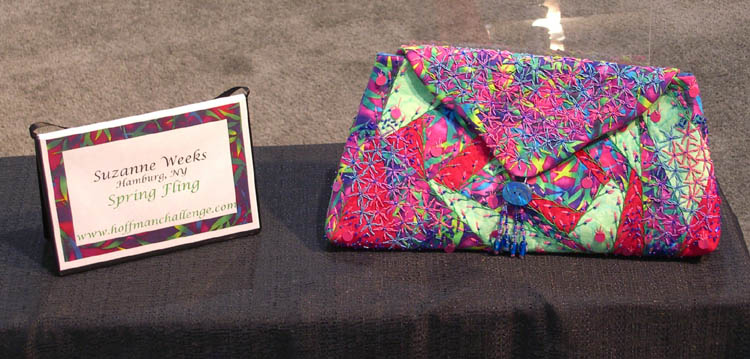 'Spring Fling' by Suzanne Weeks.
Friday was the first day the exhibit hall was open to everyone. By now, I've discovered where to buy a good cup of coffee and I've become friends with the coffee ladies. They were very nice and I saw them often. I started a number of cups of coffee, I finished very few. The coffee ladies remembered my order, teased me a bit when I changed from a small coffee to a large 'Ohhhhhh, She wants a large coffee this time.' (Teasing is the universal indicator of acceptance in my world – so, in my own mind I had been accepted into the coffee ladies' club. Had I stayed much longer, I would have shared my legendary custom mixed box of See's chocolate. However, we weren't that close and they were locals and could get their own.) The coffee at the hotel was pretty bad, so I was anxious to see my coffee ladies each and every morning.
No trip would be complete with out my very own ensemble performance of Lazy Girls. Our first cast member was the City Bag, in the starring roll of briefcase. She performed beautifully, handling her lines and hitting her mark every time. That comfort strap on my shoulder was a welcome reprieve to bags of trips past. Next, a recurring role for this veteran, the Gracie Handbag. More often than not, she's my go-to Girl.
Not to be missed – in her lifetime 10-year run in the role of trusty sidekick is the Wonder Wallet. Not just one, but two. One on stage for every scene, the other – an understudy waiting for her big break who spends her time tucked away backstage corralling props such as back-up business cards, receipts and the like. Finally, the stage mother, Perfect Pouches, neatly tucked away inside other starring roles, holding essentials that move from star to star without missing a beat or losing a tissue. I don't know how many of these I travel with any more. I use large ones inside my luggage to give myself the illusion of privacy from the luggage checkers. I use small ones inside my purses/bags for little, loose items that try to make a break for it and hide inside my purse. Perfect Pouches are free-range zippered pockets in a never-ending quest to serve me in any way needed. Good girls, I mean good Lazy Girls!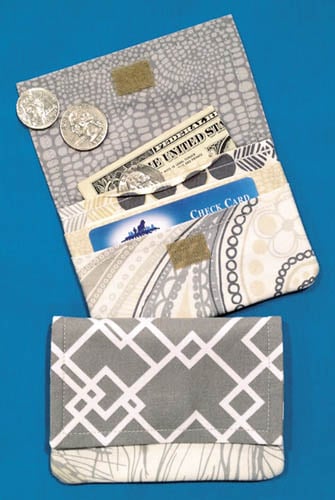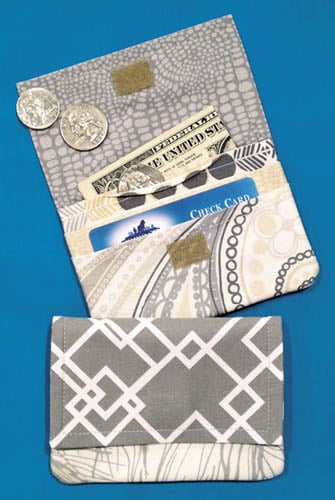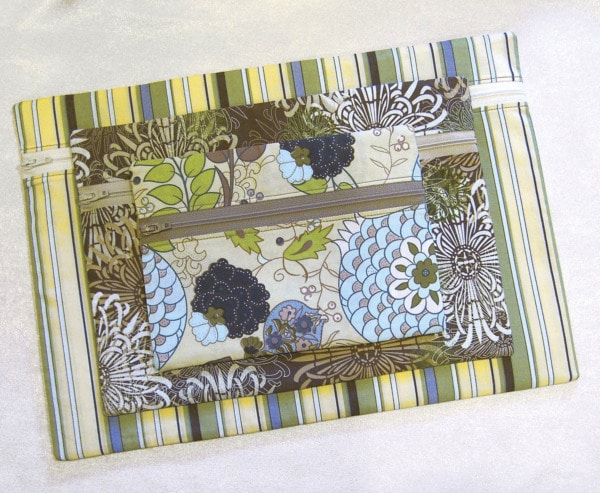 Wonder Wallet and Perfect Pouches.
On to the show…I had a ball with the 'Bold Bags' book signings early Friday. My editor Cheryl Johnson and Debra Nettles from Leisure Arts showed up to make sure I was okay and had everything I needed. The first person in line for the signing was Denise Clason. It was nice to finally meet Denise. I've been following her work for a while. Denise just released a book in October and designed a line of buttons with JHB.
I had a chance to see a lot of familiar faces and chat with some gals a bit during the signings. After a quick bite to eat and a bit of browsing around the exhibit hall, I headed over to Clover's booth for my afternoon demonstrations. I was demo-ing their rotary cutters and my two specialty rulers – the Flying Geese x4 and the Lazy Angle. That was simply fun.
I fell in love all over again with Clover's rotary cutters. And up until now, I've been using them without the little light attachment. That will change quickly. The biggest thing I can tell you is that it takes away the shadow cast by the depth of an acrylic ruler. It gives me light, right where I need it as I cut. Sold! No matter how much lighting I have in my studio, nothing matches the ability of this product to give me light while I cut. Hey, I have an Ott light at my sewing machine for the very same reason. The Clover booth is always hopping with activity and tons of people. Lots of people stopped by to make yo-yo's with the new Yo-Yo Maker tools.
Oh, I ran into Lonni Rossi on the way back from lunch. She's just fabulous, in my humble opinion. She showed me her new Graceful Geisha's line – very interesting and beautiful. I'd expect nothing less from Lonni. Cut snippets from the fabric panel on the right to 'create' or 'paint' the geisha on the left. Then place the geisha on a background fabric or use in a quilt project.
After my stint at Clover's booth, I walked around a bit more and had a chance to see some of the items in the special exhibit area.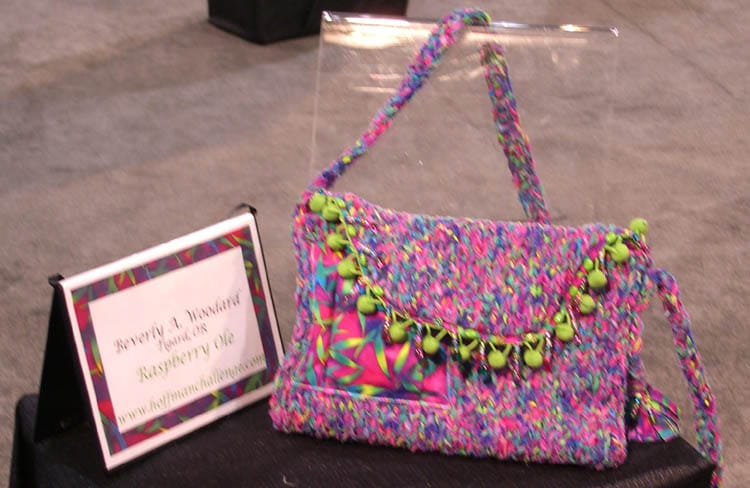 'Raspberry Ole' by Beverly Woodward. Click image to enlarge.
I ran into Kaye Wood a number of times. It's always nice to see Kaye and chat a bit. The picture of us turned out really blurry. I'm quite a bit taller than Kaye, and I have a tendency to crouch down a bit when we have our picture taken together. I'm not sure why I do this. Perhaps it's due to all of the appearances on her show where I stood next to her in my bare feet in hopes of leveling the playing field a bit. Kaye and I ran into Jodie Davis of QNN (Quilter's News Network) and she shared her good news about QNN being purchased and she's the new President. Congrats Jodie!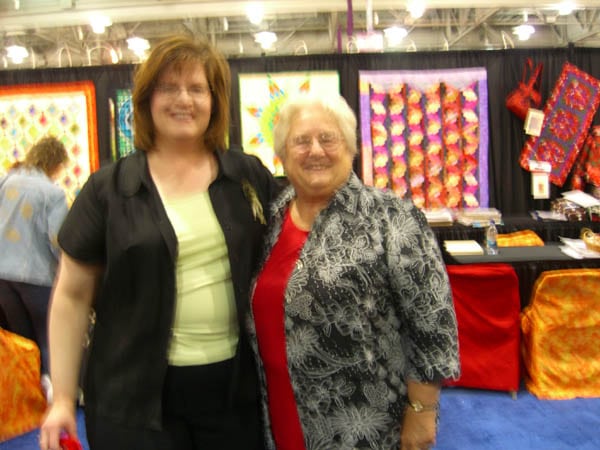 Kaye and I smiled so fast the picture blurred.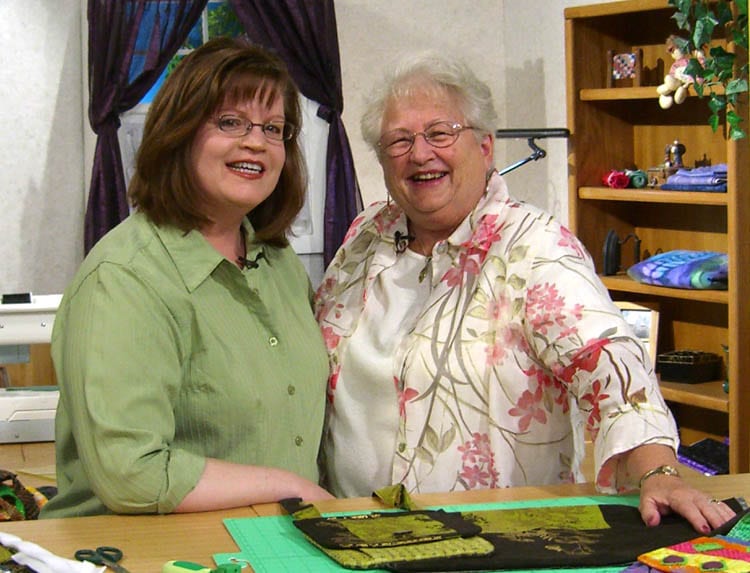 Here we are on the set of Kaye's Quilting Friends back in December. I'm in 'full crouch' mode here. We were laughing so hard I am surprised the picture turned out this nicely.
I also saw my friends Kathleen and Shelly at Starr Designs hand-dyed fabrics.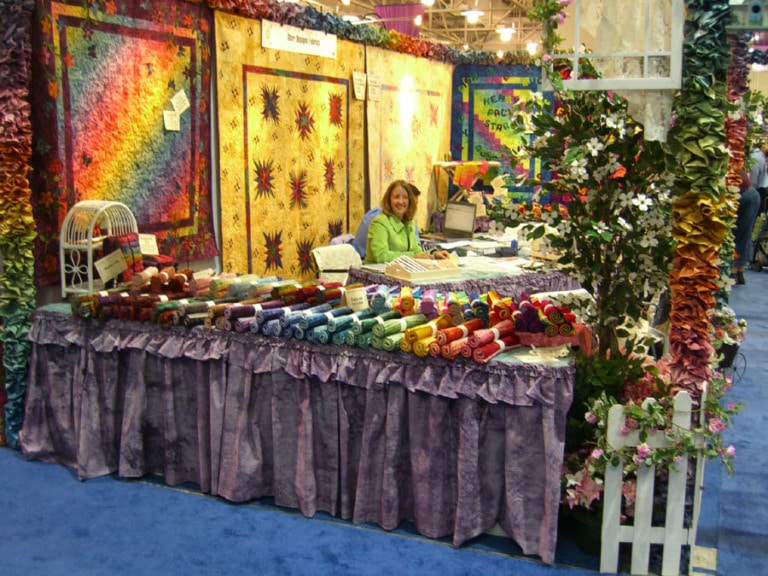 Starr Designs' booth always makes me think of the big 64-pack of Crayola crayons – I just want to play and color!
I saw Patty and Sandi from Just Another Button Company. My friend Cecile of JABC didn't make it to this show, but I'll see her next month here in Columbus for the TNNA show. JABC was quite conveniently located across the aisle from Nancy Halvorsen of Art To Heart.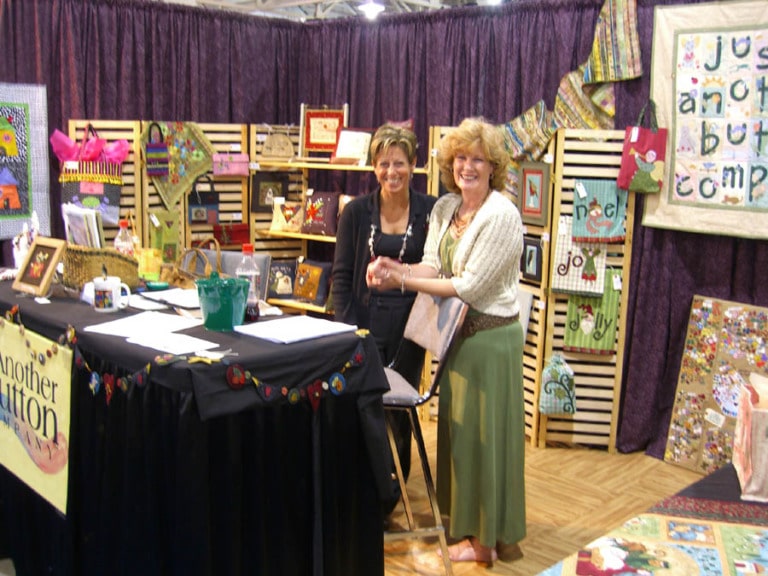 Patty and Sandi from Just Another Button Company.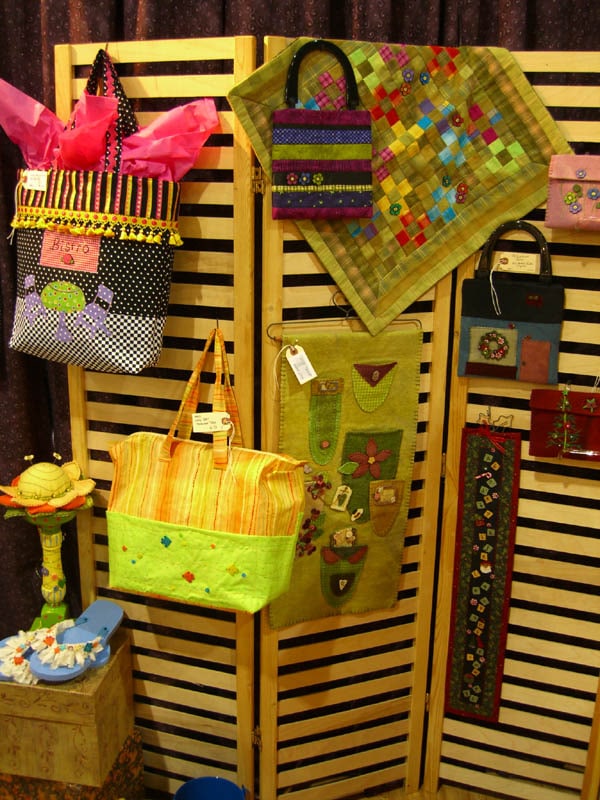 JABC display of bag samples. I see a Summer Tote and two Katy Bags.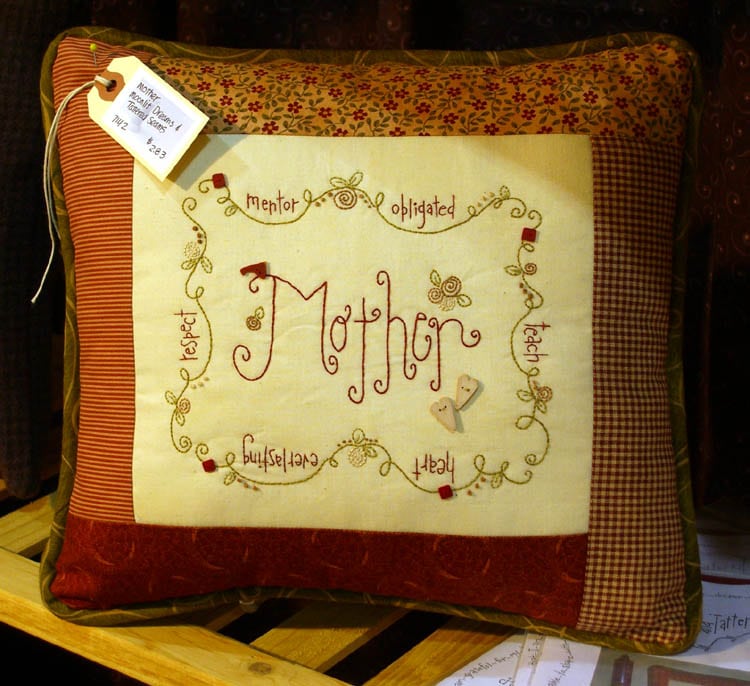 Adorable pillow from JABC.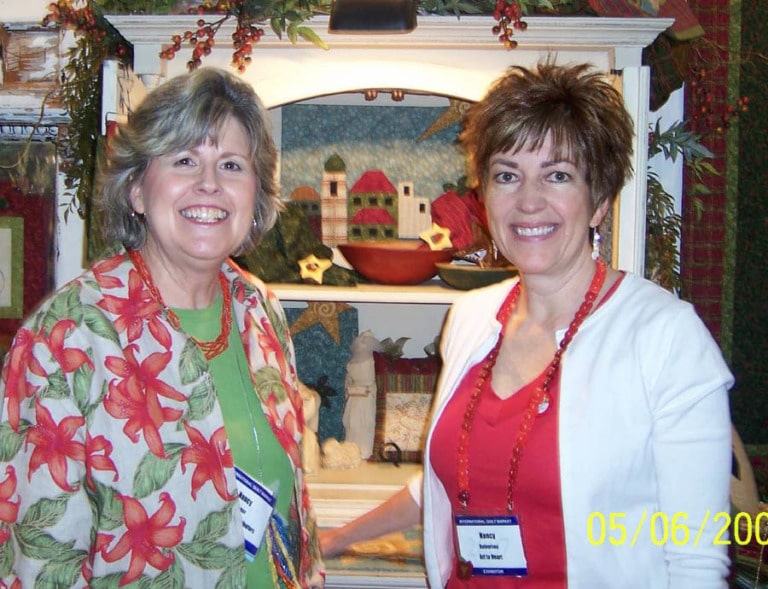 Nancy Weber from Checker and Nancy Halvorsen of Art To Heart.
There seems to be an inordinately large number of ladies named 'Nancy' in the quilt industry. Not too many with my name, although I did meet four on Friday alone.
Image from Checker.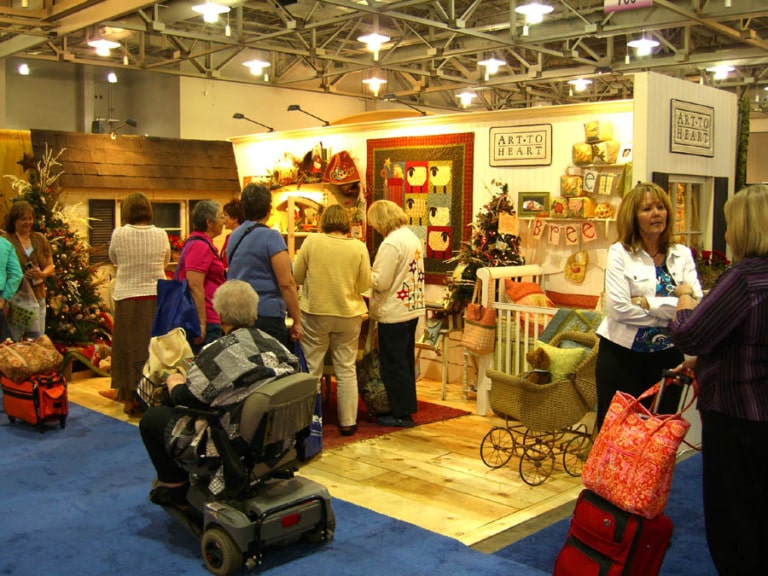 The Art To Heart booth is always hoppin.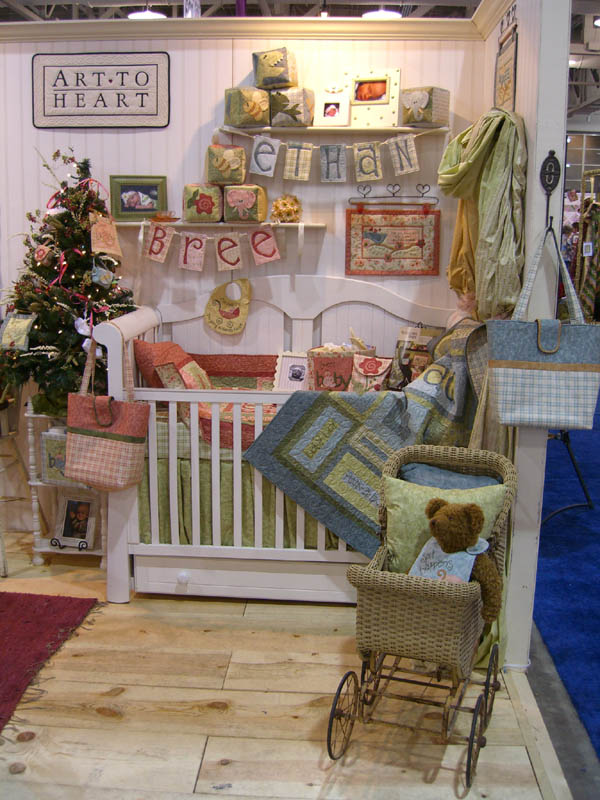 New 'Winsome Baby' by Art To Heart.
A small group of us went back to the Red Rock for dinner then called it a night. I opted for the halibut fish and chips. I'm not a big fish and chips fan, but I am a halibut fan thanks to my friend Carolyn – the original halibut girl (trust me, that's a compliment). While vacationing her way through Alaska two years ago, Carolyn fell in love with halibut and it became the under current of her trip. Her motto for the trip became 'I haul butt for halibut'. I believe a t-shirt echoed this sentiment. Carolyn's trip reports home never failed to mention which incarnation of halibut crossed her plate that day. Sometimes twice a day if I recall correctly. Carolyn had the insight, and good-girlfriend training I might add, to send me some Alaskan halibut while she was there. Oh my goodness, I champion Carolyn's motto now, sans the t-shirt. So fish and chips was a halibut incarnation I had not checked off of my list until that night in Salt Lake.
Next time – The final installment in my trip report, Part 4.
Joan