Spring Quilt Market, Part 2
Lazies, If you missed it, catch-up with Part 1 of our story here.
Thursday, Day 2, we head to the show for some prep work before the exhibits open the next day. There was a nice display of bags from the Hoffman Challenge inside the exhibit hall. Here is one of the designs.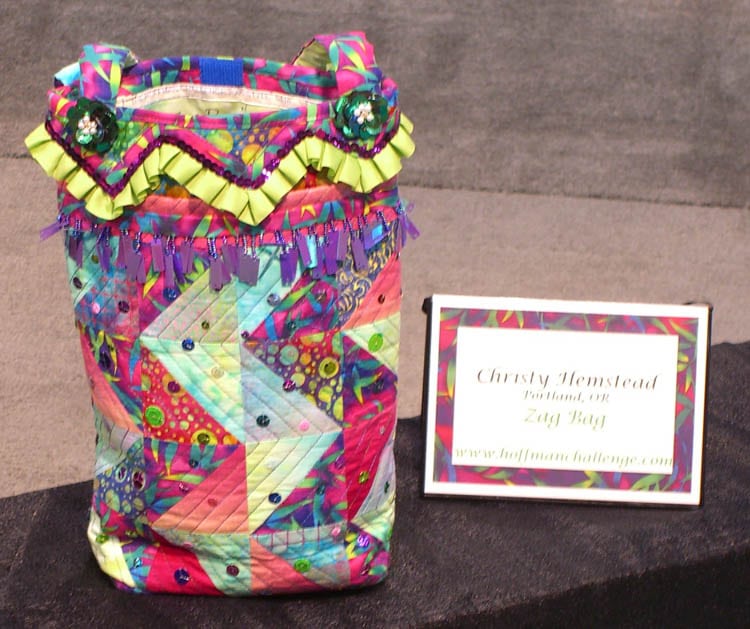 'Zag Bag' by Christy Hemstead for the Hoffman Challenge.
There is a lovely arrangement of windmills across the face of the Salt Palace Convention Center in Salt Lake City, UT. Each windmill is set at a different angle, I assume to catch the wind from any direction. The windmills power a collection of wood chimes located in the tower dome above the doors to the center. Visitors are treated to a wonderful song from the chimes as they enter Salt Palace.

Image from GeoSociety.org.
The convention center was already hopping by the time I made it over there on Thursday morning. The SchoolHouse lecture and demonstration sessions run all day, every 20-40 minutes in twenty or so rooms around the convention center. There must be at least 200 sessions from which to choose. This means there are tons and tons of shop owners/staff/teachers/designers/vendors roaming from room to room twice an hour, all day long. And some miscellaneous mingling throughout by everyone.
SchoolHouse is like a day-long game of musical classrooms with five minutes between classes before the music stops and you need to find a seat. It's fun just to watch. Authors introduce their new books, designers showcase their fabric lines through their new quilts, others share inspiration and insights. It's a lot to take in. By the time the store owners and other attendees hit the exhibit floor the next day, their minds are already packed with good stuff.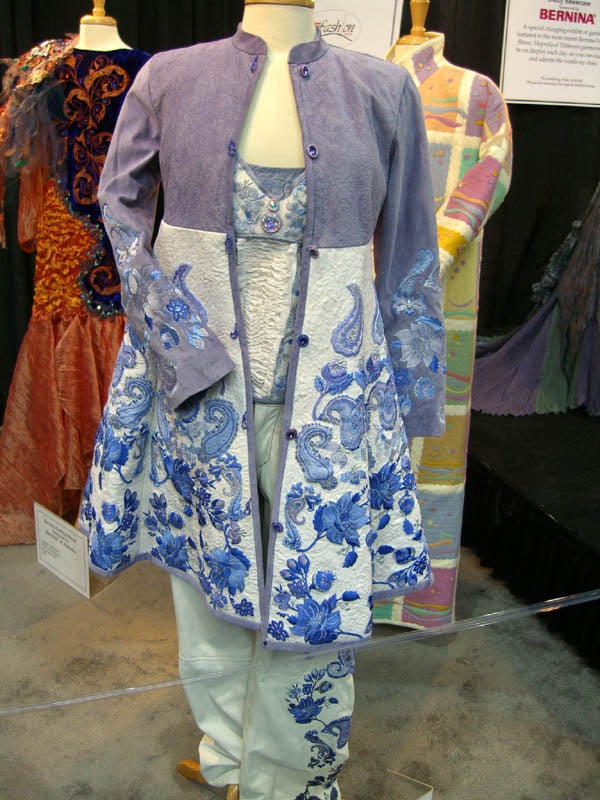 Bernina Fashion Show. Click image to enlarge.
So, Thursday was also the first full day of set-up for booths on the exhibit floor. There were 29 rows of 50 booths each at this show. I'll tell you right now, I didn't make it around the entire floor. I aggravated an old ankle injury about a week before the show, so I put myself on ankle probation and chose my errands cautiously. When we arrived on Wednesday, the weather was warm and fabulous. On Thursday it was cold and rainy. The doors to the docks were open across the back of the exhibit hall and the cold air invaded the whole hall. We were chilled the entire day.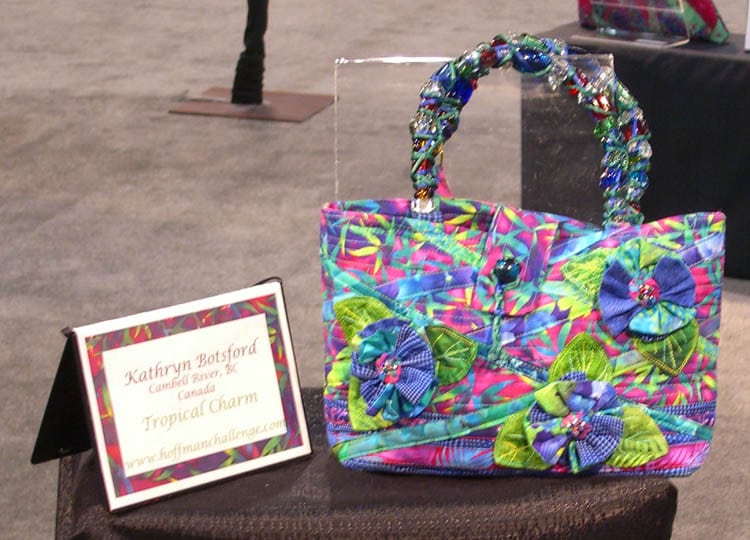 'Tropical Charm' by Kathryn Botsford.
Click to enlarge for a better view of the flower embellishments and the handles.
My first task was to verify that the 'Bold Bags' books for the signing arrived from Leisure Arts. Then I dropped off my samples and supplies at the Clover booth for my demo's. Kaye Wood and I were sharing time at the same demo space in Clover's booth. Kaye had the morning shift, I had the afternoon shift.
I helped Rita from Creations SewClever prepare for her SchoolHouse session for her new book 'Mystery Quilts'. I had the important job of packing little chocolate bars into the goodie bags to be handed out at her session. Perhaps I was given this task because I handled the See's chocolate order for everyone so well the day before. Rita's session was late in the afternoon, so the chocolate was an important part of her event, offering a sweet morsel to perk everyone up late in the day. We went over her notes, ran through some questions, then promptly left her notes at the booth while we headed off to find her class room. We did remember to bring the chocolate!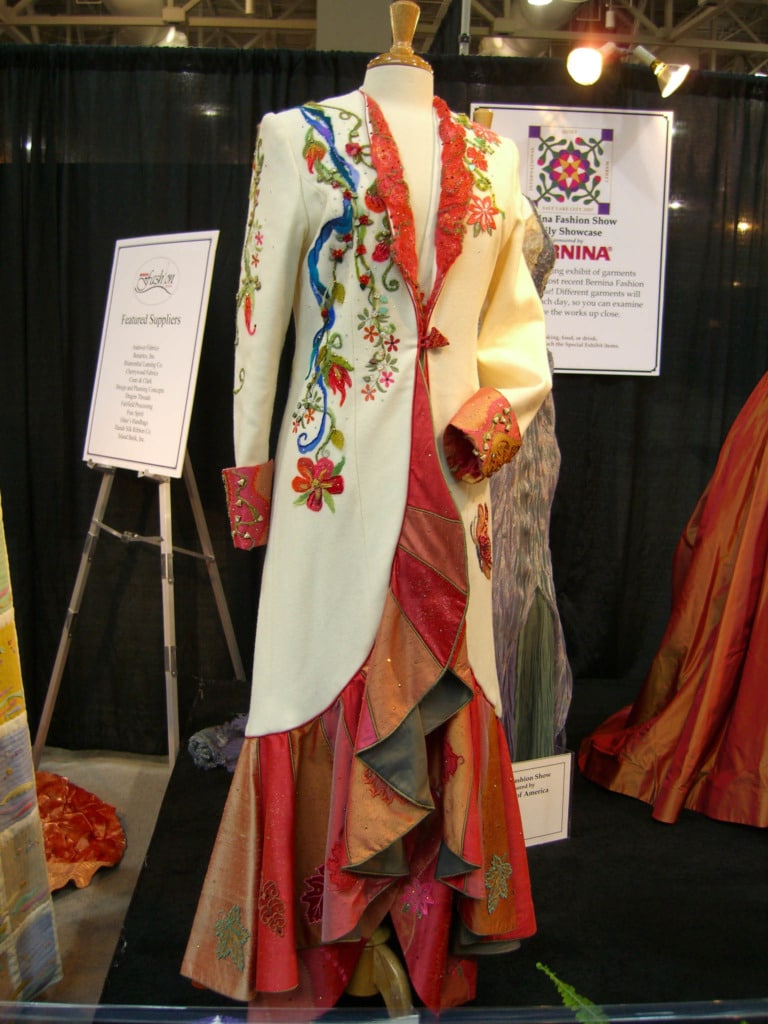 Bernina Fashion Show. Click image to enlarge.
Well, Rita's session was packed and she did a great job. My friend Cheryl Weiderspahn of Homestead Specialties had a session for her book 'Low Sew Boutique' in the next room at the same time. I at least got to see Cheryl before her session, get a 'hug and hello' (standard fare for the whole event) and I met her lovely sister Marilyn.
Rita and I then ran into Janet from Calico Gals and it turns out that Janet had been in Cheryl's session, so we got to hear all about it. Janet also had a front row seat in an early session to hear Marie Osmond introduce her fabric line. Then it was off to Gerri's SchoolHouse to see her quilts and new fabric line. Gerri did a great job introducing her new fabric line 'Garden Party' from Troy.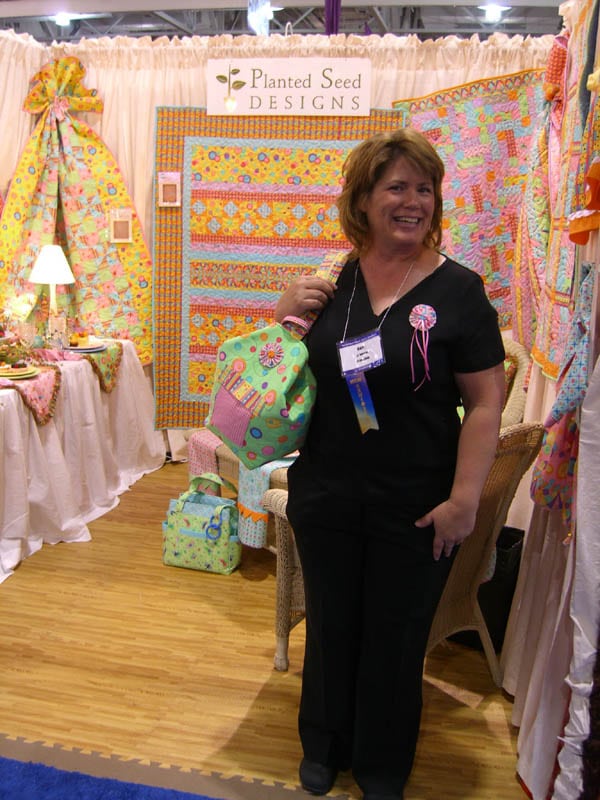 Gerri in her booth with the Chelsea Tote I made for her.
Gerri won second place in the 'Most Creative' booth category for her 'Garden Party' themed display.
Thursday evening was time to catch up with a bunch of my girlfriends over dinner. It's absolutely one of my favorite parts of going to these trade shows. Six of us went out to dinner at the Red Rock Brewing Company. The food was fabulous and the stories were even better. My favorite story of the evening was of one gals' toddler repeatedly making a 'tap tap tap' noise as she ran through the dining room followed by yelling 'weeeeeeee'. After a few times of hearing this routine, my friend discovered her little girl had made a slip-n-slide across the floor of the house using a big jug of cooking oil. When her hubby got home she said 'I have two words for you – safety latches.' And he went to get some right away. Can you imagine the clean-up on that? Yikes!
The talk of the day was the possibility of peeking in on the evening practice session of the Mormon Tabernacle Choir nearby. Everyone wanted to go. However, we missed it due to our late start for dinner.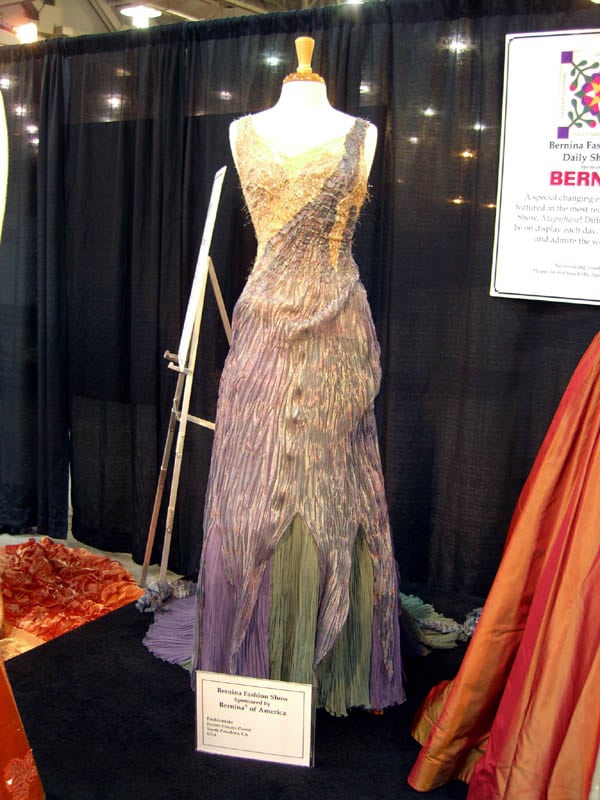 Bernina Fashion Show. Click image to enlarge.
Next time – Part 3
Joan