Sew News Magazine Features Our Summer Tote
Lazies, the Summer Tote design by Lazy Girl Designs is featured in the October 2006 issue of Sew News magazine http://www.sewnews.com/.  You can see our tote in the New Products section.  I sent several samples to Sew News for them to choose from and they featured the sample made from Asian themed fabrics.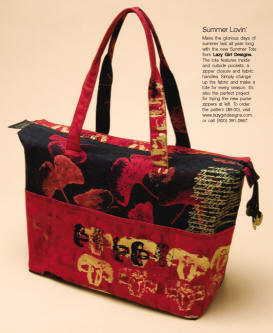 I used only two fabrics for the whole bag.  Both are red/black/gold combo's from two different fabric lines (called Ginko Fantasy and Cultivated Cottons) by Lonni Rossi for Andover Fabrics http://www.andoverfabrics.com.  One has a red background, the other has a black background. I alternated which part of the bag they were on for the front and the back.  I made one handle from each.  I know Lonni's fabrics are terribly popular – check for them at your local quilt shop or online.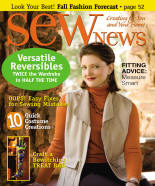 I used a polyester all-purpose zipper by Coats & Clark for the closure.  I added ribbons to the hole in the zipper pull, then tied Japanese coins to the end of each ribbon.  Together, the ribbons and coins work as a decorative zipper pull.
Joan
Images courtesy of Primedia