Quilt Retreats Offer A Quilty Good Time
Lazies, I spent this past weekend at a my first quilting retreat with my girlfriends. Some old, many new. I'll never be the same (I mean that in a good way).
Carolyn, Jenny and I attended a Quilt Away, hosted by our friend Rita, through her store Creations SewClever in nearby Chillicothe, OH.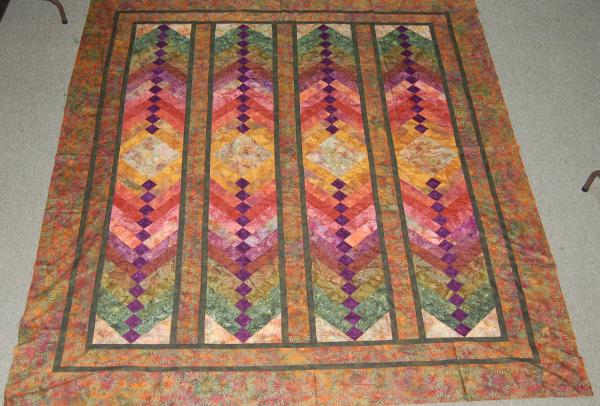 This is 'Tahiti' from the book French Braid Quilts.
The Quilt Away has a special mix of fun and games, productive time, escapism and good food. I think some sleeping took place, though we have little evidence toward that end. Rita has been hosting these retreats for years – my girlfriends and I were all rookies. Rita taught two projects – 'French Braid Quilts' shown above and 'One Block Wonder' shown below. The retreat projects were cut and kitted to your liking. Or you could bring your own projects.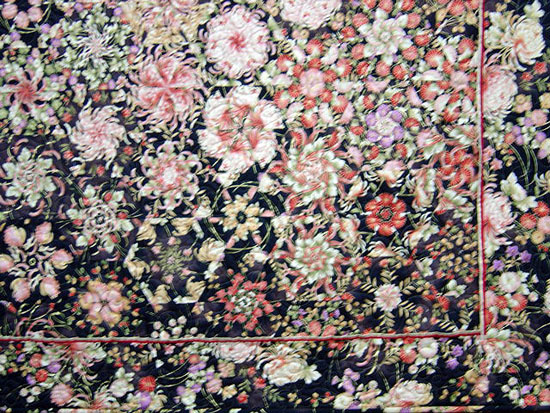 'One Block Wonder'
One Big Quilty Family
Everyone filtered into the retreat room over the course of several hours on Friday afternoon. It was like a big party or family reunion, where everyone's arrival was anticipated and talked about. We set our sewing spaces, organized our stuff and began working. After dinner that evening, we took some time to introduce ourselves and talk about why we were there.
Many retreaters had attended before. They were old pro's at this. In fact, two ladies lied to their husbands about the start time (10 am rather than 3 pm) and ran away from home at the crack of dawn. I suspect they'll arrive a day early for the next event. Just a hunch.
Secret Stitchers
We drew names and left small gifts or treats for our secret stitcher throughout the weekend. I loved the secret stitcher fun. In one big open room filled with 36 busy women, secret activity had to be creative. By Sunday I realized that I rarely noticed any secret deliveries anywhere by anyone. Yet, things kept popping up all around me at every one's chair or machine. These girls were good at this. I can only guess that I was so engrossed in my project that I didn't notice. Not that my progress would indicate concentration, nor progress for that matter.
The secret stitcher got us talking to each other about little things. These treats and surprises were ice breakers and invitations. Some retreaters simply didn't leave their sewing machines often or for very long. In those cases, a middle man was needed. I was part of a third party covert delivery. I don't know where the goodies came from, nor how many retreaters were involved. But I enjoyed being the last link in that chain as I announced 'delivery for Donna, delivery for Donna' while giving a gift on someone's behalf.
More Gifts
We had a gift exchange Saturday evening and it was more fun than I could have imagined. The rules were simple – an inexpensive gift, creatively wrapped. The biggest fun was one gift in particular. Charlotte wrapped a gift certificate in a fat quarter. Let me restate that. Charlotte stitched a fat quarter closed with a certificate inside. We all sat there howling as the recipient used the accompanying seam ripper to 'open' or un-sew the gift wrapping.
Good Eats Indeed
The entire event was catered or taken care of in some manner. Retreaters brought a dish/treat to share. The food? Be still my thighs.
Quilt Related Activity
I forgot my thread, bobbins and sewing chair. I stopped at Office Max and got a cheapie chair to go. A trip to Rita's store took care of the thread. I was introduced to pre-wound bobbins. Oh baby, I'm in love. Rita oiled and cleaned my machine. She is ordering a replacement part as well.
Carolyn, Jenny and I sat together. I faced Carolyn and witnessed a prolific amount of stitching that embarrassed my machine and new bobbins. Jenny had process issues – bad cutting, stitching, re-cutting and re-stitching. That means she sewed, took it out, sewed again, took it out, cut, re-sewed, re-cut, took it out, then sewed some more. Me, I had finishing issues. I just couldn't get to the end. Of anything. So, I took a break and had a pedicure. I did finish that and then walked around showing off my sparkly and fun toes. I call these my 'show toes'. Carolyn made two quilt tops, a pillow, and then started one or two other projects. Geesh.
We ended the weekend with show and tell. I had little to show, but did remind everyone of my toes. We revealed ourselves to our secret stitchers. Oohed and aahed at everyone's projects. Packed-up, hugs all around, and we were on our way.
Lessons Learned
And what did I learn – well, the veteran retreaters showed me how to make better use of my sewing time. From what to bring, to planning projects. Perhaps I'll sit next to Carolyn instead of across, so I can't watch her amazing prolific stitching.
The Quilt Away came home with me. A number of the girls feel like old friends. I look forward to seeing these ladies again. I really wanted one more all-day helping of the mix Rita's retreat offered. I didn't want this weekend to end. But, my 'show toes' will be smiling back at me for a while, reminding me of the retreat.
Consider looking for a retreat in your area. Check with your local quilt shop, ask a friend to go, ask for details and recommendations. Or just make a play date to get together with a sewing buddy to share some fun.
Joan
Images from Creations SewClever.
[tags]quilt retreat[/tags]