Quilt Market: Miranda Featured In 'Flutterby' From Moda Fabrics
Lazies, These two beautiful Mirandas will be on display at Moda Fabrics, starting in booth #1624, at Quilt Market this week in Houston, TX. Stop by and meet these Moda Mirandas and see the rest of the stunning 'Flutterby' fabric line by Tula Pink.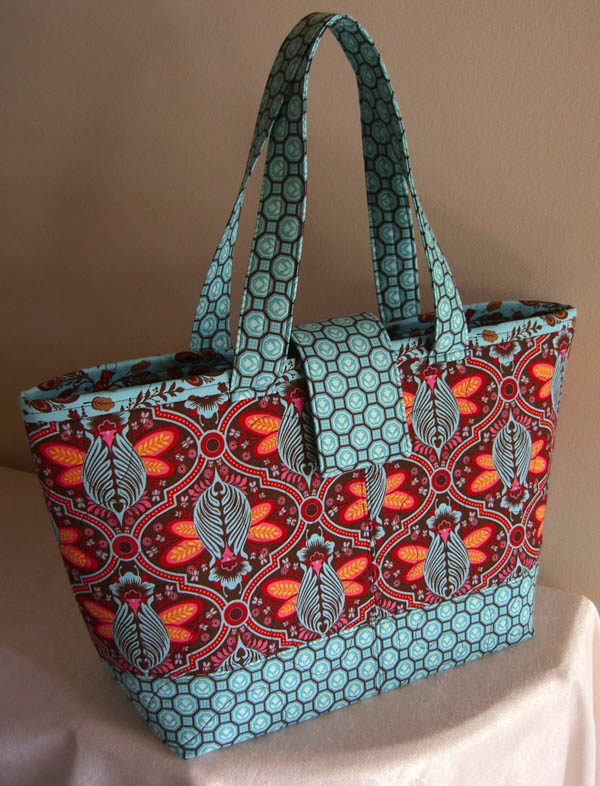 Miranda in 'Flutterby' by Tula Pink for Moda.
#23010-19, Brown – Main Cover
#23015-14, Aqua – Bottom, Handles, Flap Closure
#23012-19, Teal – Lining
#23014-23, Aqua/Red – Pockets
'Flutterby' From Moda
There are four to-die-for color ways to the Moda 'Flutterby' fabric line by designer Tula Pink, aka Jen McLean. Flutterby is simply scrumptious and is one of the few lines that speaks to me as both bags and quilts. And Tula Pink is one to watch. And since Jen is now an in-house designer for Moda, we can count on seeing more collections on a regular basis.
More Than Meets The Eye
One of my favorite elements of Tula's designs is that she hides critters and creatures inside her designs. Her recent line with Moda, Full Moon Forest, hid bunnies, squirrels, and more. In Flutterby, the elaborate motif in the feature fabric is a butterfly. The flower buds are snails. And don't even get me started on the lady bugs and dragonflies!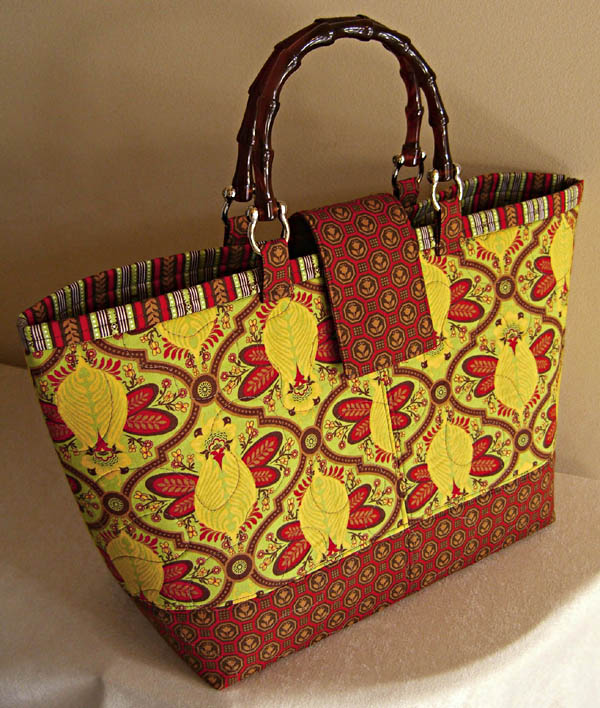 Miranda in 'Flutterby' by Tula Pink for Moda.
#23010-21, Green – Main Cover
#23015-22, Brown – Bottom, Flap Closure
#23015-15, Green – Lining
#23013-20, Green – Pockets
Handles – Clover Needlecraft Inc. #6334 – 'U' Shape handle pair in Amber
I love the warmth of the reds and browns together in the sample above. My photography doesn't do these fabrics justice. They are so much prettier in person.
Fabric Tip
Whatever fabric you choose for the main part of the bag is the single fabric that will define your Miranda. There are three fabrics visible on the outside of the bag. In these samples, the butterfly motif is the feature fabric used for the main part of the outside, or cover, of the bag. The red and brown at the bottom, and the stripe at the top, are accents, blenders, and supporting players in the production known as your Miranda.
Handle How-To
I followed the directions in the pattern to make fabric tabs from the same bottom fabric to attach the Clover fashion handles. These Amber 'U' shaped handles from Clover are perfect with this bag. Simply attach the fabric tabs, then add the handles as per our recent tutorial after the bag is done.
Fabric Availability
Flutterby is expected to be available March 2008. Until then, Moda has posted a PDF of the fabrics just for us Lazies! It's a big file, give it a minute to load. Click here to start drooling.
Product Information and Recommendations
All of the Mirandas heading to Market have been outfitted with a tag, noting all of the materials and supplies used for that sample.
Miranda Recap For Market – Miranda can be seen:
United Notions/Moda, booth #1624
Benartex Fabrics, booth #920
Checker Distributors, booth #624
Clover Needlecraft, booth #1458
Leisure Arts, booth #1800
FabShop Dinner before the show.
Several others walking the floor with their proud owners.
Enjoy!
Joan
[tags]Moda Fabrics, United Notions, Lazy Girl Designs, Miranda Day Bag, quilted tote[/tags]