Solving Problems at the Pressing Station
Thank you for taking my class 'Solving Problems at the Pressing Station' class at the Sewing & Stitchery Expo in Puyallup, WA, February 2015. As it turns out, I was unable to be there for the class and Clover did a great job filling in for me. Included below are the notes and product links for everything covered in the class. So, join me in raising a cuppa cuppa coffee in a toast to a better pressing experience!

The Importance of Pressing
Pressing is integral to all fabric crafting. We need to press every seam, every time. We press to give shape, or prepare materials such as fusible interfacings.
We spend a lot of time at the pressing station, likely working with the same tools, notions and equipment we started with. I designed the Clover Press Perfect line of notions as the first significant update for the pressing station in all of my years of sewing.
I partnered with Clover Needlecraft because they are a leader in sewing and crafting notions. And simply put – Clover means quality. If they make it, I want it because I know it is quality, relevant and useful.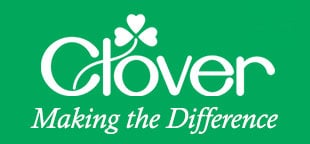 Sanity Plus Quality
My 'Solving Problems' class is an opportunity to give your pressing station an overview and overhaul. I hope to bring your attention to new items and ideas that will improve the quality and experience of your pressing efforts.
The class slide show below does not have sound.
Sewing Triangle
The three stations for the sewing triangle are: cutting, sewing, and pressing.
Lots of innovation and equipment for cutting and sewing.
The pressing station has been largely overlooked for updates, new tools and ideas.
We spend a lot of time at the pressing station and we are making new things.
Problems and Needs
Think about the projects you work on and the challenges or problems you've encountered.
Let's take a look at all aspects of the pressing station.
Ironing Board – Do you have the right board for your most common pressing tasks?
Traditional board with rounded nose is good for clothes
Rectangular 'Big Board' – ideal for quilting, pressing yardage, drapes, home dec (can also press clothes)
Not sure? Turn your board around, use the rectangular end for a while and see what you think.
Link for Big Board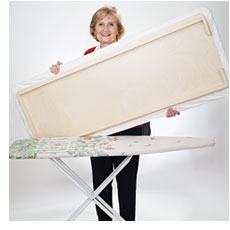 Pressing Surface and Board Options – Is space an issue? Creating small projects?
Deluxe Take & Press Mat – works on heat-safe surface – quilting, yardage, portable
2×4 Mighty Mini Board detail work that won't fit the big board
Touch Up Pressing Mitt – reach inside a bag or shoulder, support from inside and press
Safety – The iron is hot and we do a lot of tasks at the pressing station
Hand tools for safely and effectively working with and at the iron
Hold It Precision Stiletto – hold details at iron with gray heat resistant tip
Iron Finger – heat resistant, seam roll, finger press, use instead of your finger at the iron
Point 2 Point – 6 tools in one, point turner, finger press, push out seams
Specialty Products – Special fabrics and adhesives are challenges
Hot Hemmer – we measure/fold/press a lot in sewing, miter corner, binding, hems
Iron Safe – protects iron and materials, adhesive won't stick
Dry Heat Pro Finish Pressing Sheets – to press specialty fabrics that 'can't be ironed'
Iron
Clover Mini Iron – for small tasks
Link to: Clover Mini Iron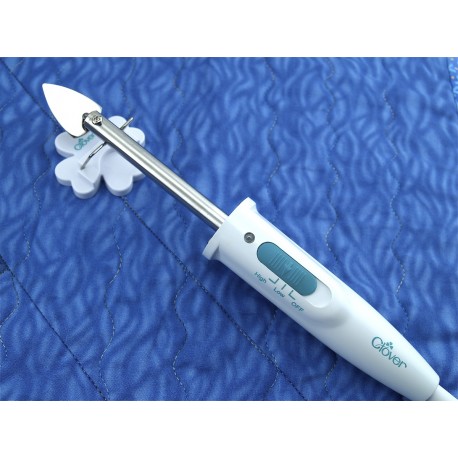 Oliso iron with stand-up feature for tired wrists. The iron rests in the down position as shown, reducing strain on your wrist from picking up and putting down.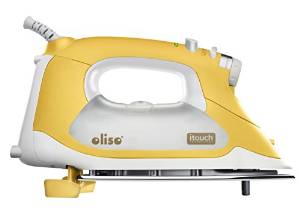 Link to: Oliso Pro Smart Iron with iTouch Technology TG1600
Steam Press – quickly fuse large pieces of interfacing, I love mine!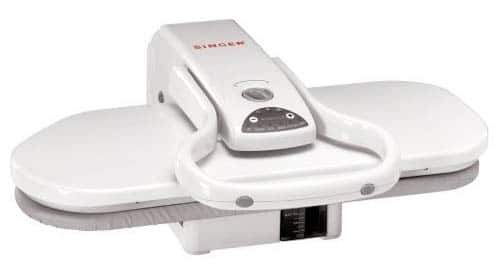 Link to: SINGER ESP-2 Magic Steam Press with 100 Pounds of Pressure and Adjustable Steam
Facelift for the Pressing Station
Board cover – Cotton vs specialty – cotton will help grip your fabric for control
Specialty cover such as heat reflective or 'Miracle Ironing' covers are available.
Bo-Nash heat reflective standard board cover
Link to: Bo-Nash 19-Inch-by-59-Inch IronSlide 2000 Ironing Board Cover
I use the Miracle Ironing cover made of Owens-Corning fiberglass with the Big Board. Love!
Link to: Miracle Ironing Board Covers
Anti-fatigue mat – Great idea if you have a dedicated crafting area and your board is always out.
Helps add comfort when standing at the board for long periods. Consider one for cutting area, too.
Wash cloth or small towel – great for handling drips, spills, messes at the board
Spray bottles for water and/or starch
Use a caddy to corral all your hand tools and notions. I use my Suzi Purse Insert pattern
Link to: Suzi Purse Pattern
Organization
Give your pressing station a make-over.
By deciding on your needs, you'll have created a checklist to help you get there.
Caddy – small tools, notions
New board/cover
Color coordinate and pick fun prints
10 Essentials for the Pressing Station
Iron Finger
Hold It Precision Stiletto
Point 2 Point Turner
Hot Hemmer
Touch Up Pressing Mitt
Dry Heat Pro Finish Pressing Sheets
Pressing cloth – cotton, applique
Spray bottles – starch, water
Pen, pencil, marking tool
Washcloth or small towel – for spills, drips, messes
I also keep a pair of scissors and pin cushion at the pressing station.
Order Press Perfect Here: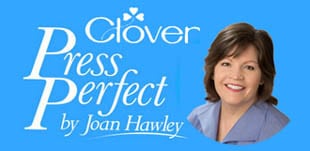 Give your pressing station an overview, assess your needs and challenges. Then put a plan in place to creating your perfect personalized pressing station!
Enjoy!
Joan