Potpourri: Nicole Kidman Gets Crafty, A Pink Tractor, A Lampshade Tunic and More!
Lazies, It's nearing the end of the week, it's the middle of summer and some wild things have crossed my desk recently. It seemed like a good time for another eclectic collection (or eclection as my friend Kathleen says) of lite fare to share from around the web.
The Sew Stylish blog had two great posts I wanted to share with you. The first is a nice piece about Stitch Lounges. I would very much like one of these nearby. The second is about an exhibit in New York City for Paul Poiret, King of Fashion. I'd love to attend this exhibit.

Lampshade Tunic and Harem Pants by Paul Poiret.
This piece reminds me of the elaborate pieces I saw at Quilt Market in May.
Two blogs to check-out: Whip Up and Craft. Lazies, these are two fabulous crafting blogs. Consider adding them to your must-read list.
Longtime Lazy Girl Judy from Punch With Judy reports that Nicole Kidman attended the recent Craft & Quilt Fair in Sydney, Australia. That doesn't look like a Lazy bag on Nicole's shoulder. Hmmm. Here's Judy:
Nicole Kidman visiting the Craft & Quilt Fair is proof that the fair is a world class event!" Shame Nicole walked past our stand and I was tempted to run after her to give her one of our Purple Punch with Judy bags in which to put her purchases from the show. So much nicer than the paper bag over her shoulder shown here.

She stood a good head over everyone else as she is so tall so was easy to see and is just as beautiful as all her photos. Ohhh, green I am! To be honest though, wasn't it just so polite and considerate of everyone just to let her wander around, doing her own thing, without being pestered? I doubt if that would happen elsewhere in the world.
Cheryl over at Living In A Material World posted about men and women's equal verbosity. A new study suggests men and women speak about the same number of words each day. This is in stark contrast to the legendary stereotype that women speak 20,000+ words a day compared to the paltry 7,000 that men speak. Frankly, I think half of my words on some days are communicated with the raising of an eyebrow. Do non-verbal communications count?
My hubster has been clinging to the old numbers and teases me about my need to get all my words in on some days. True enough. But he also uses the numbers in defense of his lack of chattiness. I knew he wasn't chatty when we married. But I feel compelled to ask: Doesn't it seem ironic to use some of your small daily allotment of words to defend your relative lack of chattiness? And if you are only going to share a modicum of words with me each day – tell me how wonderful I look, ask where I'd like you to take me for dinner, or ask what kind of chocolate I'd like. That's right, it's all about me. And if you'd like to argue the point, you have two words left. Allow me to suggest 'you're right'.
Deb Luttrell (Queen of Quitman TX ) from Stitchin' Heaven sends in this photo of a Bucket Tote bag made from our Bold Bags book. Deb used the tooled leather from Moda shown below. I hadn't heard about this material – it looks great. She paired the textured leather with some Western fabric for the lining.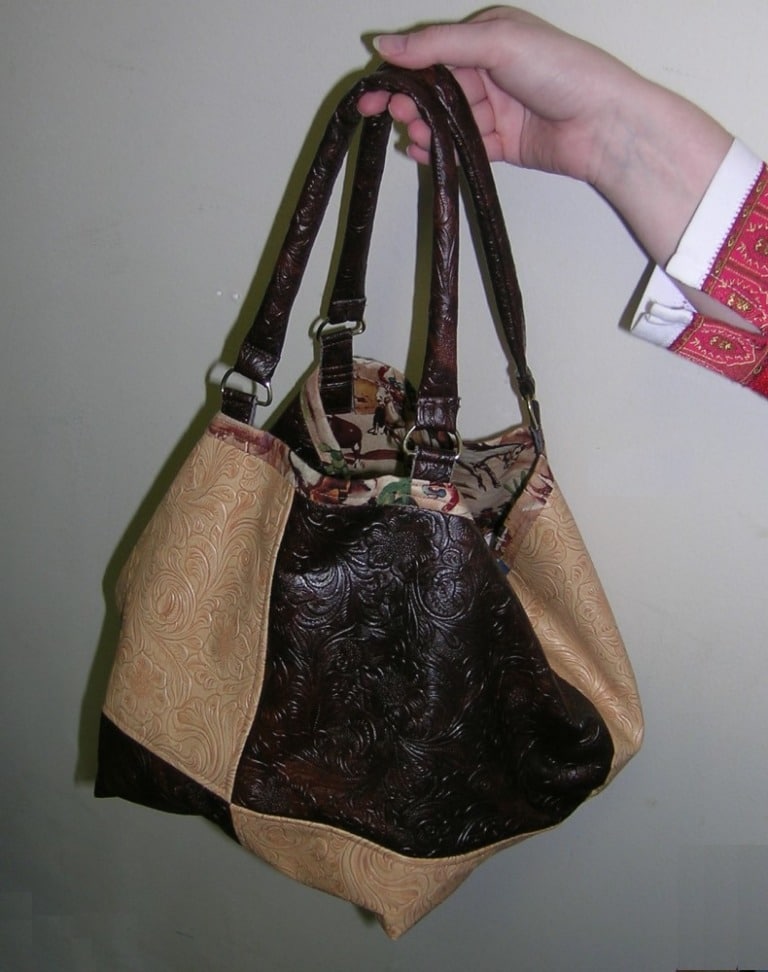 PS: Deb has started a helpful new Q&A feature at her blog called 'Just Ask Deb'. I think this is a great idea. I surfed on over there to check it out and couldn't help but notice the clever names of the people asking the questions and it tickled my bobbin, I tell you.
One stitcher in need called herself 'Just starting out'. Honey, I feel that way most days. The next gal chose 'Too Blue' as her moniker due to the unruly blue ink left on her project by an erasable pen. Many of us have had that happen. Made me wonder what my moniker might be in an anonymous plea for help. How about 'broken bobbin'. Perhaps 'bent needle' captures the essence of my inner struggling crafter. Post a comment and tell me your anonymous crafting in-need moniker.
That reminds me of something I read over at Fashion-Incubator. Kathleen's hubster Eric theorizes that people drink things on planes that they don't otherwise drink. I think he's right. He asks people 'What is your airplane drink?' Well Eric, mine is orange juice. Seems innocuous enough, but I don't otherwise drink orange juice. My hubster drinks diet Sprite – something he doesn't drink elsewhere.
Kathleen also shared a fabulous travel tip – she travels with a power strip so she has plenty of outlets for all her chargers and plug-in-ables. Smart girl!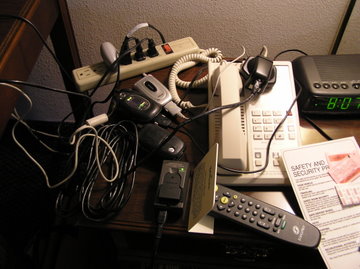 Geek travel tip – take a power strip with you.
Di Mill posted a cute bag with a scrumptious yo-yo embellishment over at her blog.
And last, but certainly not least, please allow me to introduce you to 'The Pink Lady' as seen on Monique's Inside Number Twenty blog. I bet The Pink Lady likes her moniker. Oh, we are back to monikers. I can imagine introducing myself to her 'Hi, I'm Lazy Girl, I mean Broken Bobbin, you must be The Pink Lady'.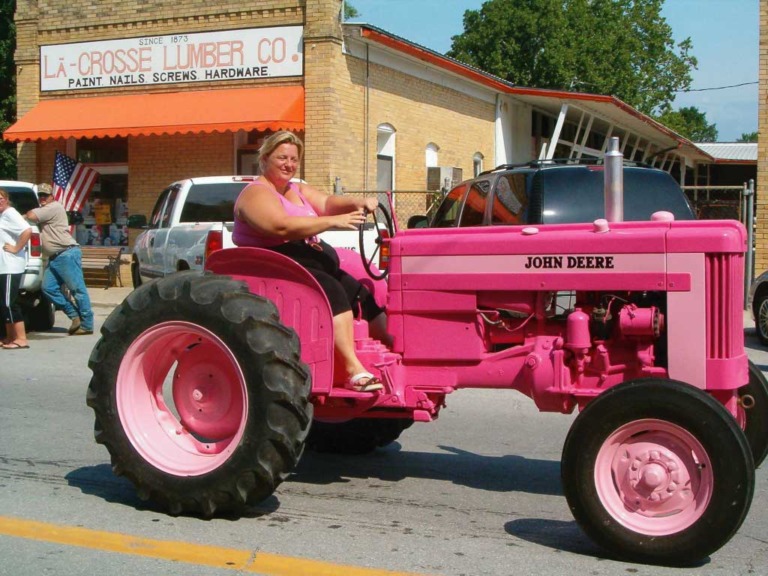 New to our blog? Subscribe to get emails so you don't miss a juicy morsel.
Like and share this post with your stitchy friends.
Join me in the Lazy Girl community on Facebook here: Facebook Lazy Girl
Enjoy!
Joan
Facebook Lazy Girl
Pinterest Joan Hawley
Pinterest Lazy Girl Community
Instagram @JoanHawley
Twitter LazyGirlJoan