Potpourri: Pink Quilts, Office Crafts, Baseball Legends and More!
Lazies, I get info, tips, stories, and more from many of you. Today, I'm posting links to a number of these things which might make an interesting 'Potpourri' category if we were playing Jeopardy. I'll take Potpourri for $100 Alex.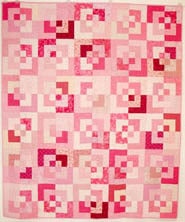 Quilt Pink:
Oh my goodness, did you see the first 180 of the 'Quilt Pink' quilts up for bid on eBay? I don't know how many times I've browsed through them. I've been bidding! I really like this one. If I'm not mistaken, it's the 'Bento Box' pattern design from Tracey Brookshier. Tracey was featured in our Day Z Dozen Blog Hop last month.
Quilting in the Skies:
Delta Airline employees converted their lounge at the Salt Lake City International Airport to a place where they could work on quilts between flights. Jenny Stratton of Checker Distributors told me about this story after reading it in the 'Sky' magazine on Delta in February. We contacted Delta to get the full story – it wasn't available online. Delta – if you are reading this – we want the story from the February 2007 issue of 'Sky' magazine available online. Until that becomes available, there is a short piece with a great picture at Salt Lake Tribune online.
Extreme Office Crafts:
I read about a new book titled 'Extreme Office Crafts' in the article 'Fresh Spring Craft Books Bloom With New Projects' from the Arizona Republic. So I hopped over to Amazon to check it out: Extreme Office Crafts
. The title alone makes me want this book. I suspect it brings together my love of crafting with my amusement-park-like enjoyment of the office supply store.
Quilt Products and Fabric Blog:
Checker Distributors just launched their blog this week! Checker works with independent retailers, so we as consumers can't purchase directly from Checker, but we can browse and dream there while we find out about all the great products our local stores can order for us – woohoo! I'll take one of everything, please. Checker stocks 80,000 quilt, sewing, and arts needleworks items. And they are going to tell us all about those fabulous items at http://www.checkernewsletter.com/.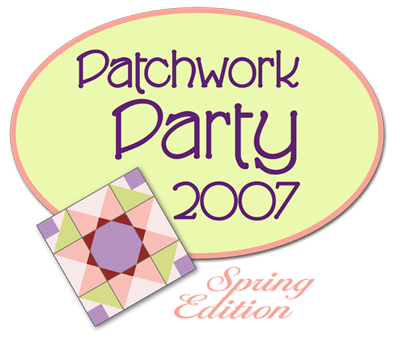 Patchwork Party 2007:
Deb from Stitchin' Heaven called to let me know that Patchwork Party, the online shop hop, will soon be wrapping up their Spring edition. Hop along now and grab each of these fabulous block designs and a finishing kit to tie it all together.
Patchwork Party Cornhusk Dolls: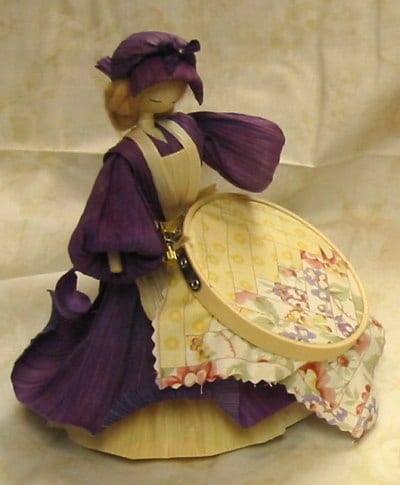 Jerry from Quilter's Quarters in KS, send me a picture of these hand made cornhusk dolls that you can get to coordinate with your Patchwork Party quilt and I had to know more. Each is unique and individual. Scroll to the bottom of this page to see these cute dolls.
Applewood Farm Block of the Month:
Beth Ferrier of Applewood Farms recently started her online block of the month titled 'Ribbon & Blooms'.
Baseball Greats Signature Quilt:
This is one of those stories I'm glad I stumbled upon. From the Indianapolis Star: a signature quilt which includes 54 signatures of baseball greats is headed to Cooperstown to be considered for the exhibit at the Baseball Hall of Fame.
Look at some of the big guys who signed quilt squares for this project:
Don Drysdale, Johnny Bench, Hank Aaron, Tom Lasorda, Sandy Koufax, Barry Bonds, Steve Garvey, Pedro Guerrero, Don Sutton, Roger Maris, Joe DiMaggio, Willie Mays, Joe Morgan, Nolan Ryan, Pete Rose, and more.
Quilted Car:
Check out the 'Quiltmobile' at Suzanne's Quilt Shop. You'll just have to click on over there to see it for yourself.
Sewing Workshops and Parties:
From Toronto.com, The Sewing Studio offers a boutique-styled studio setting for small sewing classes and unique workshops.
Day Z Dozen Blog Hop:
Did you join us for our Day Z Dozen Blog Hop last month? Well, I'm still getting comments and inquiries about the event. Start with this post which lists all of the projects and all of the participants. Follow the links to some of the supporters who are offering products or kits as shown in the hop.
Pamper Your Pooch:
Penny Sanford offers a couple of darling scalloped edge and rick rack edge doggie collar slipcover designs on her blog. These would be great with the new Clover Yo-Yo Makers in the heart or flower shape.