Pittsburgh Quilt Market Wrap-Up
Lazies, Quilt Market was a lot of fun, exhausting and tasty (I had my precious crab cakes for din din). So, let's dive right in with my trip report, interspersed with the few pics I remembered to take while at the show.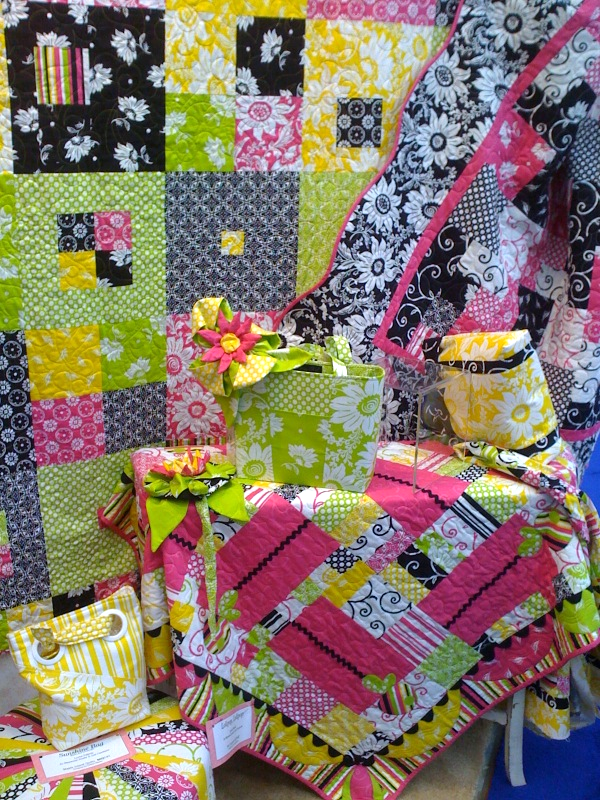 Claire on display at the Maywood Studio booth.
Claire Makes Her Debut
Claire did a great job. I carried the Spring Fever pink/black/white Claire the first day and the Natural Effects brown/teal/white one the next. I dressed to coordinate with my new baby and declared myself a walking booth display. People would ask where's your booth? And I'd point to myself! Mannequin on the go! I guess I modeled Claire. Yep, let's go with that. We met and mingled as we walked the aisles. Claire met lots of new friends.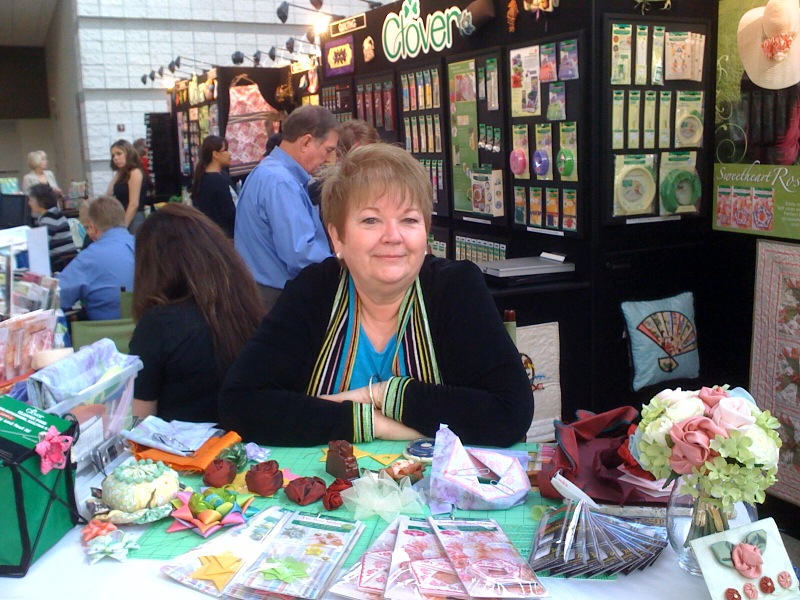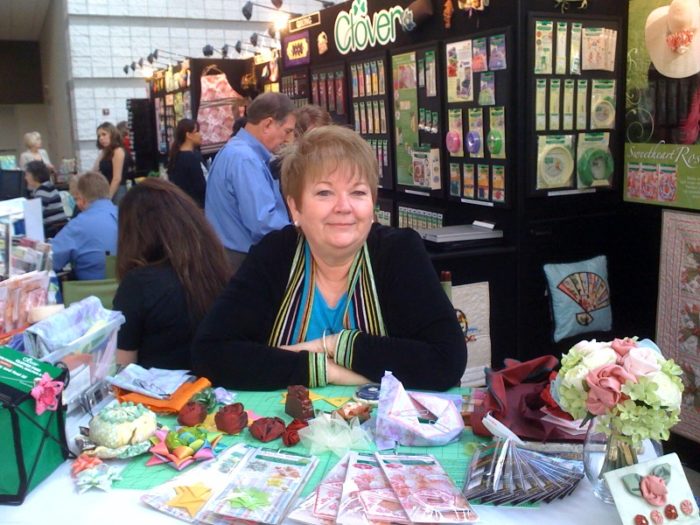 Frannie (and all my Lazy friends) from Clover always at the ready to share the next cool thing.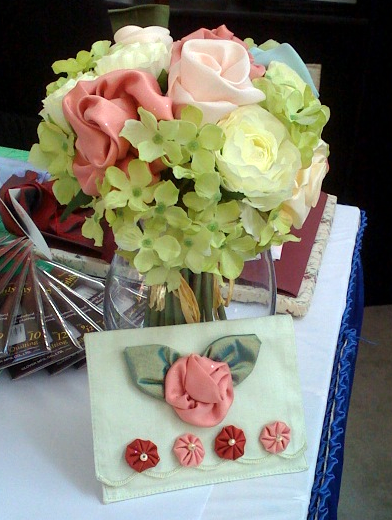 Made with Clover's Sweetheart Rose Makers.
Pittsburgh Has Such a Nice Downtown
Intimate and pedestrian. Little parks here and there in the city. A little bit of a hill here and there – something we don't see much of in most downtown areas. Tall interesting buildings, great sculpture on the sidewalks and store fronts. Even the Court Of Common Pleas was an attraction, made with fort-like construction which reminded me of St. Augustine Florida. Lovely little restaurants and eateries.
We were across the street from the Mellon Center – a sports arena of some sort. There was an event there the night before I arrived and my friends said they heard the crowds cheering from their rooms.
For the record, I had crab cakes for dinner both of my evenings there. That's what it's all about in my book, baby. Sixteen of us went to din din the first night – an event in and of itself. That was only part of our group! We walked the 8 blocks to dinner because it was downhill. Took the shuttle home for obvious reasons. Goodness. Dinner the second night was just a tiny group of four. We went back to the same place since it was so good the night before.
Game Time
Lazy Girl Regina reported that the dice game Left Center Right was played at her quilt retreat recently for the bounty of fat quarters and I thought that was brilliant. So, I brought several of the games with me and introduced my friends, using chocolate for game pieces. It's a game of give, take, whine and winner take all! Got any competitive friends? Look out! Very fast paced and there is no telling who will win until the very end. I knew after introducing them that they would each need a game, so I made sure I had enough for all of them. Here's a link to the manufacturer's website: http://www.dicegames.com/0002.php
Well, we played in the hotel bar after dinner one night and they nearly kicked us out for hootin' and hollerin' like idiots. Obviously, it was a hit. Other fun times on this trip included the always-expected challenges and antics of travel, odd cab rides in search of food, and a public restroom episode that spanned two establishments on opposite sides of town which will not be discussed again. No one was hurt or arrested, merely embarrassed.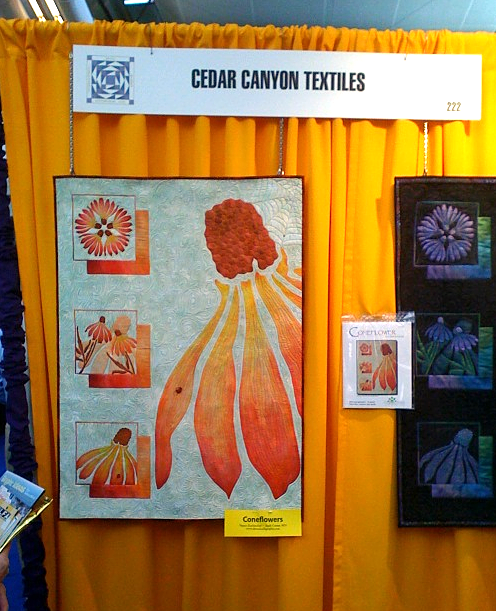 Fabulous new Painstiks project made with a wholecloth stencil.
All of the color on this design is painted.
Long Time and New Friends
Nancy Clifton, owner of Aiken Quilt shop where Regina's Lazy sister Susan reigns, found me at lunch the second day, handed me chicken fabric fat quarter and said 'I hear you're free-range' referring to my self-described booth-free or free-range Lazy status! What a hoot. That's the first time I met Nancy. Sue told me Nancy would be there and I was just thinking it would be memorable to finally meet her, not hilarious because she got my goat. lol.
Cecile from Just Another Button Company introduced stick pins, topped with her exquisite polymer clay buttons. I may need one of every style! Nope, no picture. We'll have to keep watch at her website for details.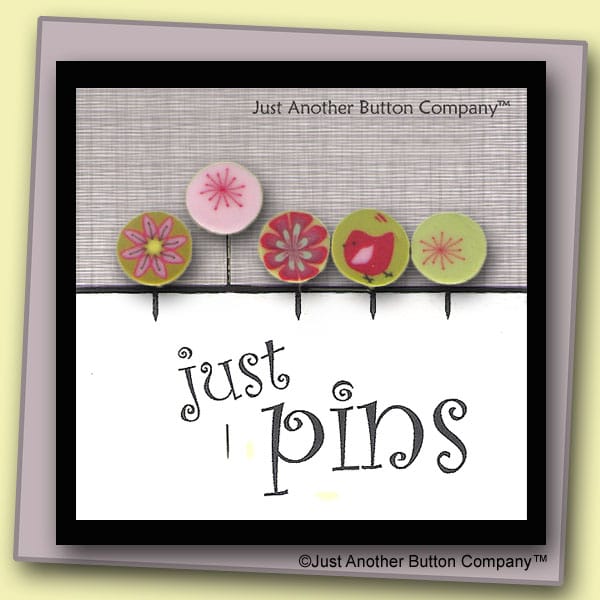 I met four of the designers whose fabrics I used on samples. That was lovely. I think they enjoy seeing how people use their designs as much as I do. I get such a kick out of seeing someone carry one of my little creations. I saw a few at the show, stopped all of them and chatted a bit about their bags.
Well, it was great to be there, see everyone and I'm glad to be home. Always good to come home.
New to our blog? Subscribe to get emails so you don't miss a juicy morsel.
Like and share this post with your stitchy friends.
Join me in the Lazy Girl community on Facebook here: Facebook Lazy Girl
Enjoy!
Joan
Facebook Lazy Girl
Pinterest Joan Hawley
Pinterest Lazy Girl Community
Instagram @JoanHawley
Twitter LazyGirlJoan