NQA Show: Beautiful Quilts, Great Buttons, Munchies and More
Lazies, I had a chance to attend the National Quilting Association show here in Columbus, OH recently. It was a nice show – good mix of vendors, great quilt display, and lots of friends running around.
Let's start with some eye candy. This fabulous 'Twilight' quilt shown in the Batik's Etcetera booth was just stunning. Carol Britt, owner of Batiks Etcetera and Sew What Fabrics, told me all about this beautiful design.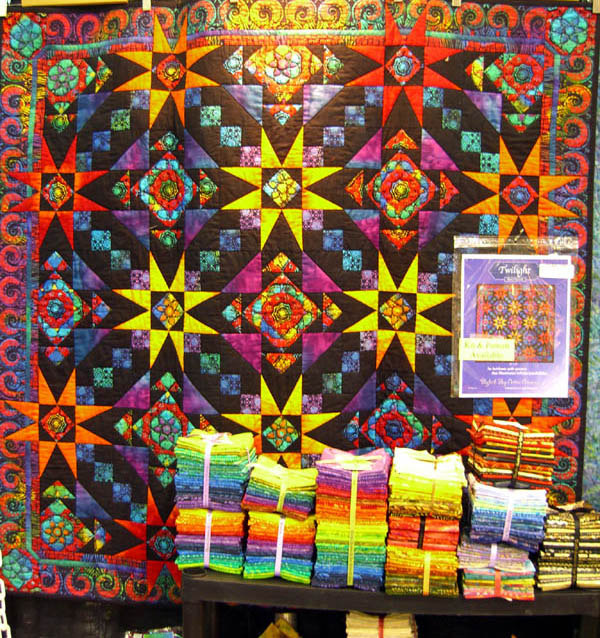 'Twilight' quilt from Batiks Etcetera
Twilight uses cuts from these 2 1/2 yard hand painted batik panels by Bold Over Batiks. Each panel has a 20″ border across each end and fun geometrics in the center.
Fussy cut parts of the panel for your quilt design. That is if you can bear to cut into it. So, in the quilt above, the borders are all cut from the circular waves shown below. These panels would be unbelievable for a purse or jacket.
Are you like me? Do you want to take home every beautiful quilt and piece of fabric you see? I sure do. I would love to have that quilt and all those fabric bundles in the photo. Having photos is nice. Memories? Nice. But I would feel so much better if I actually possessed all of these beauties. Makes me sound like a collector. Perhaps I'll rename my stash 'my gallery' where I display my 'collection'.
Oh, Carol also had a Batik Color Wheel Mobile hanging in her booth and I forgot to take a picture, but you can see it here.
One of the discoveries at the show was in the ladies' room. A class nearby was printing photos on fabric sheets. I ran into the class helpers at the sink in the ladies' room where they were rinsing and setting the prints. I'm pretty sure the nice lady in the picture below was smiling nervously at me. I'm quite certain she didn't understand why I wanted a picture. In retrospect, I'm not sure either.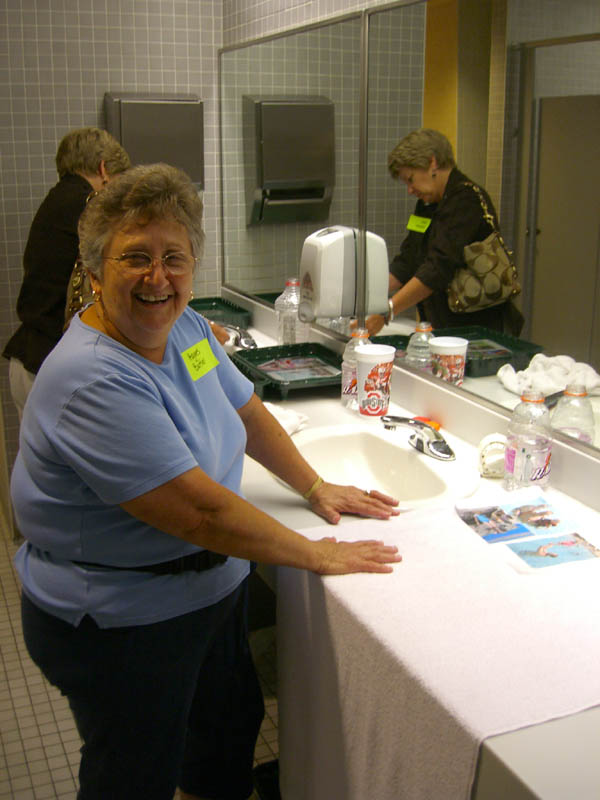 Some class room activities migrated to the restroom sink.
I saw this oh-so-fun 'Munchies' quilt at the Quilting Connection booth. Munchies uses all snack fabrics – potato chips, popcorn, pretzels, cookies and more!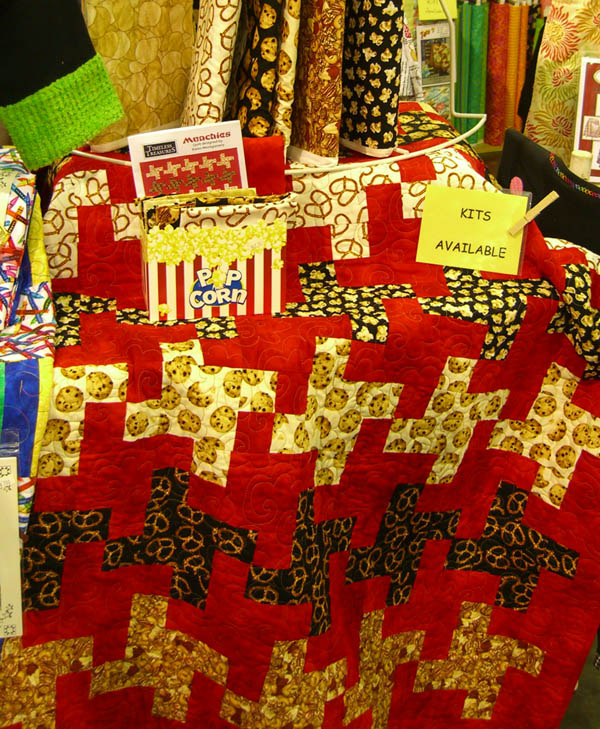 'Munchies' quilt at the Quilt Connection.
And the Munchies kit packaging was too cute. An old fashioned popcorn box, loaded with munchies. I saw the kit is available online at the Quilting Connection. I checked with Jill at the Quilting Connection and she said if you want the cute box, type 'popcorn box' in the comments section at the time of ordering from her site, she'll include the box with your order. Thanks Jill! That popcorn box is a must.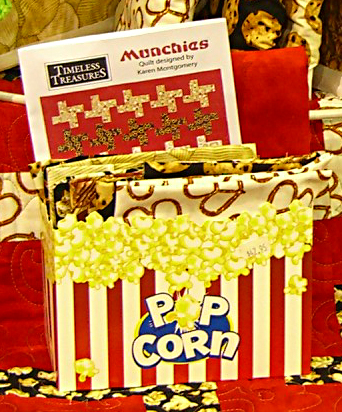 'Munchies' Kit – yum!
After seeing all the munchies at Jill's booth, I ran into Rita at Creations SewClever where Rita surprised me with a girlfriendy gift bag of dark chocolate for my b-day. Thanks Rita! Let me tell you, Rita gave me some bitter dark chocolate truffles that were to die for. You know how dark chocolate takes a minute to start melting in your mouth? Well, set one of these truffles on your tongue, and before you can close your mouth, this fabulous lump becomes a molten flood of chocolaty goodness filling your mouth. Oh my! Like a fool, I threw the box away before noting the brand, but I'll find the name and let you know.
After recovering from the chocolate fest, I stumbled upon this great collection of antique bobbins – or so the sign said. I asked the booth owner about it and she said they are slightly telescoped in shape in order to 'nest' into each other to stack, or in this case, create lengths. The bobbins were painted with different colors and patterns for coding and use purposes. In the upper right corner of this picture you can see a quilt hanging from a rod created from these nested bobbins.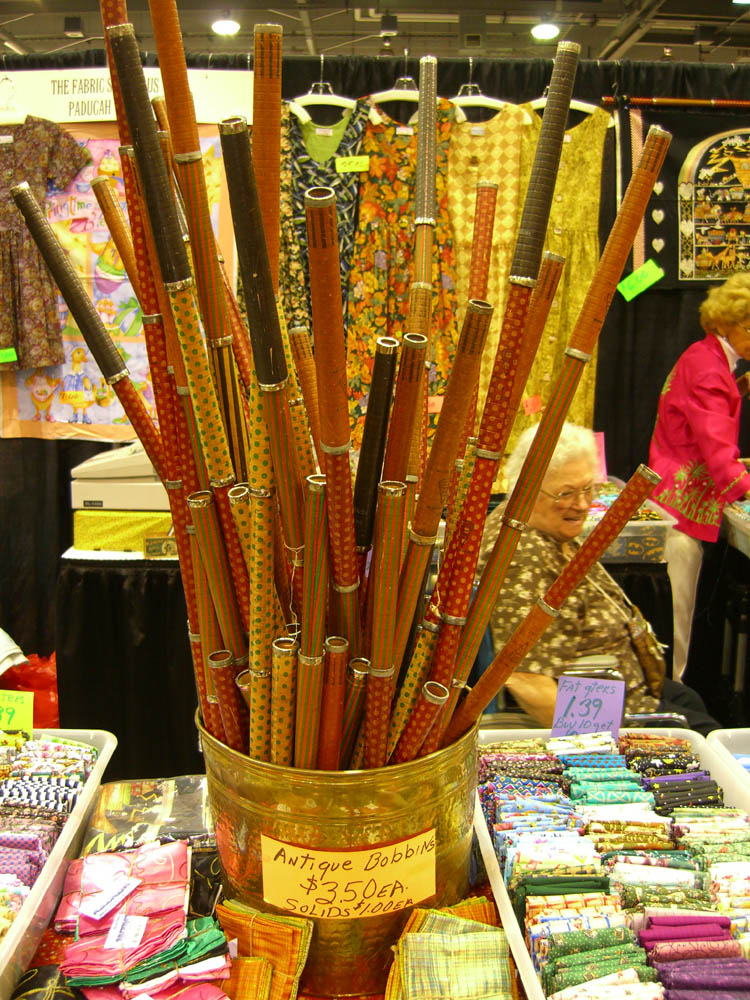 Antique color-coded bobbins – simply cool.
Next, I found these delectable buttons. Oh good gravy, I wanted them all.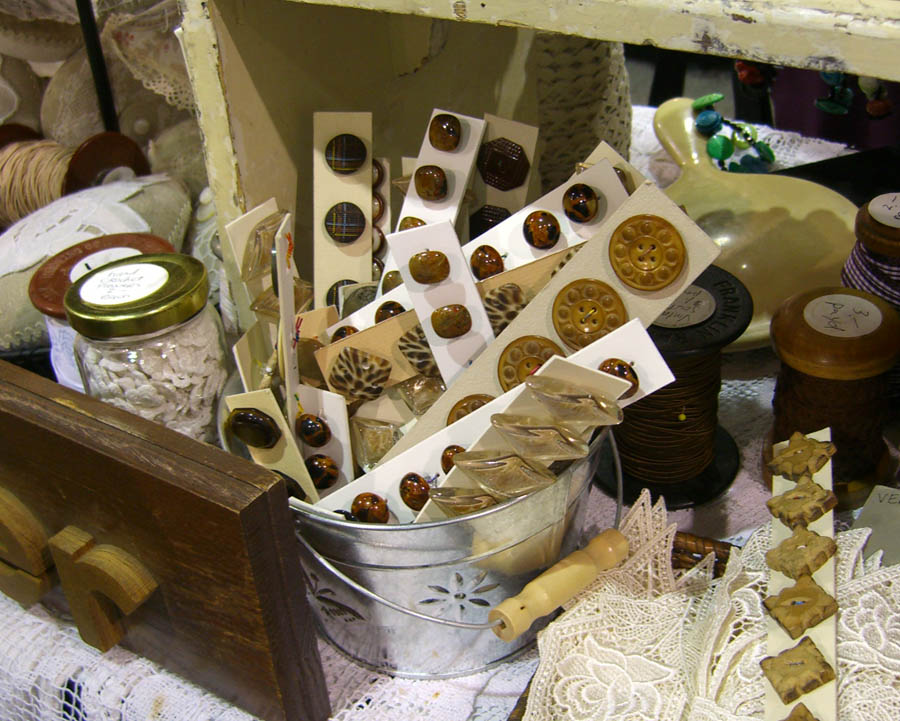 I love old buttons. New ones, too.
Then at the same booth, I found these really cool old button cards that were placed in frames with a chain for display. Yes, I wanted all of these, too.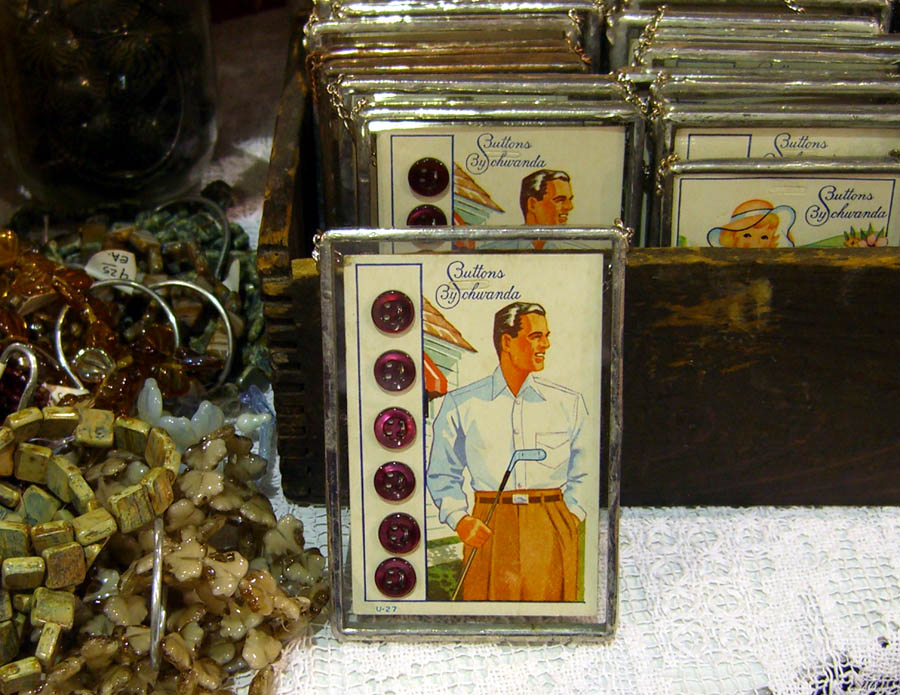 Framed old button cards.
Now, how could I pass this little cutie by? I found this adorable little hexagon purse hanging in The Good Life's booth. I love English paper piecing. I never would have thought of making a tiny purse that way.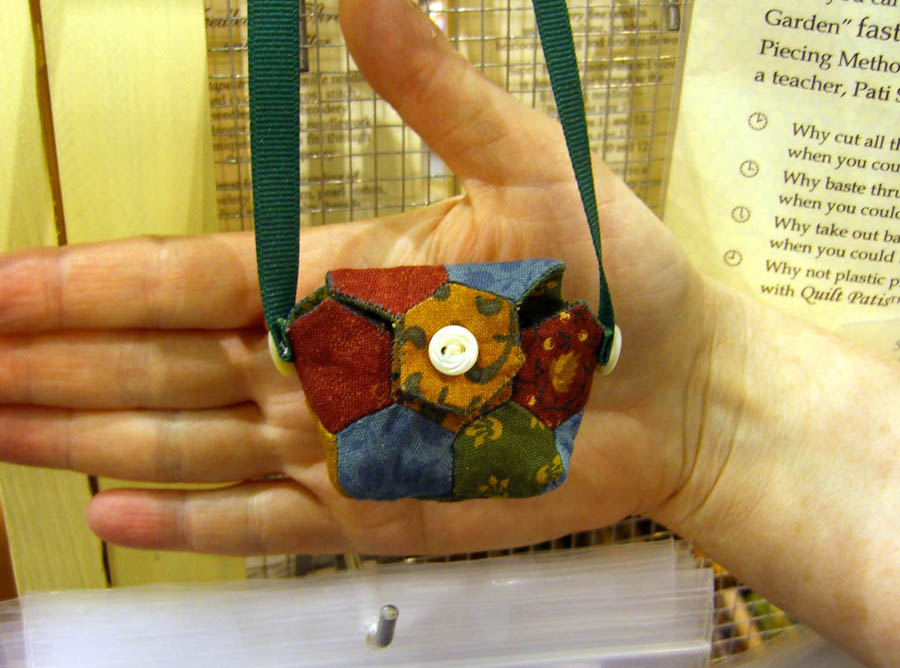 Hexagon paper piecing purse.
Next on the purse report, was a booth with lots of beaded beauties. I really liked this one.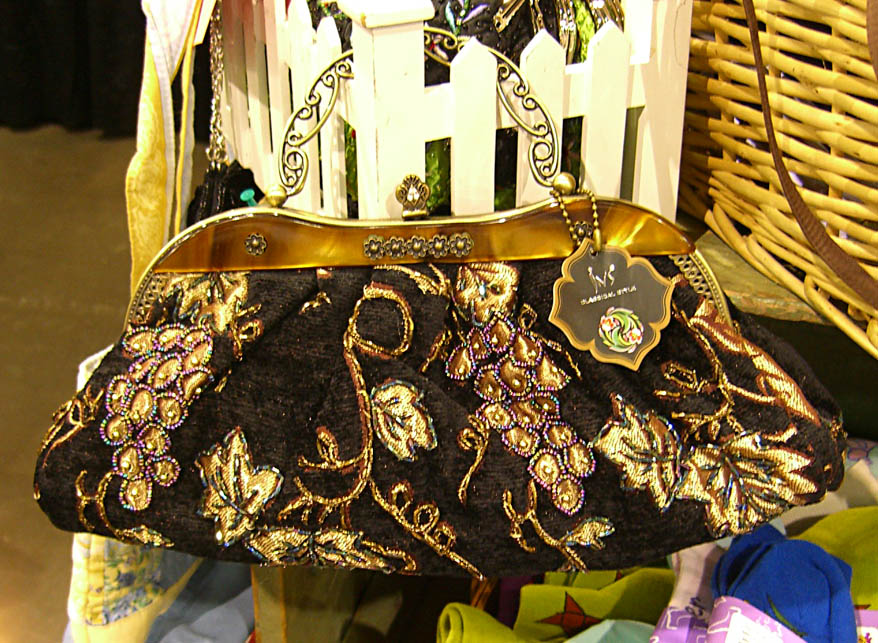 Fabulous beaded purse.
Most of the local quilt shops from the Columbus area were at the show. I could tell you plenty about Quilt Beginnings and Quilt Trends, but why not head over to Lazy Girl blog reader Maria Peagler's blog and read about her in-store visits on Saturday while she was here.
Here's a wonderful quilt on display in the Quilt Beginnings booth.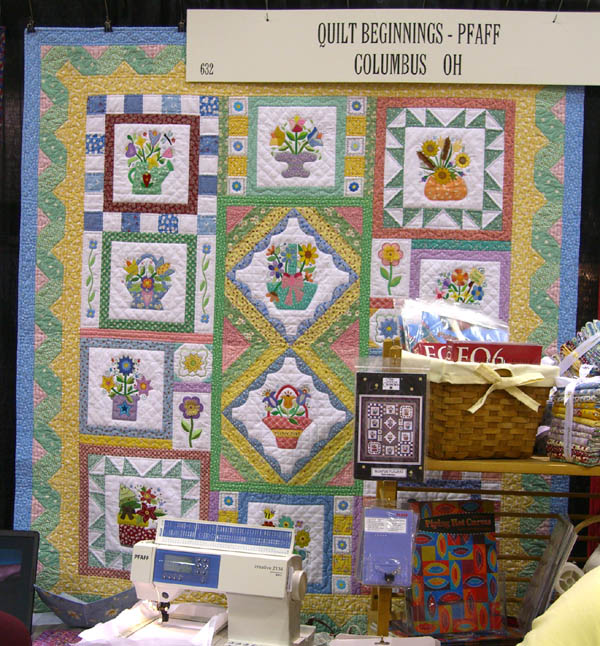 Quilt on display at Quilt Beginnings.
Quilt Trends had a lovely, and sizable, 'Christmas in June' display. I've never seen a Yellow Brick Road quilt done in holiday fabrics. It was striking in person, and the gold metallic quilting thread was the perfect touch to make the most of this design.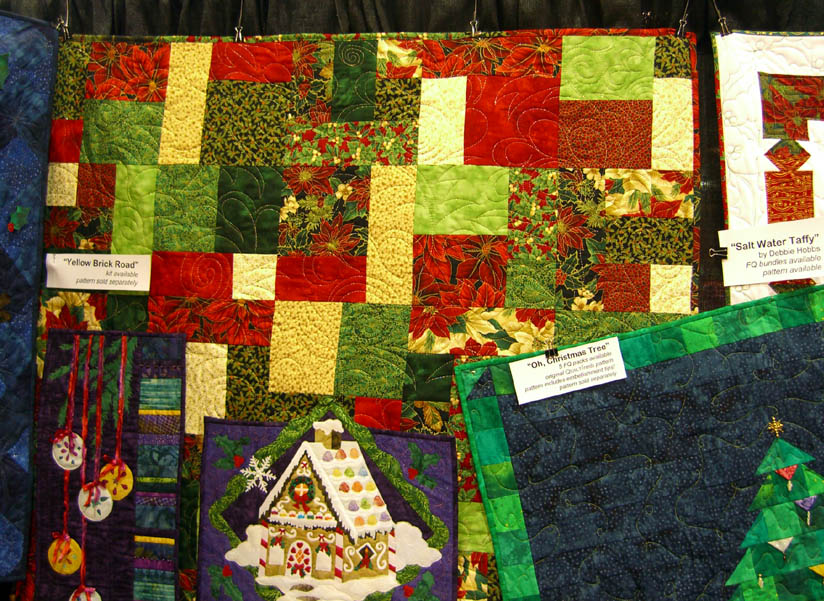 Christmas in June display at Quilt Trends.
Throw in some lunch, a quick trip through the quilt display, a few Lazy Girl bag sightings and that was my trip to the NQA show.
Joan