New Bosa Nova Fabric Gift Bag Pattern
Lazies, Just in time for your holiday sewing, Shelly Stokes of Cedar Canyon Textiles shares her new Bosa Nova Bags pattern with us. Shelly's decision to say goodbye to paper gift wrap led to creation these beauties.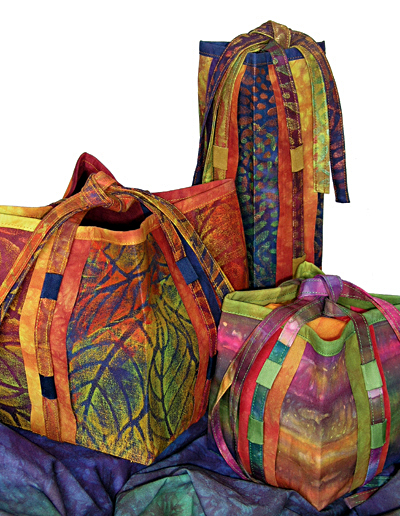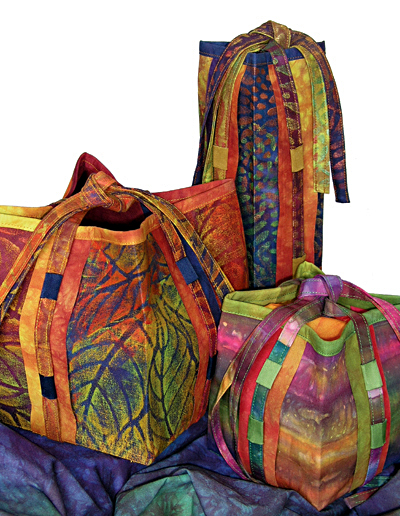 Bosa Nova Bags from Cedar Canyon Textiles.
Here's Shelly
Greetings from the middle of Minnesota. I'm Shelly Stokes, also known as the "Paintstik Lady" over at Cedar Canyon Textiles. I discovered the quilting world when I bailed out of corporate America in 1995 and I've been having a ball since. Quilters are so much more fun than engineers! Joan invited me to share the news about my new gift bag pattern with you, so here goes!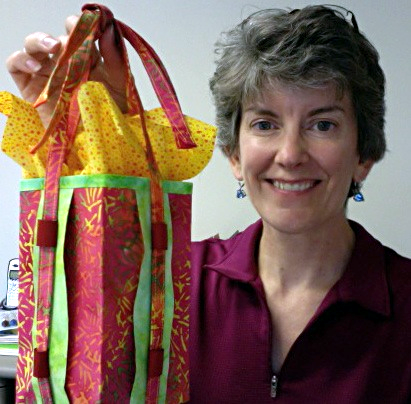 Shelly with the tall bag.
Inspiration
I decided to ban wrapping paper from my house a few years ago. Why buy expensive paper only to have it ripped up and thrown away after just one use? I don't want you to think I'm a total Scrooge – I still enjoy giving gifts when I can find something truly beautiful and/or useful for my family. But wrapping paper? Hey, there has to be a better way!
I dusted off my sewing machine and celebrated when it still worked. (Don't laugh too hard — running a business does not leave much time for sewing…) After a few trips down the wrong path, I finally found a fast and easy way to assemble my new Bosa Nova Bags.
How to
These wonderful little bags are made from two pieces of fabric, a few Lazy Girl Handy Tabs for drawstring loops (shown below in red), some Steam-a-Seam 2 fusible web and a few (very few) seams. Fast, cute, functional. What more could I want?
Choosing Fabrics
Choose a lining fabric with strong contrast to the cover fabric. The seam allowances are on the outside, so the lining is an important part of your bag design. Be adventurous! Isn't that lime green awesome? And check this out – even the bottom of the bag looks great!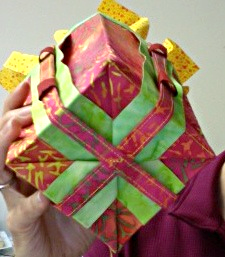 The bottom of the bag is beautiful, too.
Embellish
I used Artist's Paintstiks and my rubbing plates to create the cover fabrics for the Large and Tall bags in this photo.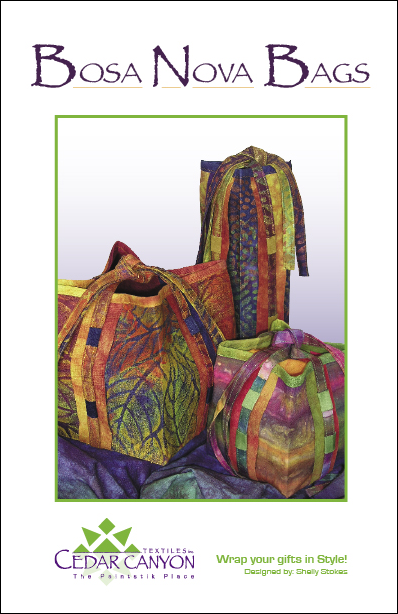 Bosa Nova Bags pattern.
Pattern
The Bosa Nova Bags pattern (Cedar Canyon Textiles #504) just started shipping to retailers and isn't online yet. Get the pattern at Sew Thankful here. Or let your favorite retailer know you would like them to stock the pattern.
To carry the pattern in your shop, contact Shelly at Cedar Canyon Textiles:
http://www.cedarcanyontextiles.com/contact.php , or check with your favorite distributor.
Keep up with Shelly
You can also keep up with the latest news from Shelly at her blog here.
Quilt Market
If you are attending Quilt Market in Houston later this month, stop by Shelly's booth 1160-62 to see these little cuties. Also check with the distributor's booths as well.
Enjoy!
Joan
Images courtesy of Cedar Canyon Textiles.