Make2/Give2 for National Sewing Month



From Lazy Girl Designs
Lazies, September is National Sewing Month and I want to celebrate. I hope you'll join me and Make2/Give2 and show our non-sewing friends one of the reasons why we love sewing: making and giving gifts. It's not that simple – I've added a Lazy twist.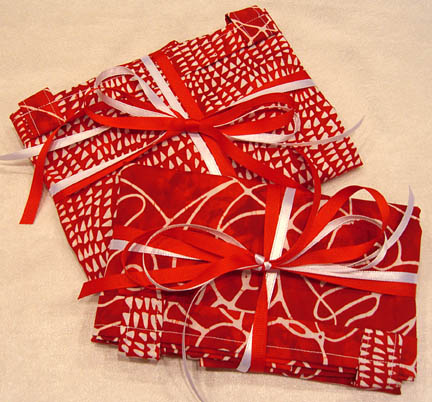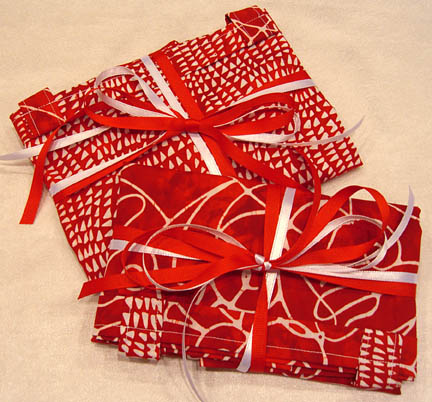 Pretty Gifties
Giving a gift made especially for a friend is one of my favorite parts of sewing. Make2/Give2 is designed to give a friend that sewy-good feeling – and she won't have to sew a single stitch. You are going to do all the work for her so she can jump immediately to that good feeling.
The Challenge: Make2/Give2
– Make two 'With Love Totes' (free pattern from Lazy Girl Designs), wrap them like the gifts that they are, and give them to one non-sewing (or new-sewing) friend.
– One tote is for your friend to keep, one is for your friend to give to a friend. By doing so, your friend will experience for themselves the sewy-good feeling of this kind act and perhaps give sewing a try.
Maybe your friend will join you for a sewing adventure by planning a project, shopping, or helping you cut and sew. Make a date of it.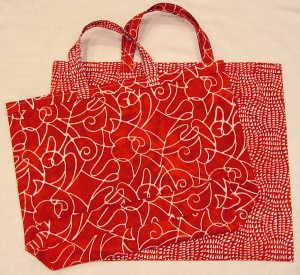 Two 'With Love Totes'. I used two one yard cuts
of red/white batiks from Blank Quilting. Yum!
Prepare Gifts
– Make two With Love Totes. Click here for pattern. I've updated the pattern with the option to box the bottom corners. I'll post a picture tutorial of how to box the corners next week.
– Fold each tote to a neat little bundle. See step by step pictures below.
– Fold a pattern and tuck inside each bundle, so your friend can make more. It's a great starter pattern and it's free.
– Wrap with a ribbon and attach gift tag or card – it is a gift you know! A simple message of 'this gift was made just for you' will work for both gifts.
– Consider including a list of uses for the bag, a gift card for a quilt shop, a notion, pattern, or more fabric.
Folding Instructions
Click images to enlarge.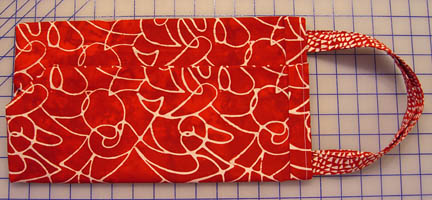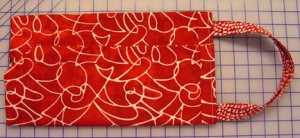 Fold sides toward the middle.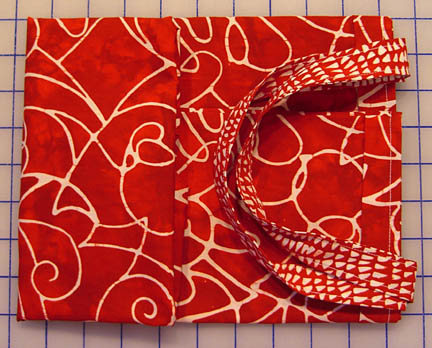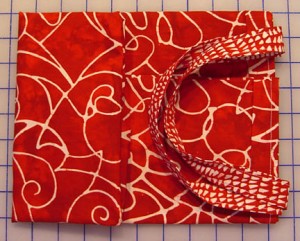 Fold bottom and handles toward middle.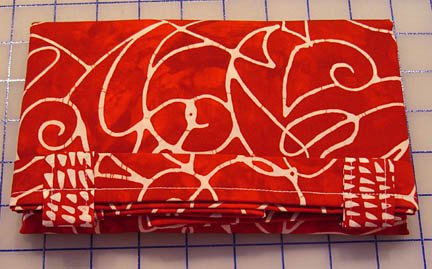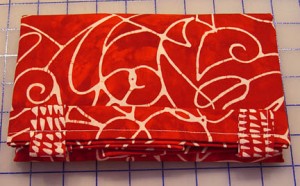 Fold one more time for a neat little package.
Yahoo Group Goal
I've set a goal of 500 bags made and gifted by my Yahoo group as a whole. You can start anytime, just finish up by the end of September for our official tally. Yahoo Lazies can report what they did and how it went, or at least send in their numbers.
Lazies Everywhere
You are invited to dive in on the fun and gift a few during the month of September. I hope you'll join me and Make2/Give2. Then drop me a note from our Contact page or here at the blog and tell me how it went.
Enjoy!
Joan