Look Who is Sewing Now!
Lazies, Did you happen to catch the MSNBC news segment 'Sewing Finds a New Life' on December 23nd? If you are like my circle of fabric crafting junkies, you might enjoy the clip, too.
Click the image to watch the video: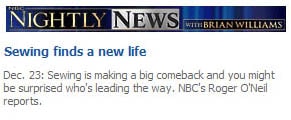 I posted about this same topic earlier this month. My commentary for this new MSNBC piece would be the same. Here's the beginning of my commentary from that post and you can read the rest at the link below if you like:
'I've noticed that sewing seems to be everywhere these days. The upsurge in sewing is an exciting trend for a lot of reasons, but particularly because of what's behind the upsurge. One of the reasons behind why people are coming to sewing, or coming back to sewing, is because they can create things that make them feel empowered. This is huge, in my humble opinion.' 
Read the rest of my commentary, and two additional recent articles, here: 'Why We Sew – Two Great Articles'. 
Thanks goes out to my friend Wendy for sending the link to the clip.
Joan Hawley
Lazy Girl Designs
Recent posts:
www.KayeWoodTV.com Goes Live Today With On-Demand Viewing of Quilt Shows 
'Designer Bags' Fabric from Northcott 
How to Shorten a Separating or Metal Zipper 
Bold Bags is Here!
Don't miss another Lazy morsel – Subscribe to our blog and receive our posts via email.