'Summer' visits with Lonni Rossi
Lazies, A fabulous, un-named, Lazy Girl told the staff at Lonni Rossi's store that our Summer Tote, made with Lonni's fabrics, appeared in last month's Sew News magazine. We talked a bit about this issue of Sew News and this sample here.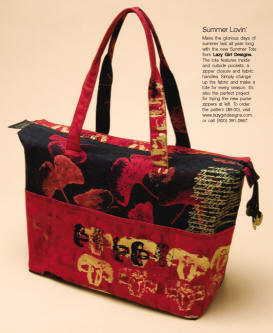 From there, Livija, Lonni's store manager, contacted me to see if I had an extra copy of the magazine.  So, the long and short of it is that the Summer Tote sample made with fabrics designed by Lonni, is currently visiting with fabric lovers, and soon to be Lazies, at Lonni Rossi's store.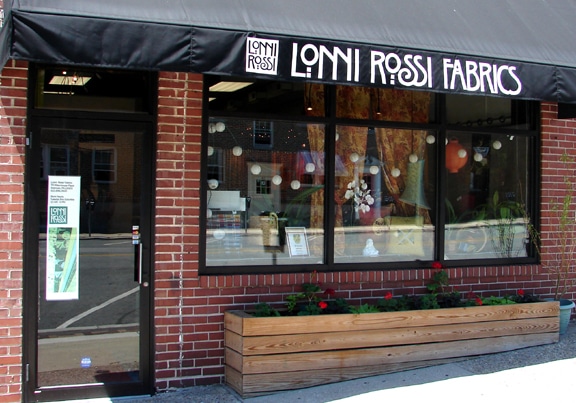 So, if you are in the Philly area and want to go sightseeing in a fabulous fabricy sort of way, stop by Lonni's store and visit for a while. Alright, as long as you are in Ardmore doing some fabric sightseeing, I have another sight for you to consider. I have a little history in Lonni's neck of the woods. Long ago, and I do mean loooooong, I used to live 'right around the corner' from Lonni's store. I worked in Ardmore and lived in Narberth, the next community over from Ardmore. My goodness, when I was a student at the University of Cincinnati in my home town, I lived in the Philly area for several of my 'work terms' under the University's co-op program. I started off living in the center city area downtown (aroung Ninth/Tenth and Spruce/Pine) while working near the art museum. Having grown-up in the burbs of Cincy, this was all pretty exciting to me. After I graduated, I returned to a new job in Ardmore and landed in Narberth for a while.
One of my favorite finds in Ardmore is the 'Suntop' homes by Frank Lloyd Wright.  Wright's Suntop homes design was his attempt at affordable housing, part of his 'Broadacre City' concept.  Some of the guys in the office rented one of these four units.  I was lucky enough to get a tour – woohoo!  Due to the zoning regulations in Ardmore at the time of construction, requiring that each room have a natural source of light or window, etc., the only bathroom in each unit ended up being two-stories tall, with a skylight. You go Frank! I'm a huge fan of Wrights and have traveled to see his designs across the country.
One of my favorite pieces of Wright trivia is that his son John Lloyd Wright invented the toy Lincoln Logs.
Enjoy!
Joan
Lazy Girl
Images courtesy of Primedia and Lonni Rossi.