Japanese Fabrics Make For A Stunning Lazy Angle Sampler Quilt
Lazies, I have a special treat to share today! Marie Hellbergh, owner of the quilt shop Quiltbutik TEXTILIA in Sweden shares her Lazy Angle sampler quilt with us.
Here's Marie:
Hi Joan! Here are some pictures of a Lazy Angle quilt I made (both sides) and some scenic pictures from my cottage by the lake where I vacation.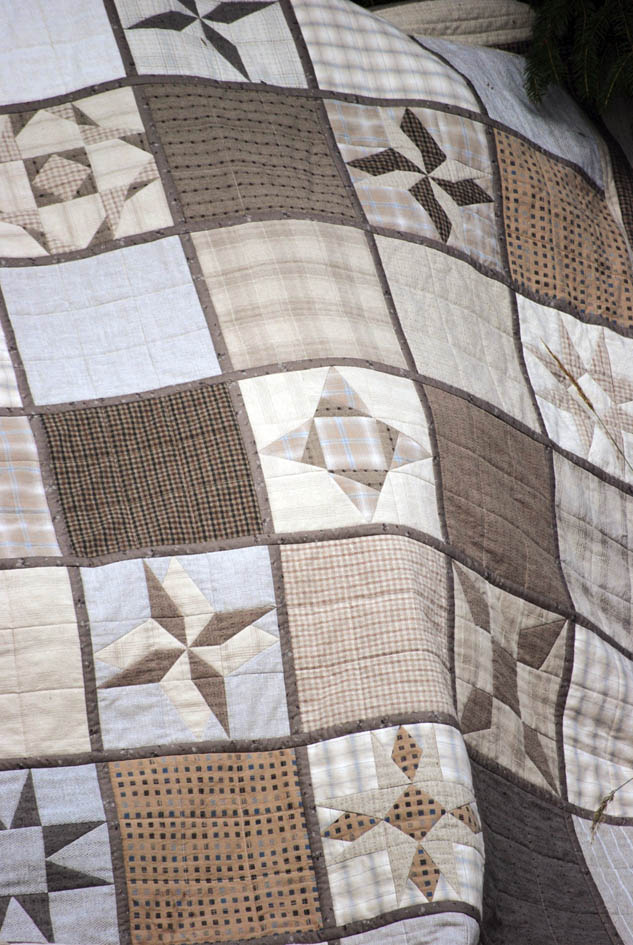 Marie's Lazy Angle quilt. Click to enlarge.
We (my husband and I) have a summer cottage about 5 hours north from where we live and work. We spend 3-4 weeks in June-July there as our main vacation.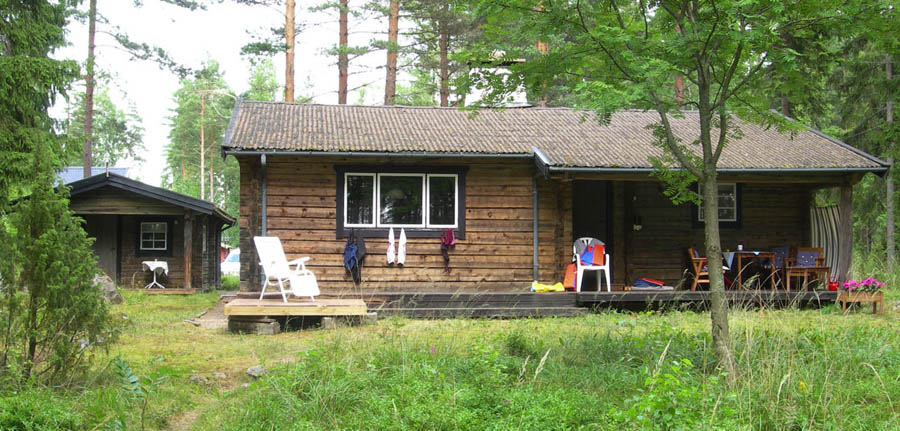 That chair has my name on it!
In Sweden we have 4-5 weeks paid vacation except for shop owners that do not have any 🙂 (or how many you want depending on how you see things).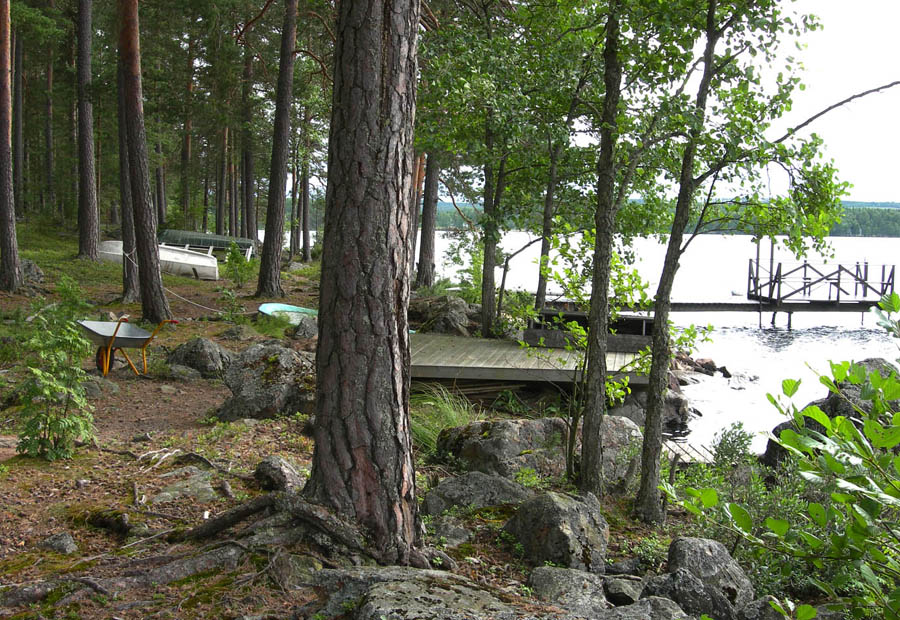 View of the lake at Marie's cabin.
Vacation Time and Planning
This year my daughter Emma was going to tend to the store so I could get 4 weeks off (I needed that). I usually bring my sewing machine and a lot of projects that I want to try or plan for the fall classes or just do for fun.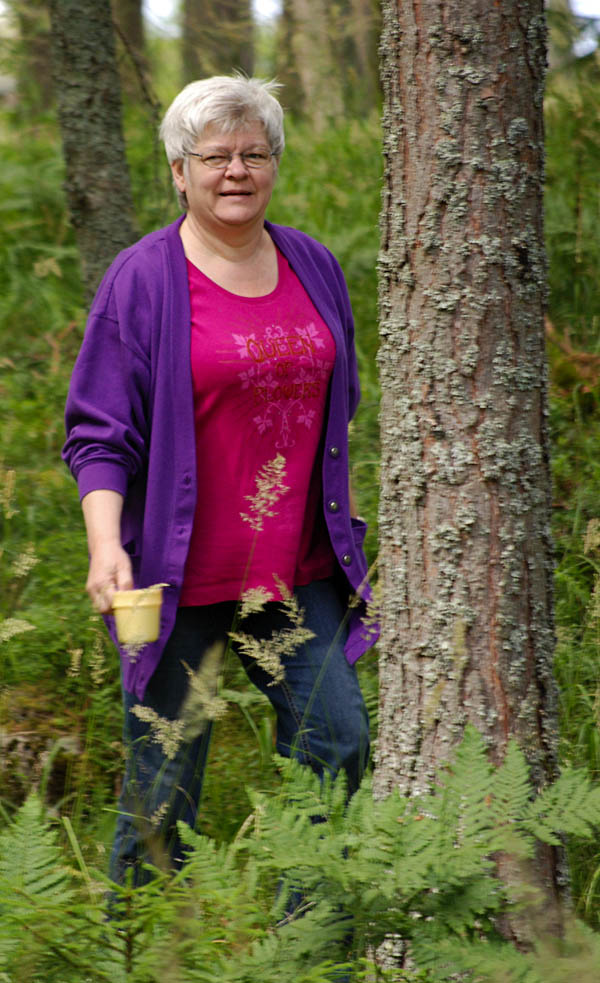 Marie picking blueberries.
Lazy Angle Ruler
This year I had watched you on QNN and liked what I saw so I looked into your homepage and subscribed to your blog. That way I became aware about the Lazy Angle Ruler. I wanted to try working with it and I had also promised my customers a class in the fall.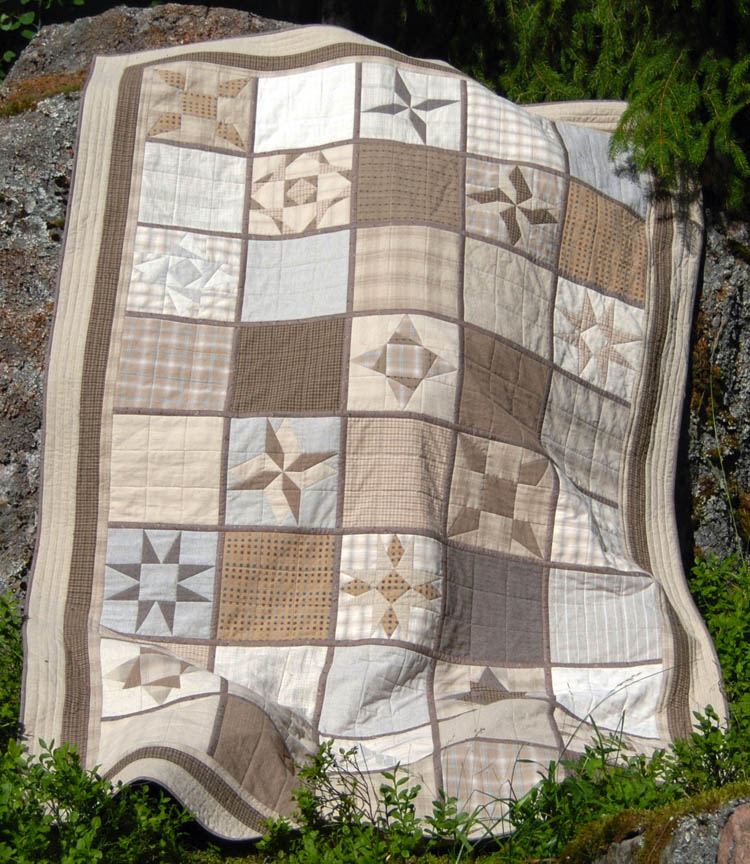 Marie's Lazy Angle quilt.
Beautiful Japanese Fabrics
I had had my eye on some really nice Japanese fabrics, woven and a little coarser than the usual fabrics I have. I have used them in bags and smaller things but I wanted to make a whole quilt with them so I packed a lot of different pieces from the store collection.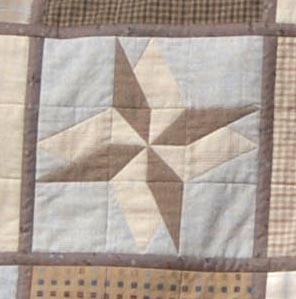 Lazy Quilt-As-You-Go
After some thinking I decided to quilt the blocks and put them together in the Quilt-as-you-go method that Sharon Pederson writes about in her book Reversible Quilts -Two at a Time. The only thing that I do different is that I use Roxanne´s Glue-Baste-It instead of basting or pinning down the sashing strip on the "back"-side before I machine sew it in the ditch from the front. That way I know that it covers the seam and that it is straight. Works wonderfully.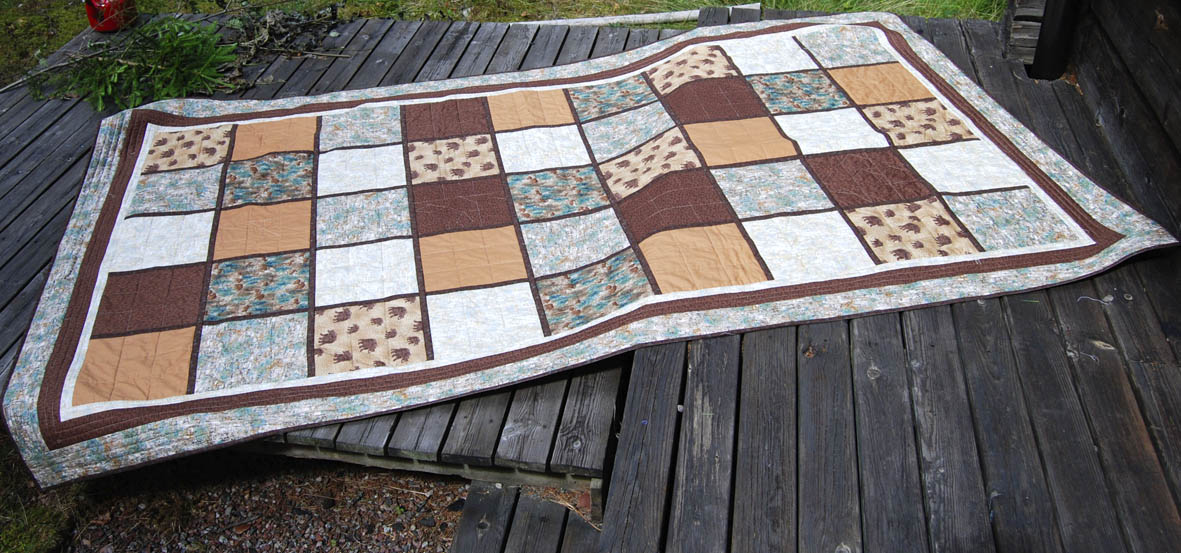 Back side of Marie's Lazy Angle quilt. Click to enlarge.
Well, we arrived at the cottage and I unpacked all the materials I have with me, there is a lot I would say, I kind of take over the area where we eat, gather for games or watch TV so we have to eat outside unless it is really cold.
Anyway, my first project and what I really wanted to do was the Lazy Quilt so I started this on my second day. The first day is always spent cleaning the cottage and make it livable unfortunately. At first I was a little concerned because I could not get my points accurate but after a couple a trial blocks I had it down to an art.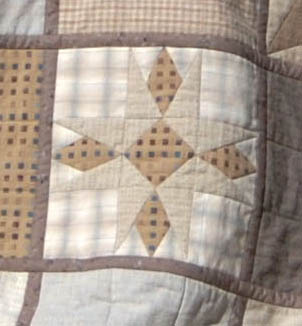 Aha's and Wows
I made a runner and some test blocks before I started with the quilt. The ruler was so much fun to use and to experiment with the different recipes that are in your book. It was a lot of Aha's and Wows. I decided on working with the design that uses a nine patch block. I quilted each block mostly in the ditch and the plain blocks I quilted in a nine patch grid since all my stars were nine patch.
I then put it together with the sashing as Sharon describes in her book. I put three borders on (not in the book) and made a two sided binding.
Finished! I have had a class using this ruler and the students looove it!
– Marie Hellbergh
Meet Marie
Marie will be vending at a large show this weekend, Nov. 2-4. Check her website Quiltbutik TEXTILIA for details, stop by and say 'hello'.
Enjoy!
Joan