International Quilt Market in Houston, Day Two, Part Two
Today we start with a visit to see Donna Dewberry of 'One Stroke Painting' fame. I saw Donna Dewberry demonstrate her 'One Stitch Quilting' which is just so smart and easy. Here's her book: http://tinyurl.com/ylk6dj  Donna also had her new fabric line from Springs in the booth – Yum!
Donna told us that she has a new show 'The Donna Dewberry Show' will debuting on PBS next year.  The first half of the show will be painting and the second half will be sewing. Click on the photo below to get a better view of her fabric line in the cabinet behind her.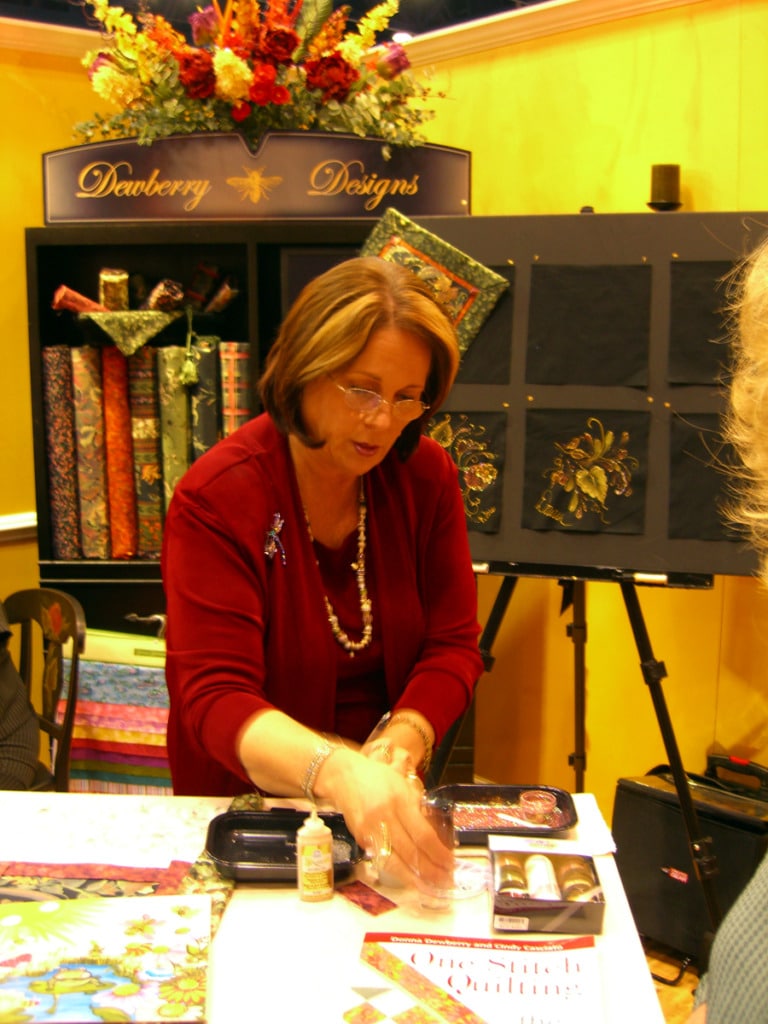 Notes from Friday afternoon, 10/27  Catch-up with our story by reading Day One and Day Two, (Part One)
Finally, it was time to head off and find the room where my lecture was scheduled. Although I was not exhibiting, I was doing a lecture for Leisure Arts to promote the new book 'Bold Bags'.
Lectures are offered all day and they call it SchoolHouse, one word with a big 'H' in the middle. They run from 10-6 the day before the show opens, and 15+ sessions are offered for each 15 minute or 30 minute time segment all day long. That's a ton of sessions from which to choose. I don't know how the store owners do it. They go all day long. It's a chance for designers/companies to present the 'gotta know' info about how to use/display/sell the new stuff – what ever that may be. My session started at 4:50 pm and I didn't expect many people to attend due to the late time. Well, we were packed. We had at least 200 people packed into that room. People stood along the walls, up front with me, in the doorway and out into the hall. I was shocked.
I introduced the 'Bold Bags' book that I did with Leisure Arts and it was very well received. We passed around all of the samples from the book as well as the samples I posted on my blog last week. Store owners also received a sample of the faux leather or mock croc so they could take it home and play with it. All of the Leisure Arts staff was there with me and they were darned near speechless. They are much more organized than I am. One of the ladies, Cheryl Johnson, started reviewing everyone's duties for the session – you man the door, you hand out this, you collect cards for a drawing, etc. I told her she's like a security chief handing assigning security details to the staff. So, as I'm waiting for everyone to get settled my friend Janet, of Calico Gals in NY, taps on the window of the door that's off to my side. No one can see her but me and I'm talking with my hands 'Janet, come in the other door'. The longer that went on, the bigger my hand gestures got because she wasn't doing what I told her so I thought she couldn't 'hear' me. Jim and Bob of Woodstock Quilt Supply in NY, long time Lazies, were in the front row and with big smiles on their faces finally said, 'Joan, we really hope some one is at that door'. It's nice to be loved.  That's Bob to the left, and Jim seated to his right, in the front row in the picture below.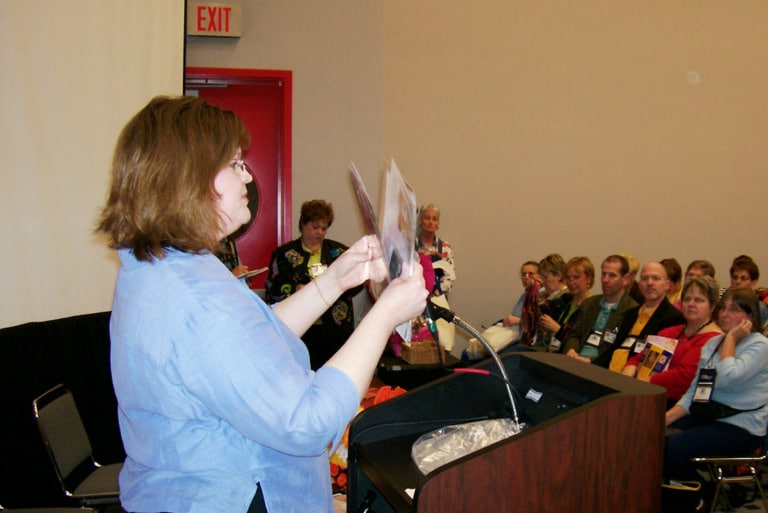 Our SchoolHouse rooms are rather unremarkable and they are set with as many chairs as possible.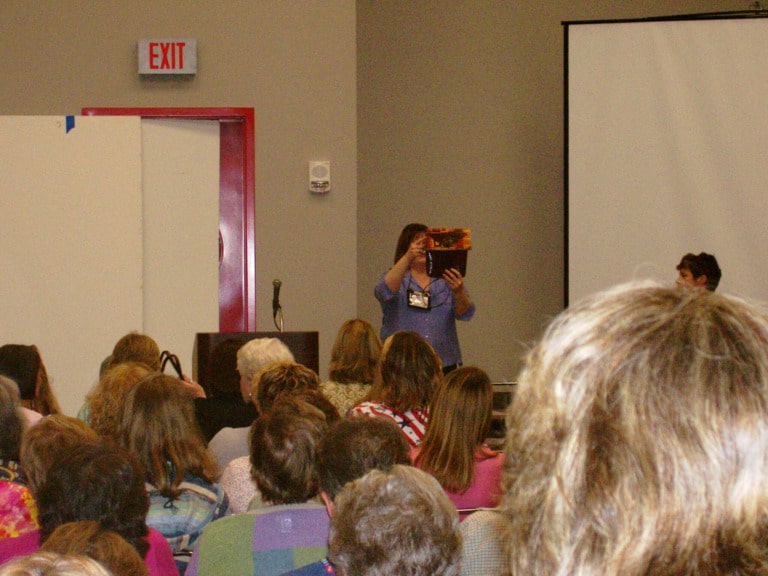 SchoolHouse went well.  We finished SchoolHouse and talked for a few minutes with the store owners. You can read more about the SchoolHouse session, and Market, at Cheryl Johnson's (of Leisure Arts) blog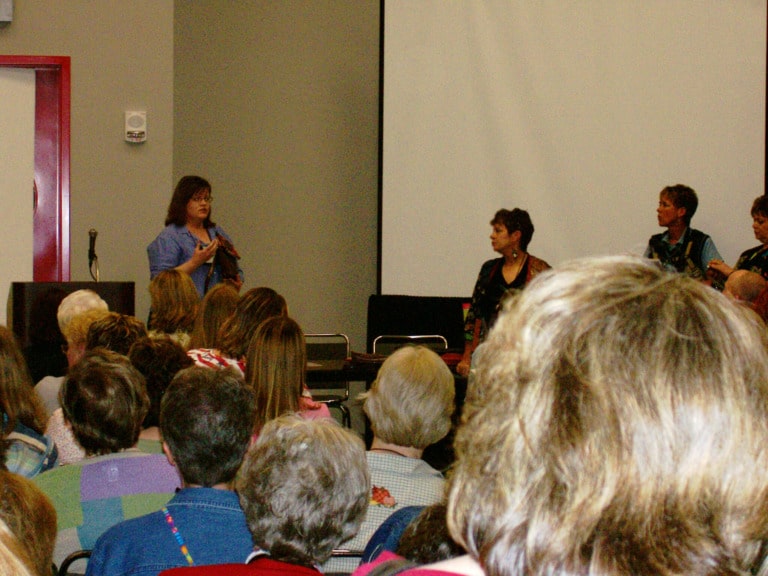 Here are the five bags I made for the show.
You can read about each of them here.
Click to see a larger image of each.
We worked our way back to the exhibit hall and delivered the bag samples to the appropriate booths and it was time for dinner. I made plans to get together with my friend Cecile of Just Another Button Company for dinner. We had dinner in the restaurant inside the Hilton (attached to the convention center). Sounds like it would be nearby, but it was a haul. We had a wonderful time at dinner. I had the crab cakes appetizer and fell madly in love with them. I have a fondness for crab cakes. These little cakes of crab were served with a mustard bourbon sauce. Oh baby! I know there was other food at the table, but I couldn't tell you what it was. Oh, I do recall a nice desert made a brief appearance. As much as I loved the crab cakes, I only ate one and Cecile passed on the other – that lone, fabulous little crab cake went home with me to the room! Lanette got back to the room a bit after I did and I offered her this bounty of wonderfulness. She agreed with me across the board. Two thumbs up for the crab cakes. Oh, I have to tell you that Cecile ordered the Idaho Baker for her side dish. It was bigger than my foot! Three people could have shared that potato and I think it might have been bigger than some of the apartments I lived in during college.
Finally, it was time to turn in and we strategized about how to make our beds more comfy, but we couldn't MacGyver our way to a happier arrangement. Darn. We sprayed our lavender linen spray, put on the relaxation CD and hoped for the best.
Footnotes:
I found out that Tomiji Okada, the owner of Clover Needlecraft, Inc. was in from Japan for the show and I was so excited to see him. However he had left for the day before I had finally made my way to Clover's booth. Mr. Okada serves on the board for the Hobby Association of Japan, HAJ. The HAJ is the group that brought me to Tokyo in 2004 and 2005 to teach and exhibit. I caught-up with Beth Ferrier of Applewood Farms quilt patterns/books. I also had a chance to meet Jamie Kalvestran, of Scrap Bags patterns. We met while finding the same piece of cheese in the exhibit hall. Afterwards, we continued to run into each other. Finally, Lanette told me not to worry about the spots on my shirt from my lunch accident, she said I look good in everything I eat.
Tomorrow the exhibits open to the store owners!
Joan
Lazy Girl Designs
SchoolHouse pictures courtesy of Cheryl Johnson of Leisure Arts – Thanks Cheryl!