It's Easy To Install A Zipper With Our Runaround Bag Design
Lazies,  I don't know who came up with the universal instructions to install a zipper, but I rarely hear some one say 'I love installing zippers'. Actually, I don't think I've ever heard that. And I can't help but feel it's because of those old-fashioned, scary instructions that come with the zipper. Well, it just doesn't have to be that way. I have grown to love installing zippers and I think you can, too.
I have devised four different ways to install a zipper that won't make you cry. I promise. These techniques are used throughout our designs. Which brings us to today's 'Show Us Your Lazy' project feature. Lazy Girl Michelle Meehan tells us how she feels about our 'Sew Easy' zipper technique used to make her Runaround Bag (shown below with a Wonder Wallet).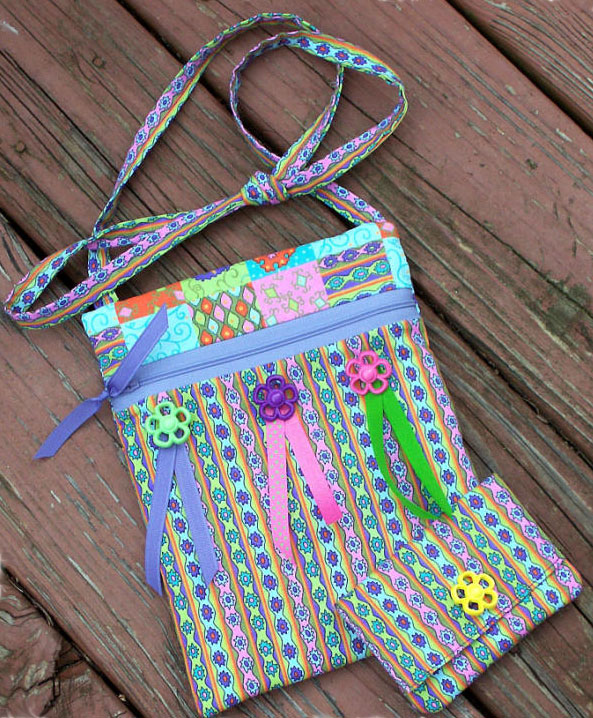 Here's Michelle:
I just finished my first Runaround Bag, and I LOVE it. This is exactly what I need right now – a bag that's big enough for a wallet, a set of keys, and some lip balm, and that's about it.
I just have to say that after making a second Runaround Bag for my daughter, I am floored by how easy it is to install a zipper. My two Runaround Bags are, literally, the only zippers I've ever sewn (or even attempted), and it's no different than any other seam.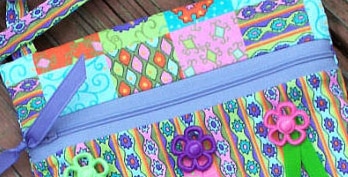 I thought zippers would be all complicated and frustrating. They're not an issue at all here. It was just as easy as the paperback book cover.
Here are two pictures of my little girl Kate and her new big girl bag. She's so proud of it (like I am!).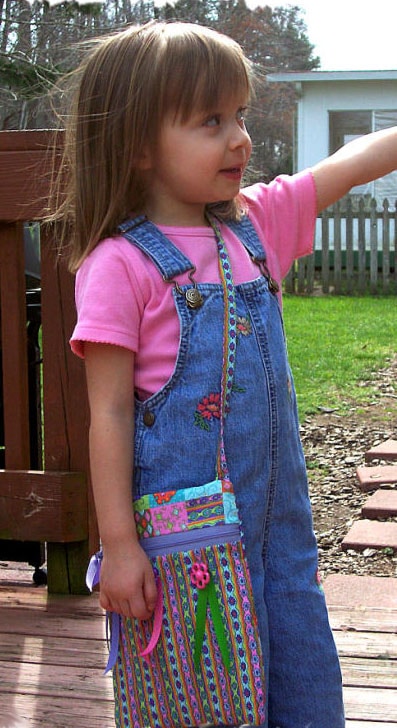 We're going out this afternoon because when I asked her what she was going to put in her new pocketbook, she said, "Makeup." But she doesn't have any makeup (I don't even know how she knows what it is), so we'll go to Target to get her a little bubblegum lip gloss.
Anyway, I'm glad this was my first experience with a zipper, since I have no fear of them now! Another huge thumbs up for Lazy Girl Designs patterns.
– Lazy Girl Michelle and Lazy Girl in training Kate
Thanks Michelle! Part of the secret to the 'Sew Easy' installation is that we only use the 'good part' of the zipper. We avoid the knot, or stopper, at the top and bottom of the zipper and concentrate on the grade-A prime real estate in between. Sneaky!  That also means that we sew over the teeth at the side seams. This technique is ideal for polyester zippers. Don't try this with zippers that have metal teeth unless you are looking for a reason to break a few needles.