If Sewing is Your New Passion, Then Quilt Shops Should Be Your New Girlfriend
Lazies, Apparently our not-so-secret love of sewing is gaining more media coverage. Just this morning NBC's Today Show aired a piece about sewing circles. Click on the image below to watch the clip.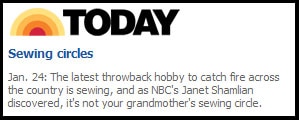 If you are new to sewing, then I have a secret to share with you. Are you interested in purse patterns to make your own fabulous handbag, pocketbook, clutch or tote? Want to embellish ready-made garments for a personal touch? Care to create a jacket to die for? Or do you want to try your hand at an apron, skirt, or items to decorate your home? Or are you competing in your own personal Project Runway?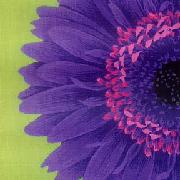 Well, if sewing is your new passion, then quilt shops should be your new girlfriend with whom you share that passion. So please allow me to take this opportunity to introduce you to the girlfriend with the old-fashioned name who is waiting to make your acquaintance. 
Your average fabulous quilt shop is probably nearby waiting to meet you. There are approximately 3,000+ in the US. That's twice the total number of JoAnn's and Hancock's for those of you keeping score. The chain stores are great, however the quilt shops are specialty stores dedicated to your love of fabric crafting.
And when you walk in the door, and your fabric-loving knees begin to buckle at the sight of 1,000 – 9,000 bolts of the most beautiful high grade cottons, fabulous fleece, Minkie, flannels, and home dec fabrics that you could ever hope to play with – well, you should probably sit down for a minute and take it all in. 
Pull a chair up to the bound-to-be-there fat quarter cuts and rifle through the pretty colors like a box of mixed chocolates as you regain your composure. Then, take a nice relaxing breath, get up and walk through the store fondling the bolts. It's okay. That's what we do as quilt shop customers. We have to experience the fabric in our minds and at our fingertips.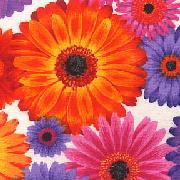 Your new girlfriend, the quilt shop, is almost assuredly owned by someone just like you who has a passion for creating things from beautiful fabrics. That shop owner hand selects every item in the store with you in mind. It's like being invited into the most wonderful personal sewing room you could ever hope to go play in. Your girlfriend has the best notions and tools, too. Still cutting with scissors? Oh my. Cut at the speed of light with a rotary cutter and get to the sewing part faster than ever.
My love of quilt shops began after being a sewist for more than 20 years. No one in my family and none of my friends quilted. So for me, quilt shops were not on my radar. A friend introduced me and I've been hooked ever since. 
So, I'm sharing my girlfriends with you today. And I hope some of them become your friends, too. When you see the word 'quilt', I want you to think high grade, upscale, specialty fabrics, designed by people like you and me, waiting to decorate your life for a lifetime. 
So, if you haven't been to one of these 3,000+ independently owned quilt fabric shops in the US – go find one here or here. Trust me, it's worth a visit. Bring a big car and your credit card, meet the shop owner and staff, sign up for the newsletter, take a class and bookmark their website.
A big 'Thanks' to my friend Wendy Thompson, Associate Editor, CK Media (Sew News and Sew Simple magazines), for the NBC news source.
Images courtesy of LakeHouse Fabrics and NBC.
Recent Posts:
Bold Bags Featured at Leisure Arts
Joan Hawley Tapes Eight Shows with Kaye Wood
Watch Lazy Girl Online Now
Make a Snazzy Purse in Three Steps
New to our blog? Subscribe here.