'Hippie' bag made with Blank Quilting fabrics
Lazies, I made this fun 'Hippie' bag, from my 'Bold Bags' book with Leisure Arts using fabrics from the 'Tribeca' line by Blank Quilting.  I fell in love with the turquoise/royal blue colorway of these fun prints.  I used a stripe for the cover, squares for the lining and two differnt dots for the finge.  I paired the fabrics with the Elderberry colored faux leather handles from Leisure Arts.  Click to enlarge the photos below.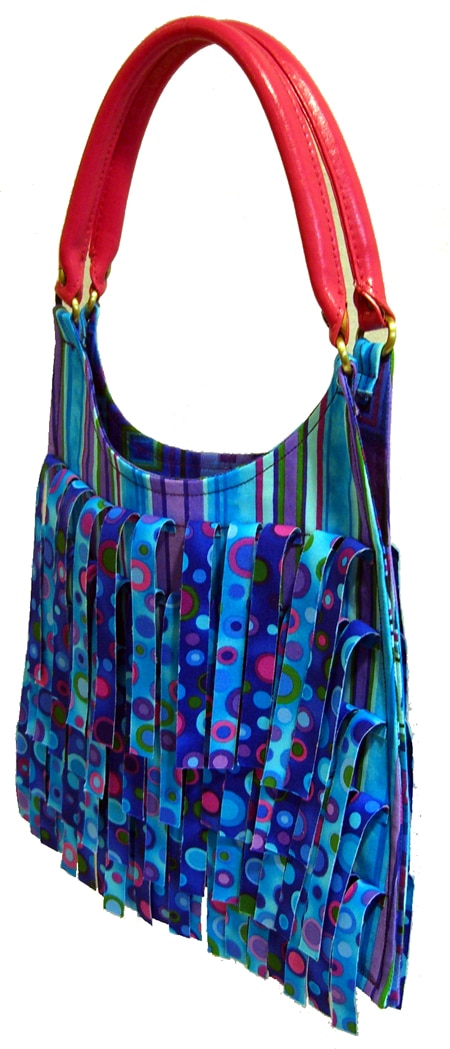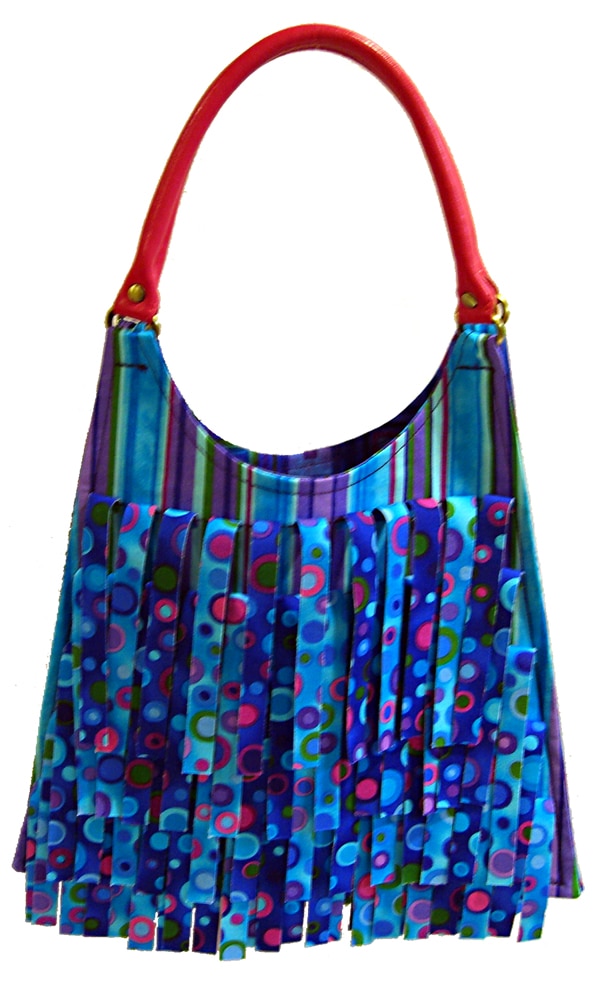 I followed the pattern from the book and substituted fabric fringe for the faux leather fringe.  I fused two different color versions of the same style fabric together using Steam-A-Seam 2 from the Warm Company.  This created fringe with a 'lighter' side and a 'darker' side.
I alternated the light/dark side for the first row of fringe.  The remaining four rows of fringe are a little less organized.  As the bag grows wider toward the bottom, more fringe fits on each line.  I loved the fuscia dots on the fringe and they match perfectly with the Elderberry faux leather handles.  I also tried the light purple handls, but Elderberry really made the colors in the bag pop.
Here are the fabrics used to make this bag:
1/2 yard stripe for the cover:   #BTR 4226 Turquoise
1/2 yard squares for the lining:#BTR 4224 Turquoise
1/2 yard dots for the fringe:    #BTR 4225 Royal
1/2 yard dots for the fringe:    #BTR 4225 Turquoise
You will need all the remaining supplies as listed for the Hippie bag in the 'Bold Bags' book from Leisure Arts. www.LeisureArts.com Bold Bags, item #4153. Suggested retail is $8.95
Click here for a printable version of this information:  Hippie Bag Blank Quilting information sheet
Enjoy!
Joan
Lazy Girl Designs