A Fashion Show of Lapel Pins at Quilt Market
Lazies, I'm off to the International Quilt Market in Salt Lake City, UT this morning. Lapel pins are a delightful element of the culture of Quilt Market. All attendees are required to wear a name badge – that's where it all starts. Then, as we go booth to booth, we happen upon some of the most enticing lapel pins. And many of us wear them on our name badges.
I'm surprised we don't all hunch over by the end of the show due to the weight.  Not very neck-smart, but we love it nonetheless. When we run out of room, or want to disperse the weight, pins migrate to our jackets, bags, and more.
When I get home from a show, I move the pins to their permanent home on my bulletin board where they join the hordes of pins from shows past. Lapel pins make great thumbtacks! I made three yo-yo lapel pins to wear at Quilt Market this week.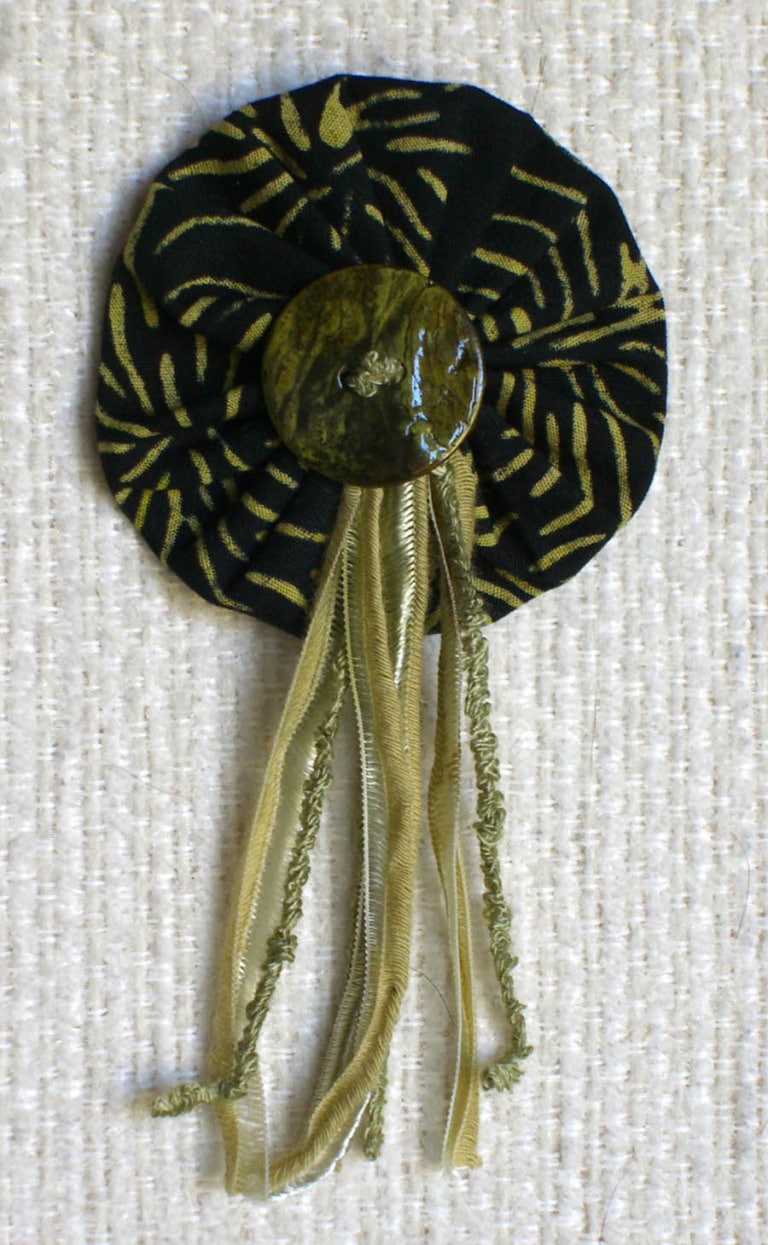 Green Pin:
Now, I hate to play favorites, but you probably know how I feel about limey/mossy greens. I like this pin quite a bit.
Click the image to enlarge to see the button and fibers better.
I used the Extra Large Round Yo-Yo Maker from Clover, a button from JHB, and fibers from Adornaments. The black and green fabric is from Sew Batik.
You might never guess it, but the back side of buttons can be quite different than the front. And that may be just the right fit for your project. I used the back side of button #71942, bottom row of this page.
I pulled a strand of fiber through the button and tied a knot around a few more cuts of fiber. Then I sewed the button/fiber combo in place at the center of the extra large yo-yo.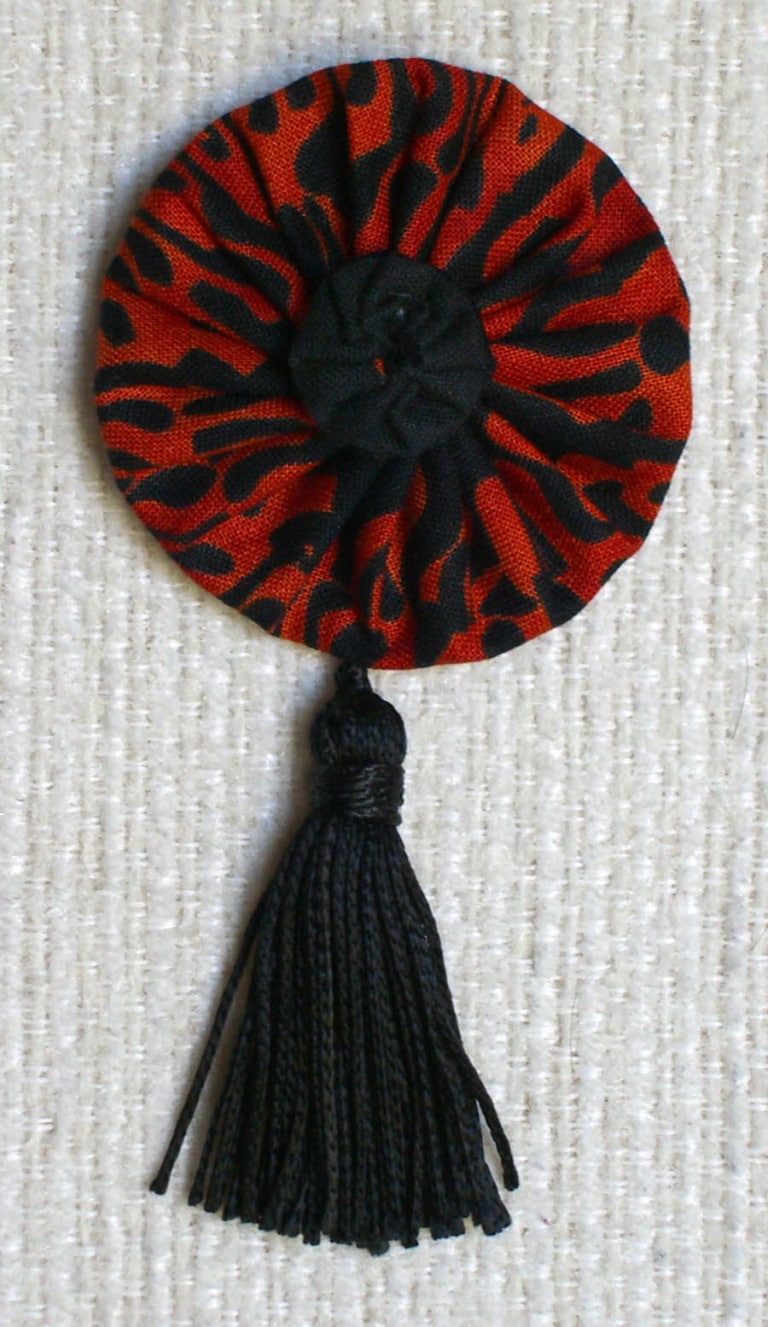 Red Pin:
I love Lonni Rossi fabrics and I used her Asian Harmony fabric for this pin.
I fussy-cut a round motif for the extra large round yo-yo. I simply centered the extra large yo-yo Maker over one of the round motifs to get the front of the yo-yo to have the same part of the motif land on the front.  More about that soon.
Then I used the extra small round yo-yo maker and fussy-cut a black swatch from the same fabric so it would match perfectly. Click to enlarge the picture of the pin for a better view.
I used a mini tassel from the home dec department and stitched it to the back of the yo-yo. Add a pin you are done.
Blue and Yellow Pin:
Now, this little cutie is scrumptious and it looks great with my denim jacket. I used the large heart-shaped yo-yo maker and the extra small round yo-yo maker. Fabrics are coordinates from Sew Batik. Simply stack and stitch, add a pin and you're done.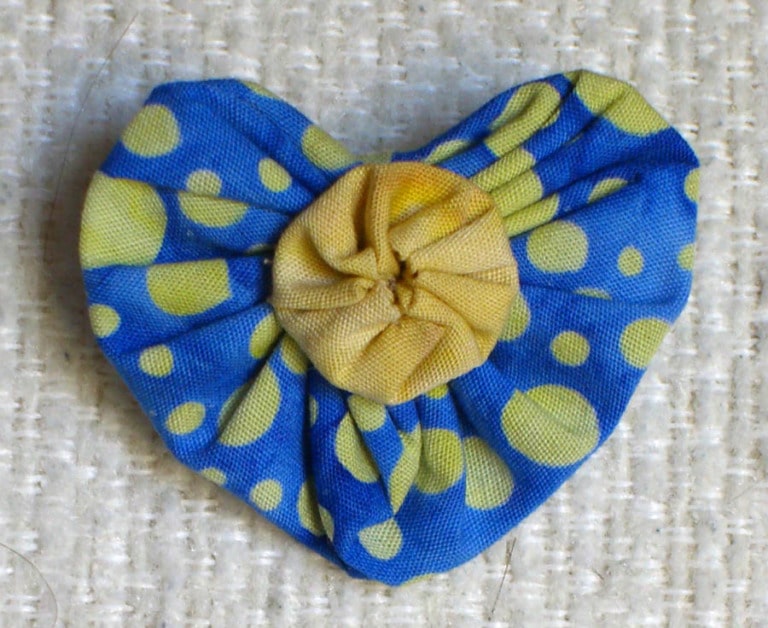 The red and green pins will have a new life after Market. I have a small black purse that I decorate with interchangeable embellishments to go with my outfit when I use that purse. These will be perfect with that bag.
Oh, I'll be wearing my Lazy Girl lapel pin, too.
Fabric image from http://www.lonnirossi.com/.