What Happens To Your Life When Sewing Takes Over?
Lazies, There was a fabulous account of one sewing enthusiasts' coming of age story in the New York Times yesterday.  Newly obsessed Michelle Slatalla shares her story of how she changed from a rational person with a fabric scrap to a full-blown sewing junkie.  Michelle manages to justify walking away from our chores in search of the always fulfilling art of sewing a straight seam. I have to say I liked Michelle immediately.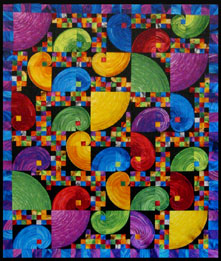 Here's Michelle's delightful story 'On Pins and Needles, but Not Missing a Stitch' which left me chuckling out loud. The New York Times' website might require you to register (free) in order to see the article. I checked the link this morning before I posted to my blog and I could see the article without registering.
Kudos to you Michelle. Or better yet, I say 'bodkins' to you!
A big 'Thanks' to my friend RaNae Merrill for bringing this article to my attention. We needed some eye candy for this post so the quilt pictured here is The Nautilus Ball by RaNae using her Radiant II collection from Blank Quilting.
Leave a Lazy Comment
One Response to "What Happens To Your Life When Sewing Takes Over?"