The New Look of Lazy Girl Designs
Lazies, I'm excited to announce that Lazy Girl Designs is getting a make-over.
Logo Redesign
First up is our logo. This make-over is something I've wanted for years, I just hadn't found the right designer. Until recently. After months of back and forth, trying lots of ideas, I decided on the new look for Lazy Girl Designs.
Here is the new logo below:


Here's the current logo below:

Try, Try Again
We tried all sorts of things, a few different fonts, a couple of different layouts. I kept coming back to the simple combination of fonts and text layout above.
Want a peek at some of the things we tried? Here are just a few of the mock-ups we considered along the way: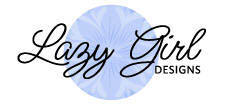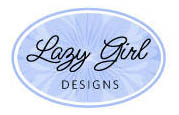 The periwinkle color from these mock-ups didn't make it to the final logo. But you can expect to see it again in other Lazy things. More on that in the coming weeks.
Website and Blog
Next on the list is the website and blog. They'll be integrated into one cohesive site with the same look and feel.
The redesign is currently underway and we are probably two months from launching the new redesign. I'll keep you posted.
In the meantime, you'll start seeing the new logo pop up here and there as it is integrated into all things Lazy.
Lazies, what do you think? Do you like the new logo?
Enjoy!
Joan
[tags]lazy girl designs[/tags]
Leave a Lazy Comment
65 Responses to "The New Look of Lazy Girl Designs"
Trackbacks/Pingbacks