Spring Quilt Market, Part 1
Lazies, I'm home from the International Quilt Market in Salt Lake City, UT. What a trip. It's always interesting to attend these trade shows. And sometimes the interesting stuff isn't even at the show.
Let's start with some eye candy from the show. These are three of the dresses from the Bernina Fashion Show display just inside the doors to the exhibit hall. Seeing these beautiful outfits was a fabulous way to start each day.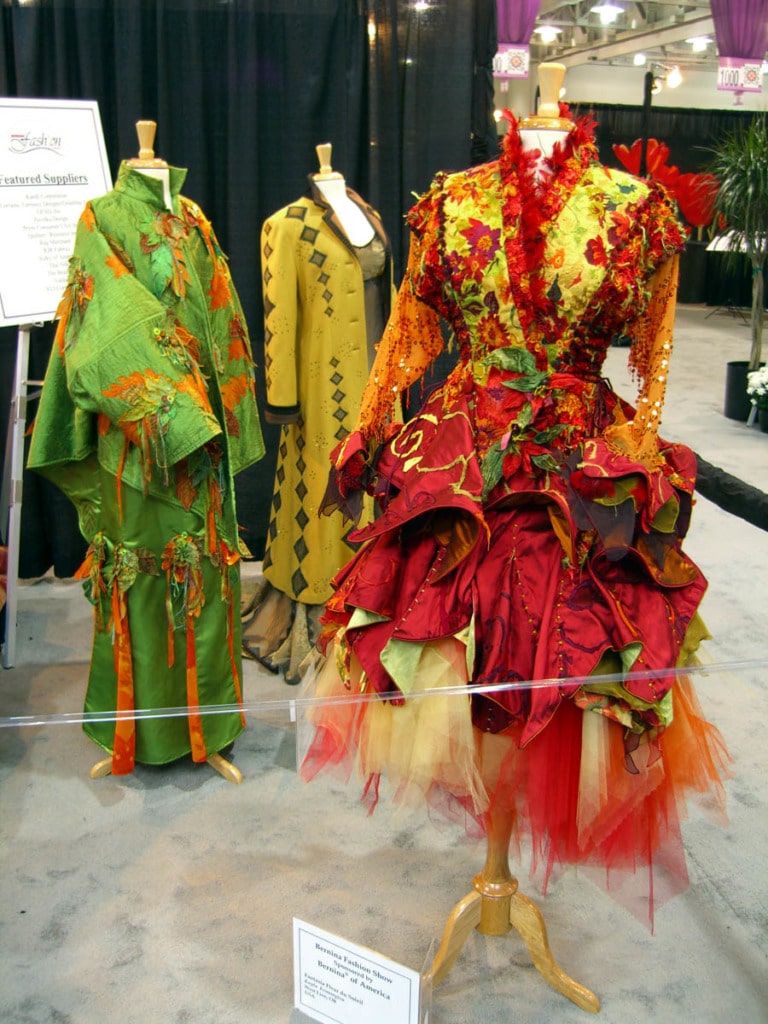 Click the image to enlarge.
I ran into tons of Lazy Blog readers – Hi Lazies! It was great to see you. I saw plenty of Lazies running around with their Lazy Girl purses and totes, too. A number of people stopped me to talk about my newly hemmed pants and my yo-yo lapel pins 
On to the trip:
The first interesting thing I encountered was at the Salt Lake City airport. Our flight arrived early, so we waited for the third member of our party and hung out at the airport and had lunch. That's not the interesting part. I saw people walking around with little boxes of pizza but I didn't see any location selling pizza. Mind you, I'm in the baggage claim area. There usually isn't a lot going on there. Then I stumbled upon this – a Tombstone pizza vending machine. I've never seen one of these before. It offered several varieties of pizza, hot dogs and a breakfast sandwich. There are days when I'd like one of these in my kitchen. Or instead of a kitchen.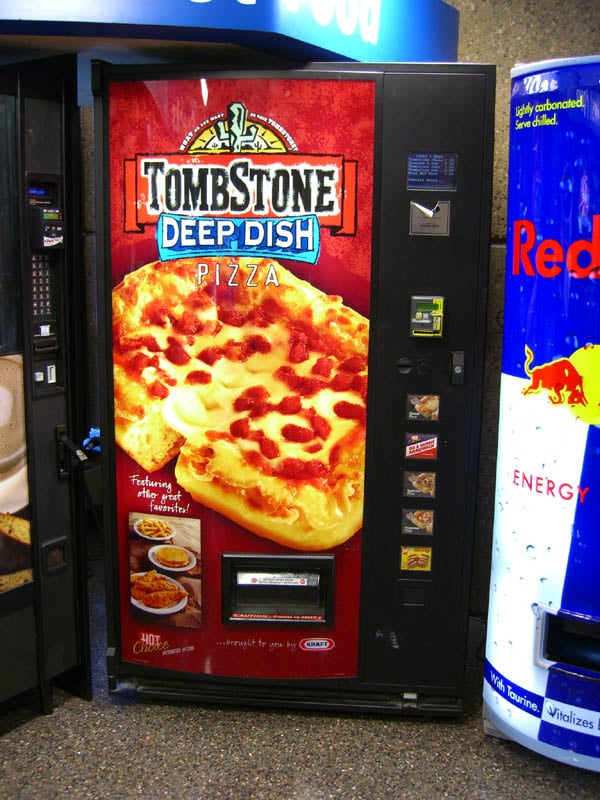 Usually, we don't get to see anything but the airport, hotel and convention center during these trade show trips. I arrived the day before I needed to be there and had some time to walk around with my roomie Lanette a bit. We were actually only headed to the drug store around the corner when I thought of calling a friend at the show to see if she needed anything. 'If you find a See's Candy, get me some dark chocolate.' I was walking past one as she uttered those words. Kismet.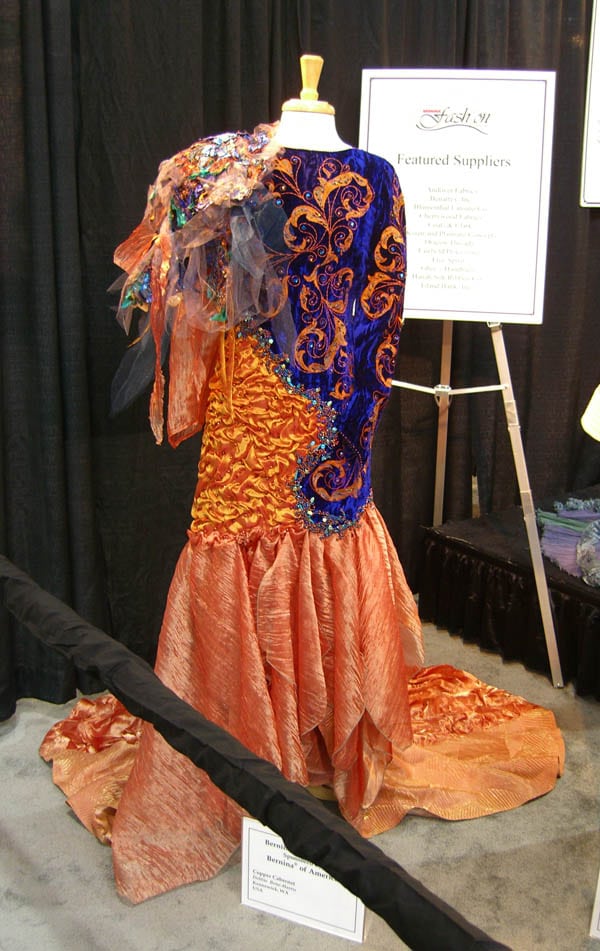 Another garment from the Bernina Fashion Show display. Click image to enlarge.
So, I picked up every one's orders for chocolate and had the staff put together a custom box for myself. My very favorite is the dark choco raspberry cream. I ordered the half pound box size, mixed with dark chocolate truffles and one other juicy choice. The nice staffer held up my little custom mixed 12-piece box and asked me how I thought that looked. I said 'Too small – make it a pound.' Five pounds of chocolate and a peanut brittle later, I continued on to find the drug store.
On our way, Lanette and I ran into Nancy and Susan from Glad Creations (fabulous store and quilt patterns) and they suggested we walk over to Temple Square. That sounded great to us, so off we went. En route, a car stopped and asked for directions to the convention center, we helped out, then continued on our way. Later that day a lady on the elevator at the hotel thanked me for helping with directions. I said 'Oh, was that you?' She said she recognized me by the bags of See's candy I was still carrying! That's it everyone – you are all getting your own chocolate from now own.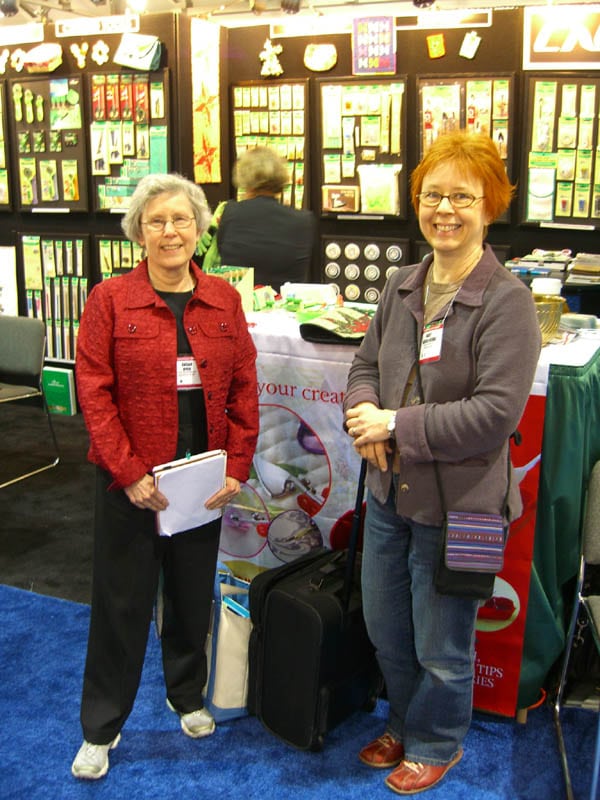 Susan and Nancy from Glad Creations in front of Clover's booth.
We had beautiful weather that day. Quilters were everywhere. The gardens and buildings of Temple Square were beautiful. We sat for a while and enjoyed the wonderful park. That evening Lanette (from the Gypsy Quilter) and I met up with John and Suzanne Bruns (from Quilter's Warehouse and Prairieland Quilts respectively) and Mary and Don Herschleb (from MH Designs). We had dinner at Squatters Salt Lake City Brewery – Yum! I had the green Thai curry chicken – oh my goodness. Then three delectable dishes of creme brulee mysteriously arrived at the table (all with healthy servings of fresh whipped cream) and then..they mysteriously disappeared. We ate so much that we rolled out the restaurant. Suddenly, the three block walk back to the hotel seemed a lot longer.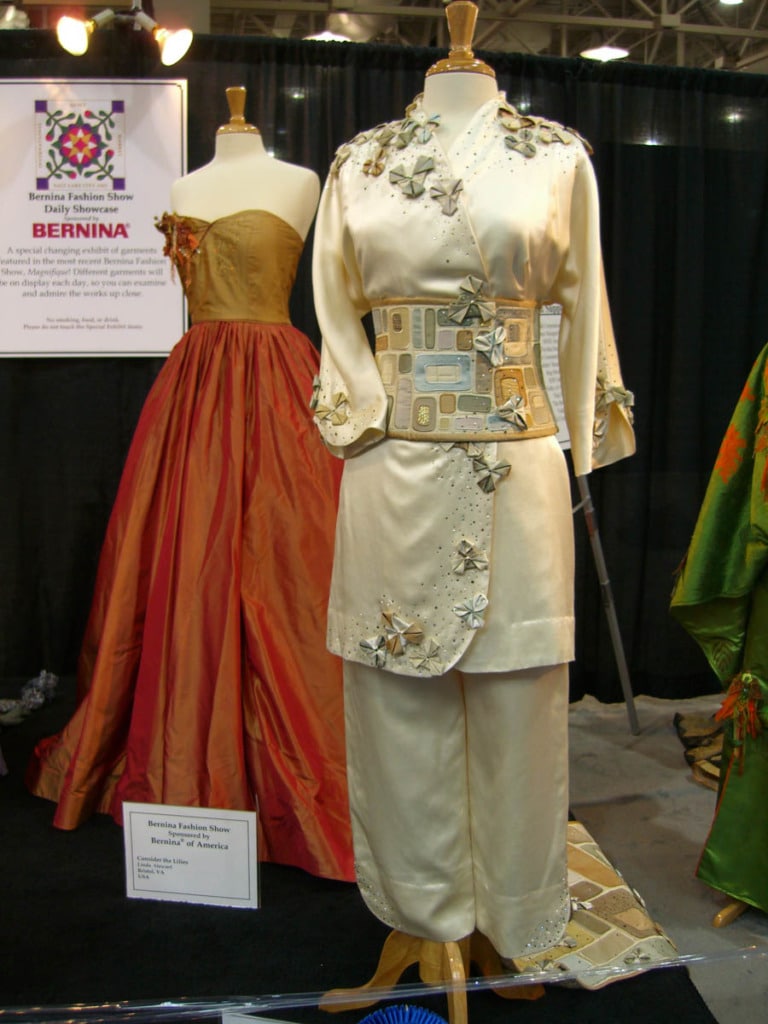 More beautiful entries from the Bernina Fashion Show. Click image to enlarge.
More next time.
Joan
Leave a Lazy Comment
7 Responses to "Spring Quilt Market, Part 1"
Trackbacks/Pingbacks
Pingback: Purse Patterns, Tote Bag Patterns, Quilt and Sewing Patterns from Joan Hawley of Lazy Girl Designs

Pingback: Purse Patterns, Tote Bag Patterns, Quilting and Sewing Patterns from Joan Hawley of Lazy Girl Designs