Sewing Surge Makes the News Again!
Lazies, Sewing continues to find headlines in the national news media. CBS ran a nice piece on December 26, 2006.
Click the box below to watch the news clip:


Here's the round-up of other media coverage from my previous posts on this topic.
NBC piece from December 23, 2006.
Click the image below to watch the video: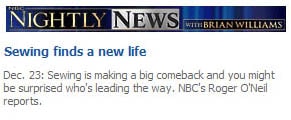 Two great articles:
'Circle Back to Sewing' article at Time Magazine.
'Hip to Hem – Sewing Makes a Comeback' article from Savannah Now. Originally posted at Living in a Material World.
A big 'Thanks' to my friend Wendy Thompson, Sr. Account Manager for Sew News and Sew Simple magazines, for the CBS news source.
Images courtesy of CBS and MSNBC
Leave a Lazy Comment
One Response to "Sewing Surge Makes the News Again!"