Pantry Purses by Cheryl Weiderspahn, On-Demand Video of Kaye's Quilting Friends
October 24, 2006 – Update: The video shown below will no longer be available at the links provided to us.  We'll let you know if it becomes available again.
Original Post:
Lazies, I have another sneek peek for you!  Kaye Wood has an episode of her Kaye's Quilting Friends show online.  Click on the image below to tune in.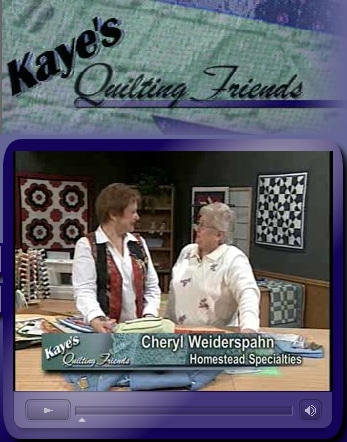 It's a fantastic episode with Cheryl Weiderspahn of Homestead Specialties.  Cheryl shows us her Pantry Purses and they are so smart.  The program is about 20-25 mintues I believe, so get your coffee or tea and take a look.  Cheryl shows us how to make purses and a number of accessories out of kitchen linens.  She demonstrates how to install a magnetic snap closure and introduces a new way to install a zipper!  It's just smart, smart, smart!
You can see the product info here:
http://www.kayewood.com/onlinecat/pantry_purse.html
Kaye is testing the waters with streaming online video for her programs.  This is the first episode available and I hope we see more.
Enjoy!
Joan
Lazy Girl Designs
Image courtesy of Image Works
Leave a Lazy Comment
One Response to "Pantry Purses by Cheryl Weiderspahn, On-Demand Video of Kaye's Quilting Friends"