Lazy News: Updated Pattern Covers and Website
Lazies, We've slowly been incorporating our new company logo into our printed items. First up, some favorite patterns get a face lift as they go back to print and a sneak peek at how our new website is coming along.
We unveiled our new company logo earlier this year. The logo redesign was the first step in creating a fresh new look for Lazy Girl – the company, not me. Perhaps we can work on me next.
Updated Pattern Covers
I have five fresh pattern covers to share today. And these are already in stock and shipping.
So, here are the updated covers and you can click on any of them to see their larger image.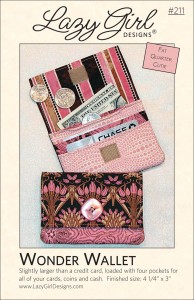 From top to bottom:
A-Door-Ables, Chelsea Tote,
Chloe Handbag, Sassy Bag,
Wonder Wallet
You'll see that we inserted the new logo at the top of the covers, then used the same font from the word 'Designs' for the title and text below the picture.
The Wonder Wallet pattern had a face lift last year, but the logo is new, so that Lazy Girl had another face lift. As we go back to print with existing designs, we'll update those as well.
New Website
Next on the list, and nearing completion, is an overhaul for our big messy website. Look how much fresher and simpler the website is going to be. I can't wait.
Here's an image of one of the category pages. Click the picture to enlarge if you like. This is just an image, not the actual website, so none of the links work.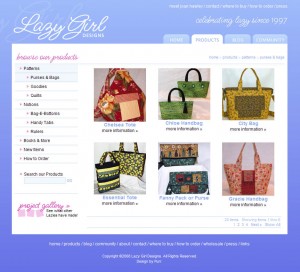 And here's an image of one of the product pages. Click to enlarge.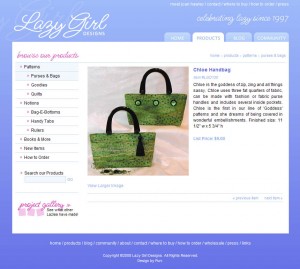 The new website will include the Lazy Girl blog as well. So, the blog will finally match the website. I don't have an image of what the blog will look when re-launched as part of the website, but it will be formatted to match the two images above. We're close and I'll keep you posted as I know more.
Enjoy!
Joan
Leave a Lazy Comment
18 Responses to "Lazy News: Updated Pattern Covers and Website"