Lazy News: Come See Our New Website!
Lazies, Our new website has launched and I invite you to take a Lazy look around. I'm excited about the clean and simple look of the site as well as the improved navigation. Here are some highlights.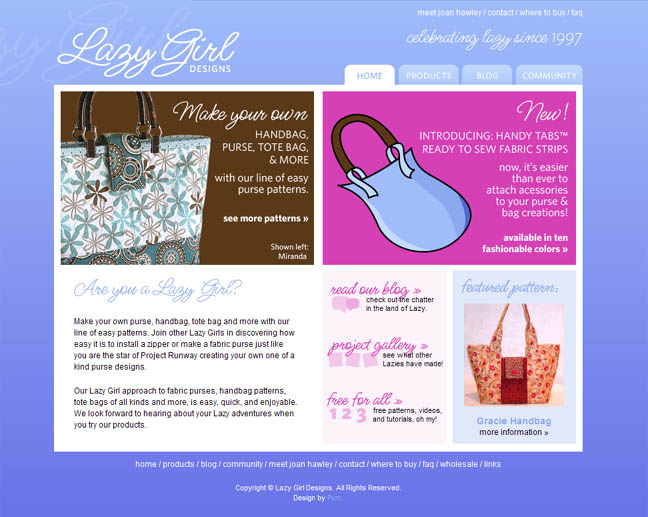 Navigation
Click the 'Home' tab to get back to our homepage, where it all begins. Navigation for the entire website has been reorganized and streamlined. We have great links from the home page, four main tabs across the top and handy little links at the very top and bottom of every page to surf the whole site.
Blog
Almost two years after launching our blog, it finally matches the website – woohoo!
Item Pages Include Resources
Each product now has its own distinct web address, and all the things related to that item are on that page. You can see what I mean with the Gracie Handbag item. This page shows Gracie, a link to its video, a link to the Bag-E-Bottom it uses, and a link to the related photo gallery.
Product Section
Click the 'Products' tab where all our Lazy items are organized by category and they are easy to browse.
Where To Buy
We still don't sell from the web, that's what quilt shops are for. You'll find them in the 'Where To Buy' link at the top.
Photo Gallery
Who doesn't like a little eye candy? We've added a photo gallery of projects made by our Yahoo Lazies.
The Wizard behind our Oz
Lindsay at Purr Design orchestrated, installed, and designed the whole ball of Lazy wax.

Let me tell you, that was no small feat. I think the website looks great. Thank you Lindsay for capturing what ever it is that makes us Lazy and put a fabulous new face on it for us.
Enjoy and go play!
Joan
Leave a Lazy Comment
12 Responses to "Lazy News: Come See Our New Website!"