Take a Tour of Lazy Girl Designs' Sewing Studio
I posted about a sewing room in a box yesterday. It made me think about my own sewing room so I thought I'd share it with you today.
Over the years my sewing space has moved and changed while growing with my needs. I've been sewing since the seventh grade. That was close to 30 years ago. During my college years I rented a room in a boarding house for a work term in downtown Philadelphia. I had one big room. I could keep all of my supplies in a tackle box back then and it tucked away nicely in the closet with my sewing machine. I used the floor as my pinning and cutting space. I had a desk where I sat my machine.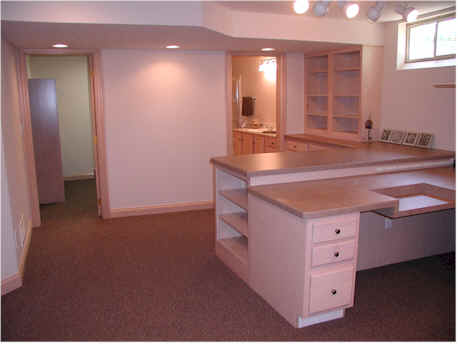 Now that I'm a quilter, it's hard to imagine that I could fit all of my notions, patterns, supplies and material stash in a few boxes and containers. I started quilting in 1996 and my collection of supplies grew and grew and grew. It quickly took over an armoir, then we moved and it took over a closet. Then I moved my sewing stuff into a bedroom at our first house.
Finally, my sewing space has moved three times within our current house. My sewing stuff seemed to multiply when I started Lazy Girl Designs and made quilting my business interest. When that happened, I had to stay current with products and fabrics so a lot of stuff entered my life.
One of the biggest changes I noticed when my hobby and love became my business was the role of my sewing space. In the past I could pack things up, turn off the light and everything was out of sight. Now, however, my sewing efforts remain active even when I'm not working on them. I think of my studio as being alive. It's a friend waiting for me to visit and play. Some times my projects need time to gel and take shape.  Once in a while I have to wait for the puzzles of a project to work themselves out before I go back and finish.
It's hard for me to pack everything up and put it all away before a project is complete. So, I leave projects in progress when I leave my sewing space.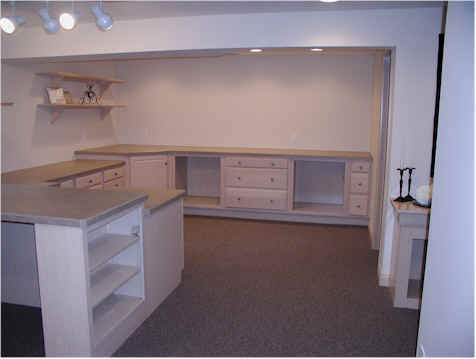 In 2001, I designed my own sewing space for the basement. After six months of work, Lazy Girl moved in to its current studio. You can take a tour of my studio here.  These are photos and a tour before I moved my goodies in. I cannot bring myself to take pictures now. I'd need a few days to clean and organize before I could share that information.
Enjoy!
Joan
Leave a Lazy Comment
8 Responses to "Take a Tour of Lazy Girl Designs' Sewing Studio"