International Quilt Market in Houston, Day Two, Part One
Let's start with a picture of my friends Kathleen and Shelly from Starr Designs hand dyed fabrics. Click on the picture for a larger view. I caught-up with these gals in their booth on Saturday. That's Kathleen to the left and Shelly to the right.  Shelly designed the quilt that hangs behind them.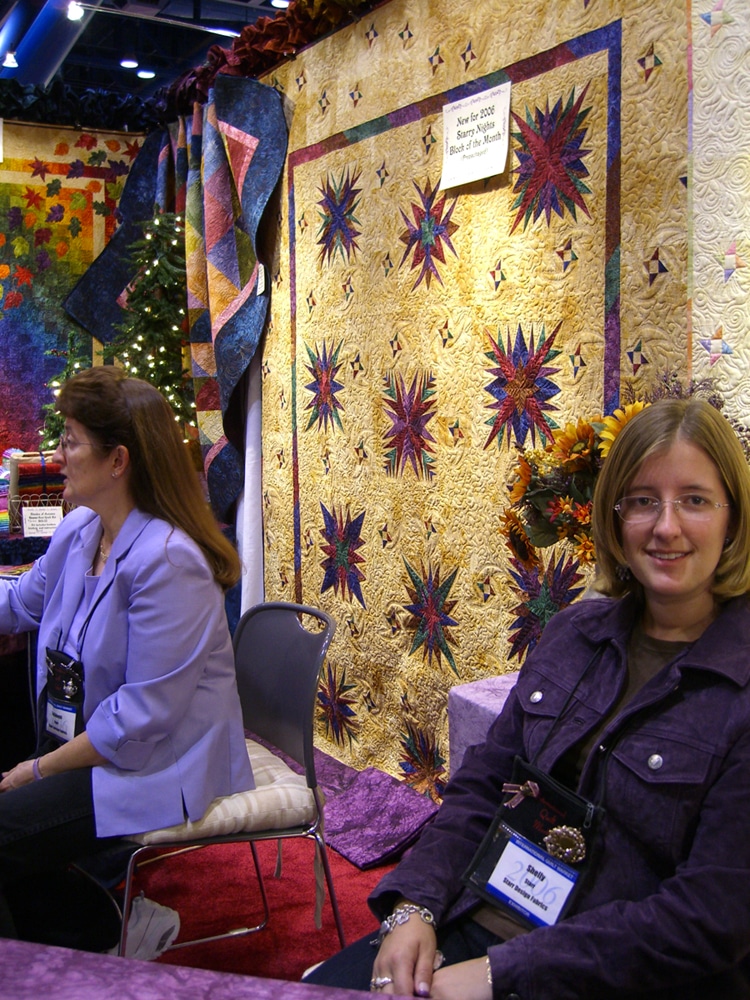 Notes from Friday, 10/27  Read Day One to catch-up on our story.
Lanette and I both slept terribly – what a way to start a long day. Neither of us had to be at the George R. Brown convention center until the afternoon, so we took our time getting started for the day. We walked out of the hotel and discovered the wind had not subsided overnight. I don't know why I bothered with my hair that day. That is unusual weather for Houston as far as I can tell.
Last year, a number of trade shows and events at the convention center were cancelled due to hurricanes Katrina and Rita. Last year, our trade show was one of the first, or the first, that wasn't canceled. We didn't find out until about a week before the show last year whether it was going to be held at all. The hurricanes were all we could talk about last year. From Mr. Foo to the hotel staff, to the convention center – the issue was understandably prevalent. And this year no one mentioned any of it during my trip – just one short year later.
I started my journey around the large show floor by dropping off samples of my bag designs at a few booths. That always goes along with hugs/kisses/catching-up. It really is nice to see everyone in person. And 'everyone' includes other designers, distributors, fabric manufacturers, notion/tool manufacturers – pretty much anyone associated with any of the products you see at your local quilt shop are there exhibiting.
The show floor was set with 23 aisles of 50 or so exhibit booths each. I'll do the math for you – that's 1,150 booths, give or take for ceiling beams and whatnot on the physical floor. The day before the show I prepared a cheat sheet of who was where on the floor so I wouldn't miss anyone. Walking around the show floor is like being stuck inside a huge maze where you have to navigate your way to the hidden pieces of cheese. And the cheese is everywhere, but the booths are 8 feet high, so you can't see a whole lot from many vantage points or intersections on the floor. On paper it looks pretty reasonable, but plop yourself down in the middle and it's a whole new reality show set to a ticking clock. I always get turned around and sometimes I miss people altogether.
My products are resold to local quilt shops by 20+ companies called distributors. Many of the distributors were there. That's a number of pieces of cheese to find in the maze. A number of designers were not there this time, so I didn't have to find their cheese. So, Friday was 'stop by and say hi' day for my customers, the distributors. As well as the fabric and notions companies with whom I work. That means meandering all over that huge place for a few hours, telling each of them the same 'what's new' story and likewise, finding out what's new with them.
I took a lunch break and caught-up with Rita at the booth where she would be demonstrating for the show. There was a leftover sandwich and I was all over that thing – Yum! It was a fabulous chicken ceasar wrap, complete with dressing as a sauce. That was all nice and good until I bit down and dressing shot out of the side and down the front of my shirt. For cryin' out loud. I only needed to look nice for a few hours and I badly missed that target. I still had to give my lecture in a while and now I have several spots down the front of my shirt. Note to self – bring extra clothes to the show each day, as well as a Tide stick or Shout wipes which I could have picked-up at the grocery yesterday.
I was wearing a knit top and a light weight silk/linen over-shirt in periwinkle blue/purple. The knit top wasn't enough by itself, I needed that over-shirt. After several attempts at addressing the stain, I ended up in the ladies room where I washed the front of my blouse with hand soap and water. As I stood there drying my shirt with the hand air blower, people stopped to chat and wished me luck as they came and went. The spot didn't go away, but it did fade a bit. Off to the dry cleaners for a rescue if possible.
Footnote from the morning: Rita told me that the hub-bub on the show floor was that one exhibitor was shipping her booth via train.  The train derailed and the train company would not release the contents of the train because the shipper filed a dispute.  That poor exhibitor was sure in a pickle.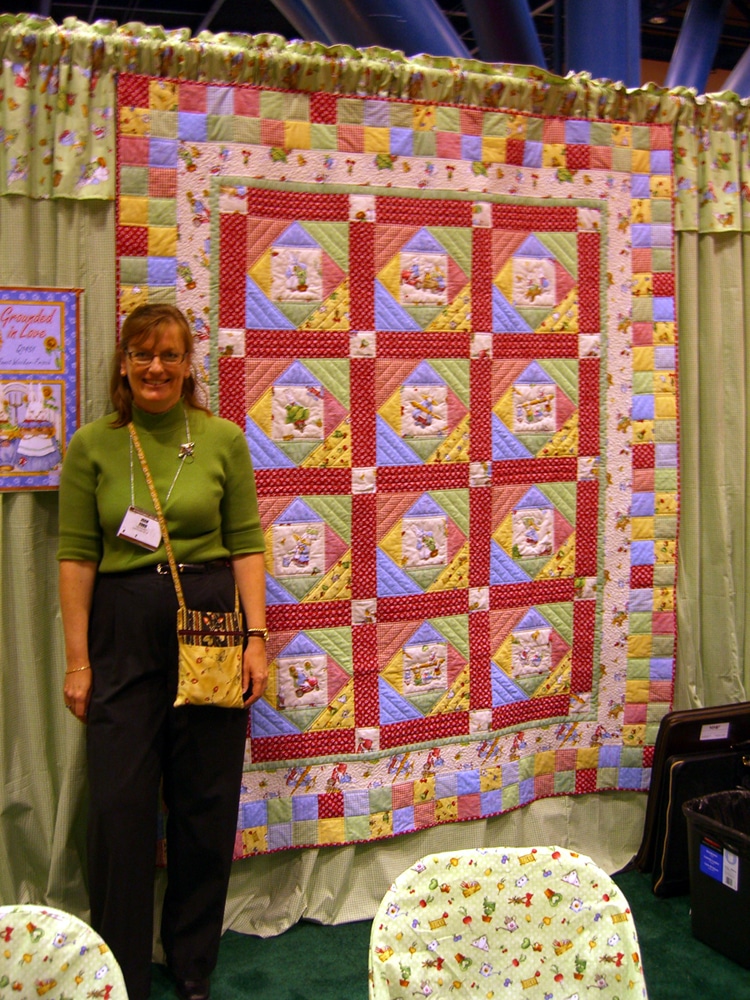 Shown above, Joan Ford of Calico Gals in Fayetteville, NY, is standing next to a quilt she made for the show. Joan wore her Runaround Bag (Lazy Girl Designs #111) with the back pocket flipped to the front – smart!  You can flip the pocket after the bag is done just like turning a cuff on a sleeve.
The rest of day two tomorrow.
Joan
Lazy Girl Designs
Leave a Lazy Comment
3 Responses to "International Quilt Market in Houston, Day Two, Part One"
Trackbacks/Pingbacks