Create Delicate, Stitched Details With New Smocking Products From Clover
Lazies, The biggest thing on my agenda for Quilt Market in Houston last week, aside from introducing Miranda, was to see the new Nouveau Smocking Technique products, samples and demonstrations from Clover Needlecraft.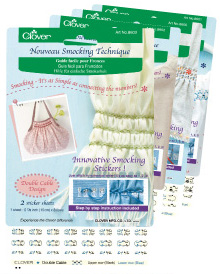 Four stitch designs to choose from.
Nouveau Smocking Technique Products
Clover is offering products to create four different smocking stitches: single cable, double cable, honeycomb and diamond. They also have a set of embroidery needles, a dandy embroidery needle threader and their own line of floss/threads. To help you get started, Clover offers an online video and free project ideas.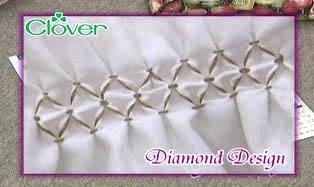 Stitch detail for the diamond design.
Smocking Stitch Products
The smocking products are a set of stitch guides, in the form of pre-arranged and marked stickers, which direct your stitching to create a smocked detail on fabric.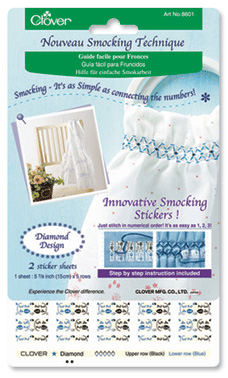 Diamond stitching design, item 8601.
How Do The Stitch Products Work
The sticker stitch guides are similar to press-on or rub-on decals. They come all laid out and marked for you and evenly spaced on a plastic sheet. Cut a strip of stickers from the plastic sheet, remove the protective paper backing then rub in place on the right side of your fabric. Lift the plastic sheet and the stickers stay in place.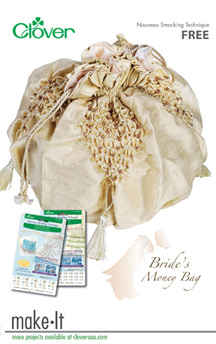 Free Clover project sheet for Bride's Bag.
Follow the stitch order on the stickers, remove the stickers as you go, oh and add beads if you like. Stitch between, behind or across the stickers, not through the stickers.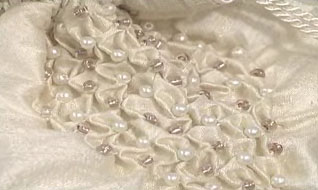 Stitched and beaded Bride's Bag detail.
No Guesswork
The size/width of the stickers, spacing between stickers, start/stop points, even whether your thread goes above or below your needle as you stitch – is all engineered perfectly and laid out for the four different stitches.
Why I Like These Products
I love handwork. I didn't know anything about smocking before I tried the single cable stitch product. I was successful on the first try. So, now I want to smock. How does Clover always seem to know what I want to do next?
These smocking products create delicate, feminine, gathered, stitched surface textures. This is another embellishment opportunity and design detail that I can easily incorporate in my fabric projects or use on ready-to-wear.
Get Started With Video Demonstration
Click over to Clover's website and watch one or both of the free video demonstrations online.
Here is Clover's video page at their site. http://www.clover-usa.com/videos.html
Clover's video page loads with the first of two smocking videos ready to watch. Just hit the play button. When done, click on the link for the second video, below the video screen, and it will load. The title above the video screen changes to let you know which video is loaded and waiting for you. There are a number of videos available for other products, too. Best viewed with high-speed Internet.
Free Projects
Clover currently offers four free project ideas on their website here: http://www.clover-usa.com/p_lib.html?category_id=14. Each of the project ideas is a PDF file.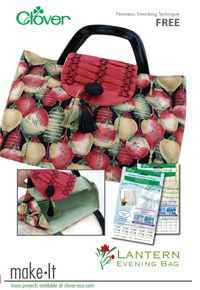 Free Clover project sheet for Lantern Bag.
Clover Leto Threads
Clover also has their own line of flosses, Leto Threads. I have not had a chance to work with these and I want to give them a try.
Embroidery Needle Threader
Next on the gotta have list is the new embroidery needle threader. Girls, this is a keeper and here's why. Not only does it function well for threading bulky fibers, but the design and engineering are smart and sound. It's stylish and darn cute, too.


Embroidery Needle Threader, Item 8611.
The embroidery needle threader has a 'flat tip' that gives you smooth threading when used with thick threads. Works with any type of threads, yarns and embroidery needles. The threader offers a hang-hole, so it can be attached to something to keep it handy.
All of these products are new and Clover tells me they are available for shipping now. To purchase, contact your local quilt shop.
Enjoy!
Joan
Images courtesy of Clover Needlecraft Inc.
[tags]smocking, Clover Needlecraft[/tags]
Leave a Lazy Comment
5 Responses to "Create Delicate, Stitched Details With New Smocking Products From Clover"
Trackbacks/Pingbacks