Gettin' Lazy at Leisure Arts
Cheryl Johnson tickled my Lazy bone with this headline on her blog recently 'Lazy Girl? I Don't Think So'.
Cheryl is my editor at Leisure Arts. And I suspect she's been bitten by the Lazy bug. Maybe just a nibble, but bitten nonetheless. I hope we can get her to make her first Lazy bag. Perhaps a Bold Bags project at that. 
In fact, Cheryl, consider this my public challenge for you to make one of my designs. 
Cheryl found my new book Bold Bags
 listed at Amazon.com so I had to go take a look.  When I checked last week, its sales rank was a bit more than 550,000.  Just a few days later, it has jumped to roughly 175,000. Wow!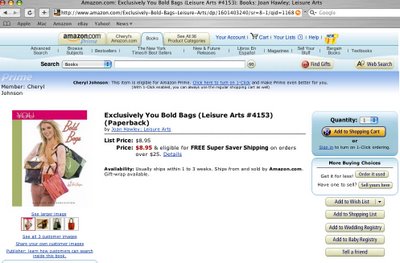 I liked the Product Description in the Editorial Reviews section. It's very concise.
Cheryl, thanks for activity round-up! I need a break, and it won't be used to clean my house. Start thinking about the Lazy project that awaits you.
Joan
Images courtesy of Cheryl Johnson.
1/9/2007 Update: Cheryl has accepted my challenge.  Her friends and co-workers know what's going on so let's hope they keep the pressure on her to Get Lazy! I'll keep you posted on Cheryl's progress.
Leave a Lazy Comment