'Day Z Dozen' Blog Hop Starts Monday
Lazies, I've had some great questions cross my desk since I announced our upcoming 'Day Z Dozen' blog hop a few days ago. So, in preparation for the start of the hop on Monday morning, here are a few answers.
What is the 'Day Z Dozen' Blog Hop? Go to Wednesday's post here to read about the hop.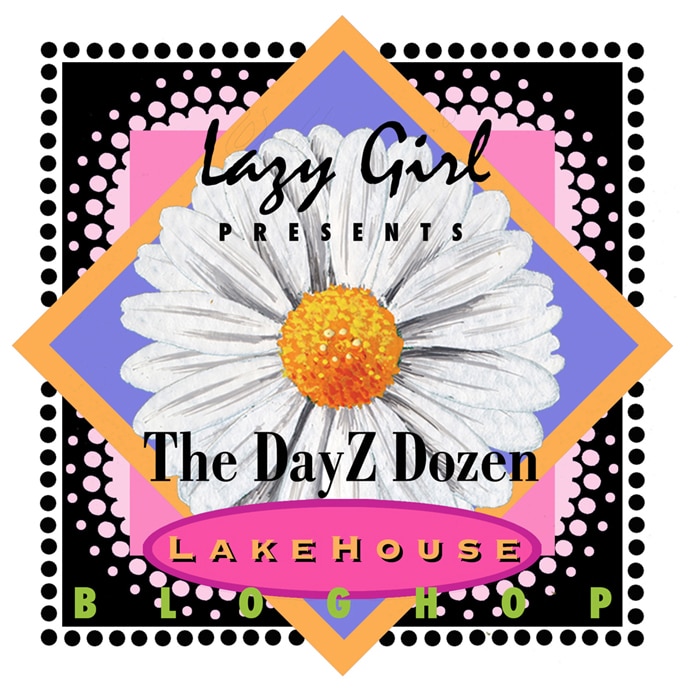 Can you tell me more about Joan Hawley the Lazy Girl? Read about me here.
Can you tell me more about LakeHouse? Little question, big answer – see below.
Where can I see all of the great fabrics used in the hop? I've created a page at my blog with pictures of the fabrics.
Where can I purchase the fabrics and products shown in the hop? There are thousands of quilt shops in the US and around the world who carry some or all of the products you'll see during the hop. Check with your local independently owned quilt shop for availability. Find a shop near you here.
What if my local shop doesn't have everything I need? Each project feature in the hop will include a listing of all items used for that project. A number of the fabrics can easily be substituted for one another – your local shop can help with this. I'll post a complete guide for all projects and products shown in the hop on March 16th. You'll be able to click and print, or save the guide to your computer.
How can I participate in the hop? Did you make anything using any of the LakeHouse fabrics? If so, post a picture on your blog or website, send me a link and I'll post the link on my blog Saturday March 17th.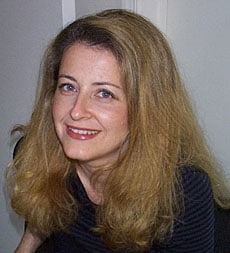 Here's more about LakeHouse:
Lazies, Holly Holderman has built her company LakeHouse Dry Goods into a fabric empire.
I had a chance to peek inside Holly's life recently, and I want to share her story with you.
I knew I liked Holly when we first met a few years ago. She's smart, independent, and curious. I love Holly's style, both personal and design.
Simply put, Holly is LakeHouse. But there's more to the story than that.
Let's start with the company. LakeHouse Dry Goods is one of the newer fabric companies on the quilt block. And here's why LakeHouse fabrics are so special. In the quilt industry, most fabric lines have a lifespan of less than a year. Often times, you can't get the same fabric after its initial release.




LakeHouse adds to an existing line over time. I like that the new prints work with existing prints – smart!
Holly designs fabrics for the way I feel and how I dream. Until this past year or so, LakeHouse's most well known fabric line had been Holly's romantic 'Hydrangea & Raspberry' grouping.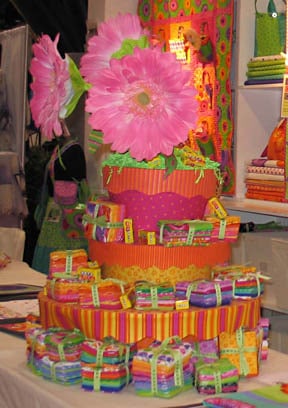 But the 'DayZ' grouping introduced in Fall '05 and the 'DayZ Deux' from Fall '06 have given way to an evolving collection of graphic brights in addition to the more muted home décor palette, that she had been known for.
Holly runs LakeHouse along with a staff of two. She designs the fabric and pattern lines, in addition to the sales and promotion tools, the merchandising and the ever-changing visual displays (such as this flower pot display) for the LakeHouse booth at the bi-annual quilt industry trade shows.
It's exhausting to think about. Holly has her finger in every pot of the company, ensuring that the whole operation works seamlessly from start to finish.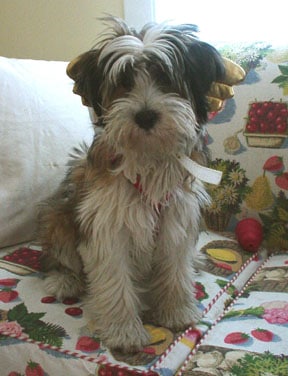 Holly tells us more:
'If I was rich, I'd devote myself to animal rescue and something visually expressive.
I work from home to be close to my animals, who are all rescues.
I am surrounded by color and patterns all day long. At the end of the day, I close the door to my in-home studio and retreat to the calm of my home by the lake.'
– Holly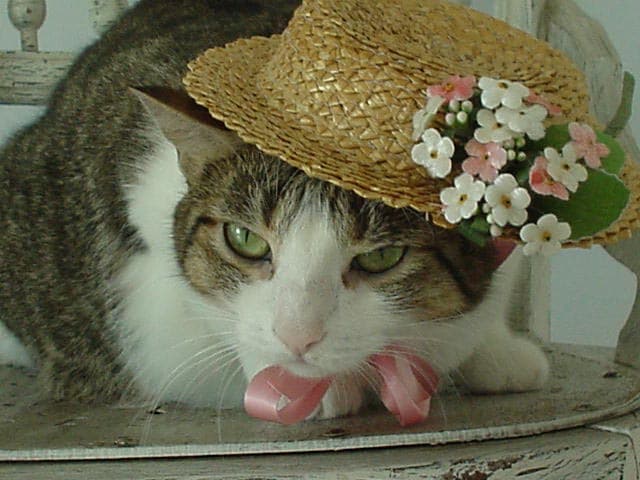 Holly, Paton, their 5 cats, and Kitty the dog, are currently renovating their second lake house together in Sterling Forest, NY.
Leave a Lazy Comment
7 Responses to "'Day Z Dozen' Blog Hop Starts Monday"