Day Z Dozen Blog Hop – 'Pocket Parade' Bag by Penny Sturges
Lazies, I'm excited to tell you about a fabulous bag design today. Penny Sturges of Quilts Illustrated pattern company has created a wonderful bag called 'Pocket Parade' – I think the name says it all. This is the tenth of twelve daily features in the 'Day Z Dozen' blog hop.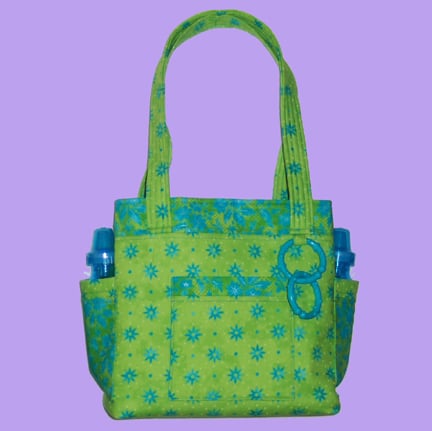 Here's Penny:
I have twin granddaughters and the Pocket Parade tote bag, #ps015 is my favorite bag.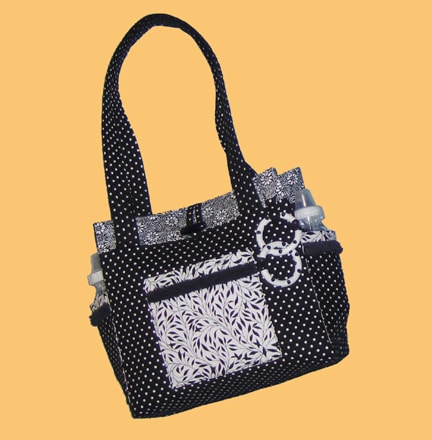 It is perfect for my daily bag needs, plenty of pockets for glasses, cell phone, keys, calendar, pens and lipstick….plus two bottles and four diapers!
It has a comfortable handle that fits over your shoulder and it is sized to fit in the basket of a stroller. Pocket Parade is not just a diaper bag, the outside pockets are great for a water bottle and sunglasses.
The Pocket Parade bag looks great in all the bold and beautiful LakeHouse fabrics.
About Penny:


In my never ending search for the perfect handbag I began sewing my own bags. Lots of bags! Some with long handles, short handles, big pockets, small pockets, inside pockets, outside pockets. Are you beginning to get the picture? I bought patterns galore, and couldn't find a pattern that was easy to follow.
Here's all the product information for today's feature 'Pocket Parade'. Check quilt shops to purchase the pattern and fabrics.
Quilts Illustrated
Pocket Parade Tote
Pattern No. PS015
Lime & Turquoise Bag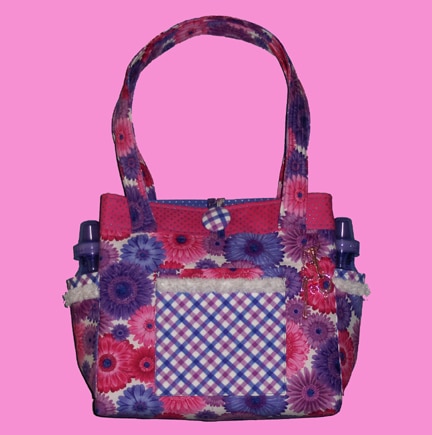 LH05029 Floral Silhouette: Turquoise (accent & lining fabric)
LH05038 Star Silhouette: Lime
Black & White Bag
LH04013 Lotta Dots: Black
LH06017 DayZ Vines: White
LH06029 DayZ Patch: Black (accent & lining fabric)
Pink & Blue Bag
LH03035 Frosted Dots: Hot Pink, Delphinium (accent & lining fabric)
LH06009 DayZ Salad: Berry
LH06019 Gingham Duette: Orchid
– Click on 'Comments' below to read what others have to say, or leave a comment.
– See all the DayZ fabrics here.
– Are you hopping along with us? Let us know by posting a comment and we will add your store, blog or web to our list!
Leave a Lazy Comment
13 Responses to "Day Z Dozen Blog Hop – 'Pocket Parade' Bag by Penny Sturges"