Day Z Dozen Blog Hop – 'Night Flight' Quilt by Cheryl Winslow
Lazies, I absolutely adore today's project. Cheryl Winslow of Starshine Quilting has such an eye for color, balance and scale. Cheryl shares her "Night Flight" quilt with us today. This is the eleventh of twelve daily features in the 'Day Z Dozen' blog hop.
Subscribe to our blog so you don't miss a Lazy morsel.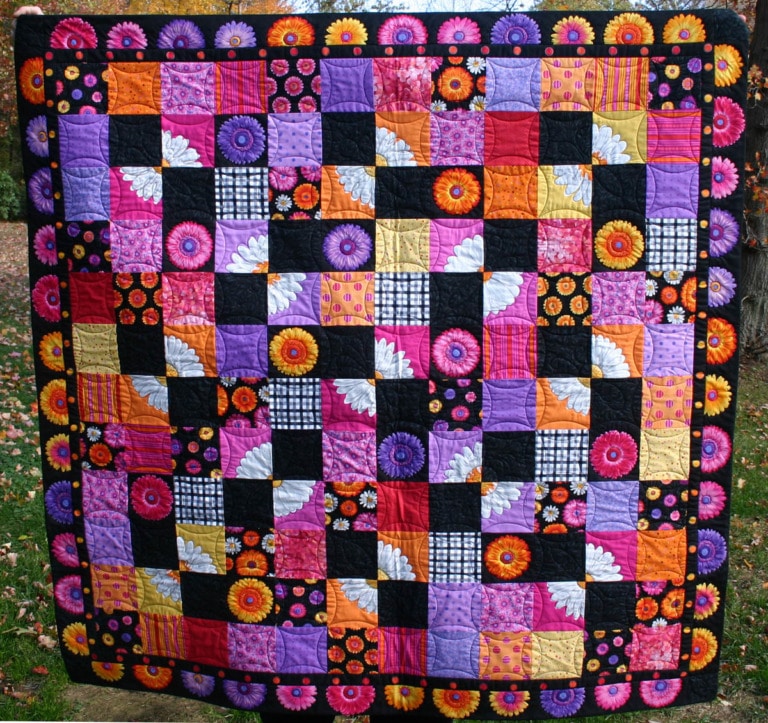 Here's Cheryl:
My favorite quilt is one you hand to a small child. They usually smile shyly and carefully look it over. They run off to spread it out and study the delightful colors. It always makes me smile.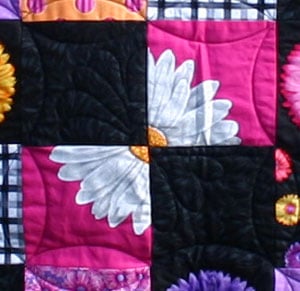 When it comes time to make a quilt for a small child, lively colors are always a hit. It is amazing what they see in the fabric patterns.
Night Flight is a darker color way of it's sister quilt Flutterby (shown at end of post). The flowers are cut into wings that become butterflies as shown here.
The darker colors of Night Flight will defiantly handle the dragging that happens. A well-loved quilt is one of the best complements for me as a quilter.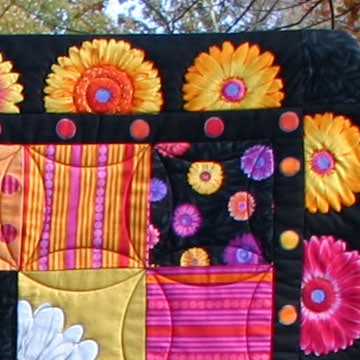 Night flight has two different 4-patch blocks. Look closely, the outer ring of 4″ blocks is actually the first of three borders. The next border is fun large dots, great for a counting lesson. The final border uses the LakeHouse mid sized daisies as scallops.
Below is a picture from the LakeHouse Dry Goods booth at the International Quilt Market in Houston this past October. You can see Night Flight at the far right, Daisy Star in the center and Ring Around The Flowers at the far left. The Bucket Tote sits on a shelf next to Night Flight. Pocket Parade tote sits in front of Daisy Star. Vibrant Spring ornaments can be seen at the far left in the foreground.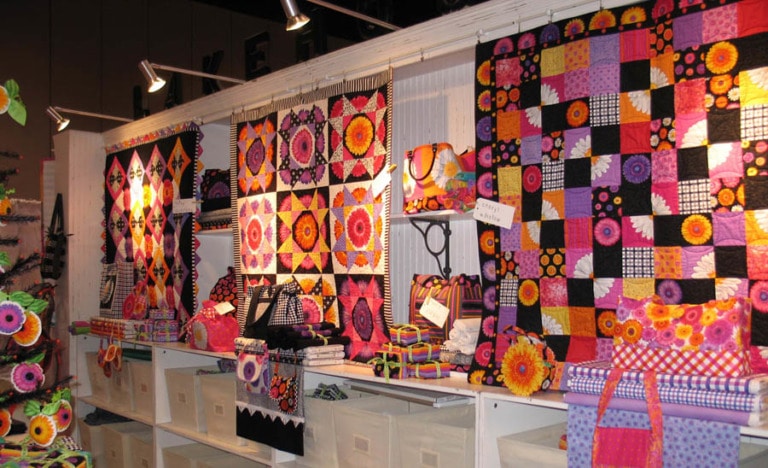 Click on the image to enlarge.
About Cheryl: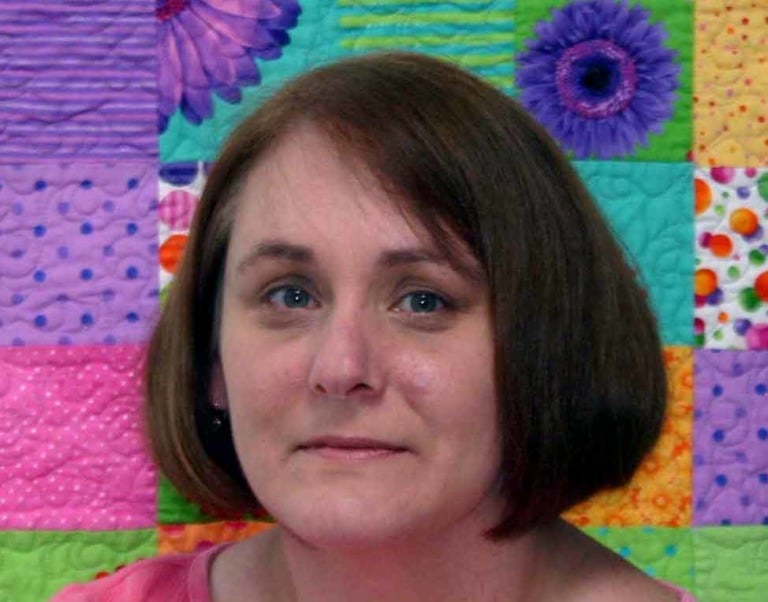 Aside from a long arm quilting business, and making the random quilt for a small child. I am a sample maker for Holly Holderman of LakeHouse fabrics. Once in a while I get the chance to do just a bit extra. Night Flight Will hopefully become a well loved quilt to some young child, made especially for them by a loving Grandma- or Grandpa!
http://cherylwinslow.typepad.com/my_weblog/
Here's all the product information for today's feature 'Night Flight'. Check quilt shops to purchase the pattern and fabrics. (Flutterby quilt shown below.)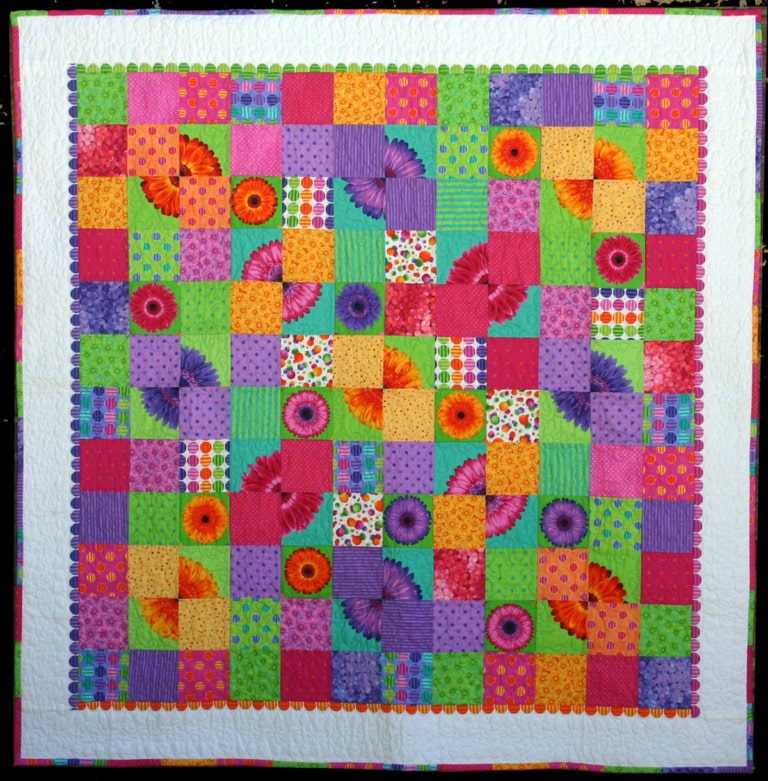 Starshine Quilting
"Night Flight" Quilt
56 1/2″ x 56 1/2″
Pattern No. NF031 – 19 fabrics
Focal Point Flowers
4 Rows LH06006 DayZ Deux: Rainbow
Inner Border
1-1/2 yards LH05022 Polka DotZ: Black
Outer Border & Fussy Cut Flowers
2 yards LH06005B DayZ Chain Again: Black
Scrappy Blocks
One Fat Quarter of the following:
LH03011 Hydrangea Blossom: Coral
LH03022 Antique Dots: Currant
LH03037 Raindrops: Iris/Violet
LH04031 Going In Circles: Melon
LH05014 DayZ Dukes: Purple
LH05016 DotZ: Banana, Orange
LH05025 Polka Party: Purple
LH05037 Polka Party Petite: Purple
LH06007 DayZ Duette: Black
LH06008 Day DotZ: Citrus
LH06011 StripZ, StripeZ & DotZ: Cherry, Mango
LH06016 DayZ Smalls: Black
LH06017 DayZ Vines: Black
LH06019 Gingham Duette: Charcoal
– Click on 'Comments' below to read what others have to say, or leave a comment.
– See all the DayZ fabrics here.
– Are you hopping along with us? Let us know by posting a comment and we will add your store, blog or web to our list!
Leave a Lazy Comment
12 Responses to "Day Z Dozen Blog Hop – 'Night Flight' Quilt by Cheryl Winslow"