Day Z Dozen Blog Hop – 'EZ DayZ It' Quilt by Holly Holderman
Lazies, I can hardly believe that today is the last day of features in our Day Z Dozen blog hop. All of the participants have had a great time offering this hop. Tomorrow we'll post a full-color click-n-print guide for all of the projects in the hop as well as a 'Thank You' listing of everyone who has supported, promoted, and participated in bringing the hop to you. If you have enjoyed the hop, please post a comment and tell us what you think, where you tuned-in from, etc.
Holly Holderman of LakeHouse Dry Goods made today's 'EZ DayZ It' quilt. This is the last of twelve daily features in the 'Day Z Dozen' blog hop.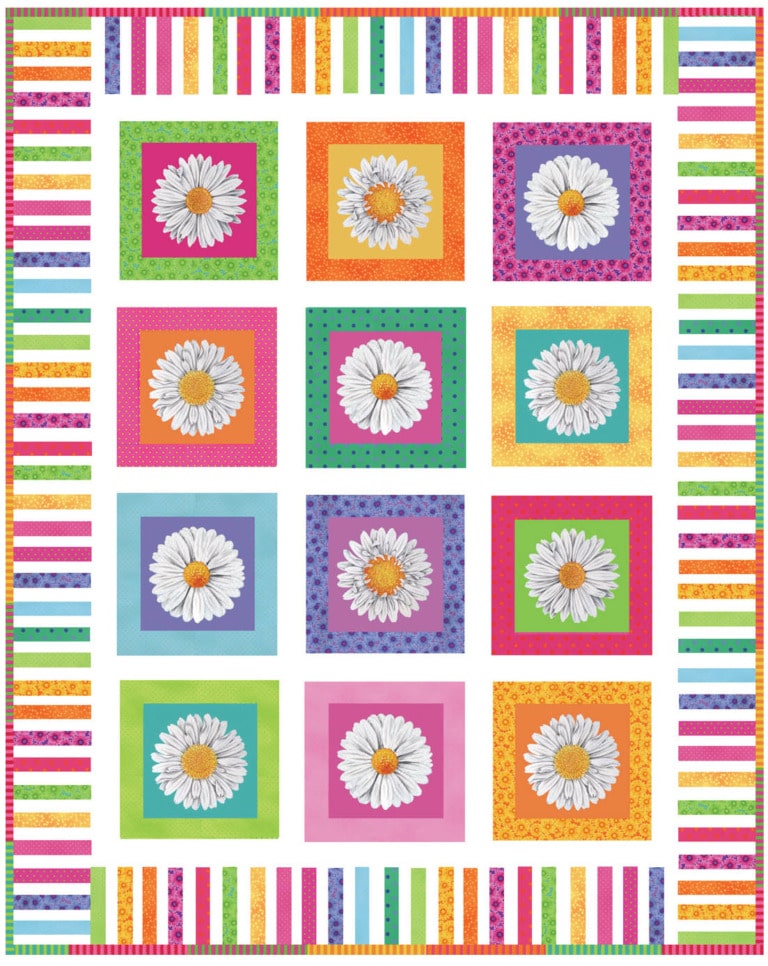 Here's Holly:
One thing that I noticed very early on when laying out the "Ez DayZ It" quilt was that if I didn't add some different sized pieces, that the quilt top was going to be easy, but a little clunky and static.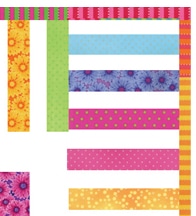 That's why I added the piano key border, it adds a rhythmic rainbow of colors that move the eye all around the outer border. The piano key border is echoed in the pieced binding, which is made out of several colors of my favorite little stripe: LH04036 New Tiny Ticking…it's a bit like a miniature version of the piano keys, don't you think?
I try really hard to make the best use of the fabric, to add thoughtful design details that use the fabric in interesting ways, "to make the fabric do most of the work" rather than lots of intricate, less modern piecing details, whenever possible…I'll probably always try to push the envelope a bit…it's just my nature.
There's a relatively "hi tech" way that I lay out quilts…I work with all of the fabrics at a reduced scale on my computer desk top. This allows me to pick and choose and refine my fabric selections in an afternoon's time, instead of the entire weekend or more it might have taken me working on a design wall at full size. For a quilt as simple and graphic as this, my technique is the easiest way I know to preview what my final quilt top will look like. I so respect people who assemble all of their quilt tops on a design wall, but I find this method exhausting.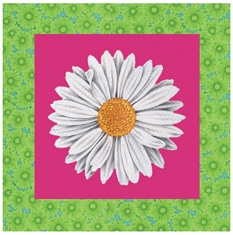 Other than trying to design a relatively easy quilt top, the one other conscious thing I did was to put in some fabrics that were uncommon colors that I love. For example, remember the Crayola 64 pack..the one with the sharpener in the back that it opened like a multi-tiered display case in the front? That childhood treasure trove was the smallest Crayola collection that you could buy and still get my favorite color "Sky Blue" crayon. LH 03035 Frosted Dots: Sky is based on the happiness that crayon made me feel…
So it's that easy really…more perspiration than inspiration, but that's about all the conscious thought process that I can think of that I needed to draw upon for the "Ez DayZ It" quilt….OK so there is a bit of fussy cutting, but once you've ironed your fabric well, and made a quickie template out of an over sized clear ruler, it's clear SKY ahead, right?…
About Holly: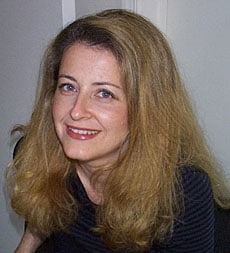 We met Holly Holderman, owner of LakeHouse Dry Goods, in two earlier posts here and here.
You can see the all of the quilt designs inspired by the DayZ One and the Dayz Deux collections, on our new website. We hope to have pattern covers and magazine articles for many of our recent projects uploaded onto our new site by the end of next week! Megan and I will share our inspirations, irritations and salutations sometime shortly after that. We hope you'll join us…
Here's all the product information for today's feature 'EZ DayZ It'. Check quilt shops to purchase the pattern and fabrics.
LakeHouse Dry Goods
'EZ DayZ It' Quilt
52 1/2″ x 65 1/2″
Pattern No. 06013 – 19 fabrics
12 Full Focal Point Flowers Needed:
3 Rows LH 06006 DayZ Deux: Rainbow
2 each Orange, Pink, Peri, Turquoise
1 each Lime, Orchid, Magenta, Yellow
12 Focal Point Sashing & Colored Piano Keys:
1/4 Yard LH 03035 Frosted Dots: Bubblegum, Lime, Sky
LH 04011 Bubbles: Melon, Orange
LH 04013 Lotta Dots: Tulip
LH 05014 DayZ Dukes: Berry, Lime, Mango, Purple
LH 05025 Polka Party: Cherry, Turquoise
White Sashing & Piano Keys:
2-3/4 Yard LH 03022 Antique Dots: Snow
Binding:
1/4 Yard LH 04036 Tiny Ticking: Begonia, Cantaloupe, Lime, Papaya, Tulip
– Click on 'Comments' below to read what others have to say, or leave a comment.
– See all the DayZ fabrics here.
– Are you hopping along with us? Let us know by posting a comment and we will add your store, blog or web to our list!
Leave a Lazy Comment
16 Responses to "Day Z Dozen Blog Hop – 'EZ DayZ It' Quilt by Holly Holderman"