Day Z Dozen Blog Hop – 'Daisy Star' Quilt by Tracey Brookshier
Lazies, If you like big, bold, graphic quilt designs, then I know you are going to love this quilt. Tracey Brookshier of Brookshier Design Studio shares her 'Daisy Star' quilt as the second of twelve daily features in the 'Day Z Dozen' blog hop.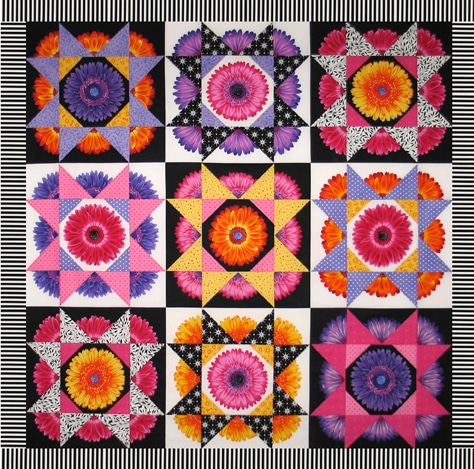 'Daisy Star' By Tracey Brookshier
(Fabric requirements listed below.)
Here's Tracey to tell us more:
I like quilts that I can see across a room and say "Wow!" Bold, graphic designs really appeal to me, so when I first saw the 'DayZ' collection from LakeHouse Dry Goods I knew I had to work with it.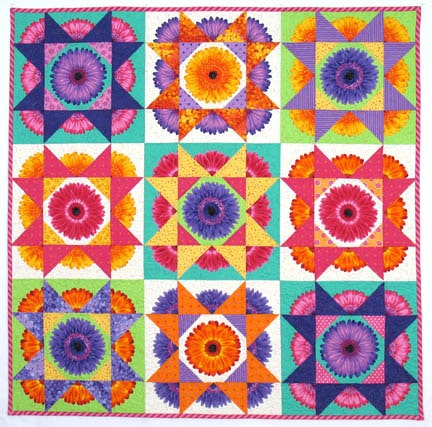 The quilt to the left shows another colorway of the Daisy Star quilt.
I like the way Lakehouse matches the colors in their coordinates with the main fabrics.
There are many tone-on-tone and textural choices for most colors, so you can substitute nicely without changing the feel of the quilt.
My specialty is pieced quilts. Until this point I hadn't designed any patterns with circles – they're not easy to piece, and I don't do appliqué.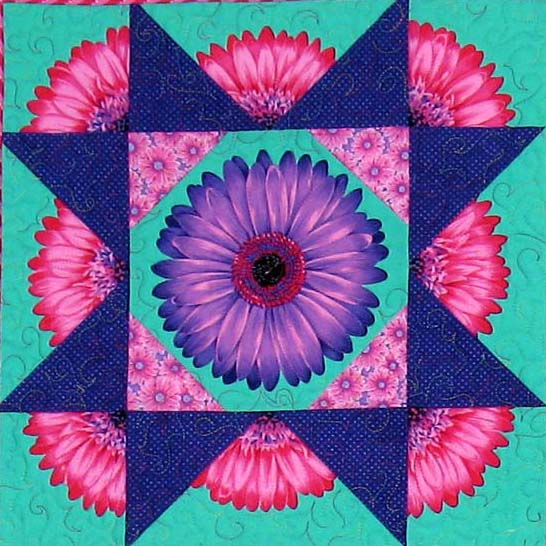 So when I saw these big, beautiful flowers, I knew they could be used to create circular elements in this design all by themselves!
The flowers are approximately 7" across. They can be used whole (as in the center of the block) or cut up (as in the outer background of the block).
Using the flowers in this way creates a 'wreath' of flower petals behind the traditional Sawtooth Star block, softening the crisp edges with curves.
 – Tracey Brookshier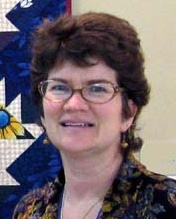 About Tracey:
With a background is in engineering and technical writing, Tracey's patterns are known for their clear instructions and many diagrams.
In addition to running her company, Tracey teaches quilting and judges at quilt shows.
See all of Tracey's creations at her website Brookshier Design Studio.
Here's all the product information for today's feature 'Daisy Star'. Check quilt shops to purchase the pattern and fabrics.
Brookshier Design Studio
Daisy Star Quilt
48″ x 48″
Pattern No. 07728 – 10 fabrics
Large flowers
2 repeats – LH06004B DayZ Crazy Again: Black
2 repeats – LH05035 DayZ Crazy: Snow Stripe Border
3/4 yard – LH04036B New Tiny Ticking: Black
Star points & snowball corners
1 Fat Quarter each
LH03037 Raindrops: Iris/Violet
LH04013 Lotta Dots: peri
LH06017 DayZ Vine: white
LH06014 Midnight Star: black
LH05016 DotZ: banana
LH05014 DayZ Dukes: mango
LH05025 Polka Party: cherry
LH05037 Polka Party Petite: pink
Click on 'Comments' below to read what others have to say, or leave a comment.
Are you hopping along with us? Let us know by posting a comment and we will add your store, blog or web to our list!
Leave a Lazy Comment
18 Responses to "Day Z Dozen Blog Hop – 'Daisy Star' Quilt by Tracey Brookshier"
Trackbacks/Pingbacks