Day Z Dozen Blog Hop – 'Color My World' Quilt by Lori Allison
Lazies, Lori Allison, of Allison Quilt Designs, made today's quilt using a collection of blenders and supporting fabrics set off by a rich black background. This is the ninth of twelve daily features in the 'Day Z Dozen' blog hop.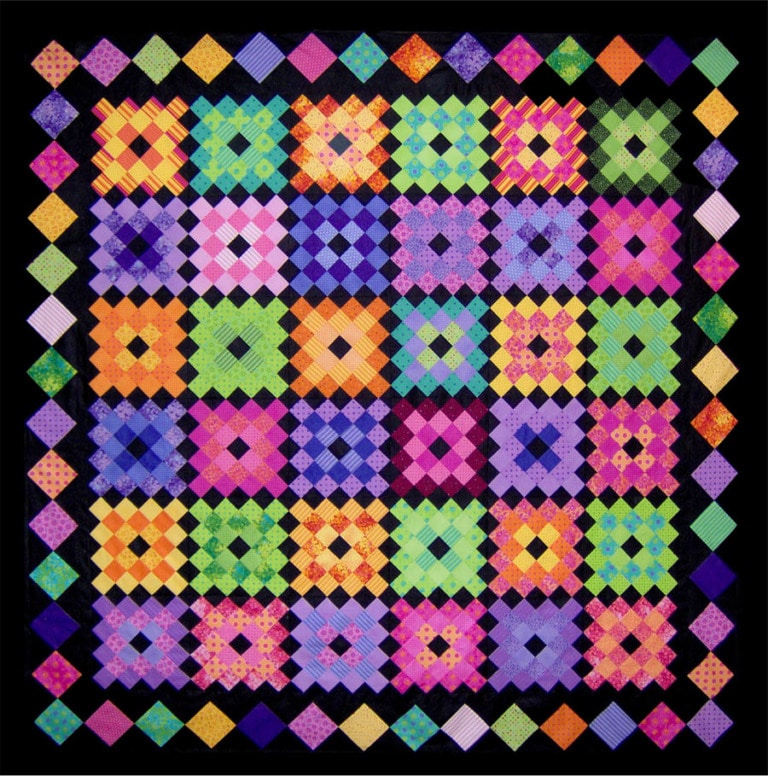 Here's Lori:
I first saw this "Album Patch" or 'Trip Around The World" in a magazine. The direction said, " Cut out 1265 – 2" squares, lay them out in order and stitch together." To myself I thought, "Not without a court order." Surely there's an easier way.
My left brain (the logical, sequential, analytical, objective, looks-at-parts, side of my head) kicked in and started to calculate the number of squares, the size of the squares – mine are just a little bigger – and their relationship to one another. Soon I had the measurements of a strip set. Nesting seam allowances is another favorite pastime and once my strip set was assembled, I began planning seam allowance pressing directions.

I was having so much fun at this and then, BOOM….the RIGHT side of my brain ( the aesthetic, creative, random, intuitive, looks-at-wholes side) took over and I started picking out bright, bold, large LakeHouse dots and daisies and small coordinate prints and putting them together in happy little ways.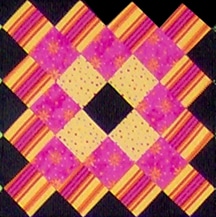 Each block is like a mini quilt. I pick out three fabrics that I like, "strip, strip, zip, zip, snip, snip, stitch, stitch" and I have a 12 inch block – almost a mini little quilt, framed in black and, within 30 minutes, I have something to admire or admonish.
I admit it – I'm in love with fabric. I love the colors, prints and the texture of fabric. I love lots of companion prints like LakeHouse has and all the various colorways – I can't stop with just one colorway; I have to use them all. Lucky for me, the LakeHouse colorways mix up like popsicles.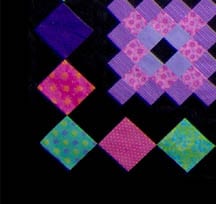 Like the literature teacher who analyzes fiction with "what did the author mean by…" I think about how the fabric designer was inspired to use design and color to create this woven cotton work of art. More often, the fabric inspires me to create a quilt design.
But life is short – and there are lots of quilts to make so I try to create quick, clever designs with big impact and I like them to look a lot harder than they really are. Because I was a middle and high school FACS (Home Ec) teacher, my directions are simple to understand – directions that assume you could be a first-time quilt maker.
Many of Allison Designs quilt patterns can be constructed by just looking at the pictures and illustrations. Ask for Allison Designs patterns at your local quilt shop. For more information, see http://www.allisonquiltdesigns.com/
Here's all the product information for today's feature 'Color My World'. Check quilt shops to purchase the pattern and fabrics.
Allison Designs
"Color My World" Quilt
Pattern Item # AD05
Background Fabric
LH03022 Antique Dots: Black
This quilt uses approximately 50 Fat Quarters of LakeHouse Library non-specific, color coordinated fabrics…
LH03011 Hydrangea Blossom: Coral, Melon, Violet
LH03022 Antique Dots: Grape
LH03035 Frosted Dots: Banana, Blush, Cerise, Chartreuse, Delphinium, Grass, Hot Pink, Iris, Orchid, Purple
LH04011 Bubbles: Melon, Orange
LH04013 Lotta Dots: , Peri, Tulip
LH04027 Circle Circus: Apple
LH04031 Going In Circles: Melon
LH04033 Ticking Stripe: Papaya
LH04036 New Tiny Ticking: Iris, Leaf, Lime, Pink, Papaya
LH05014 DayZ Dukes: Lime, Mango, Purple
LH05016 DotZ: Banana, Orange
LH05025 Polka Party: Lime, Purple, Turquoise
LH05028 Teeny Weeny Ticking: Purple, Sunset
LH05029 Floral Silhouette: Cherry, Lime
LH05030 Blossom Silhouette: Cherry
LH05037 Polka Party Petite: Lime, Pink
LH05038 Star Silhouette: Cherry, Lime
LH06027 Confetti Mono: Cherry, Leaf
– Click on 'Comments' below to read what others have to say, or leave a comment.
– See all the DayZ fabrics here.
– Are you hopping along with us? Let us know by posting a comment and we will add your store, blog or web to our list!
Leave a Lazy Comment
13 Responses to "Day Z Dozen Blog Hop – 'Color My World' Quilt by Lori Allison"
Trackbacks/Pingbacks