A Steamy Adventure And A Bit Of Cleaning
Lazies, I forgot to tell you about my big purchase while at the NQA show in early June. I saw a vendor ironing a balloon and the sales pitch got me. Now, I never thought that I might need to iron a balloon, but if I ever do, I have got the perfect iron for it. 

It is the Euro Steam iron. And let me tell you right off the bat, the hubster will not be allowed to use this iron.
Years ago, the hubster accidentally killed my Rowenta iron when he moved the ironing board while the iron was standing up on it. The iron took a tumble, hitting the wall before hitting the ground – and it never worked again. Darn it. I haven't invested in a good iron again until now.
The lady demonstrating the iron at the show told me to 'prime' the iron before its first use by filling the water chamber and letting it steam away the water a half a dozen times.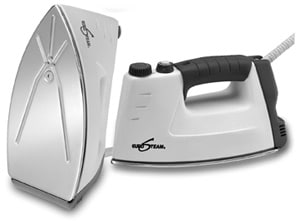 She said to fill the water reservoir, set a couple of towels in the kitchen sink, then turn to the highest steam setting and it let it steam until it runs out of water.  Sounds like fun – a steamy kitchen in June!
Well, I finally got around to 'priming' the new iron the other day.  It was great fun.  So I cleared the kitchen sink, placed a few folded towels in the sink, then the iron on top of that. I filled the iron with distilled water, turned it on and oh the steam was impressive.
So, I was standing there watching steam shoot out of this iron like I was a little kid who had never seen such a marvel, and I noticed how far the steam reached. Moisture was building up on the coffee maker about two feet away. I wiped it down and noticed some spots of coffee came off at the same time. A-ha!
Well, over the course of the fill/steam/empty cycles, I steam cleaned my kitchen sink, faucet/handles, spray nozzle, coffee maker, cabinet doors, and granite counter tops. I put that steam to good use! My kitchen was sparkly clean and my iron is ready to go.
The iron hasn't migrated to my studio yet. Before it does, I have a few more things around the house that need some steamy attention. Thanks Euro Steam!
You can watch the balloon ironing in 'Part 1 – Introduction' of their online video here.
Joan
Images courtesy of Euro Steam iron.
Leave a Lazy Comment
4 Responses to "A Steamy Adventure And A Bit Of Cleaning"