A Special Patchwork Party Invitation Just For Lazy Girls – Shhhh, Don't Tell Anyone!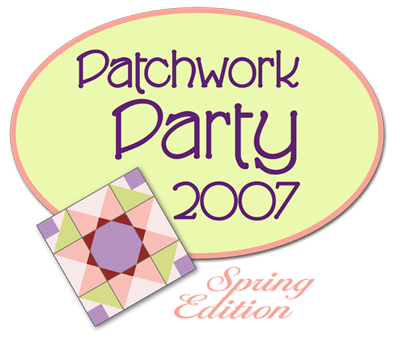 Lazies, Debby Luttrell, owner of Stitchin' Heaven quilt shop and (unofficial) Queen of Quitman, Texas, has invited us to a party! And you know, when the Queen calls, you listen!
Because Deb is a long time Lazy Girl, she has a special invitation for us (and only us – shhhh, don't tell anyone). The Patchwork Party 2007 Spring Edition officially starts on Wednesday, but Deb is letting us in early for a pre-party before everyone else on the planet! Wow!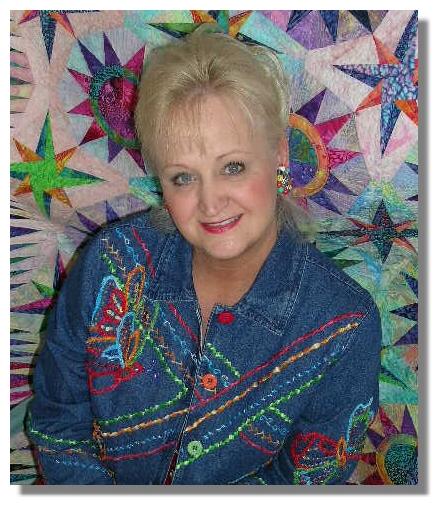 Here's Deb to tell us more:
The first Patchwork Party was launched August 1, 2006 and the response was amazing. Quilter's from around the globe were invited to attend the Party and they RSVP'd with enthusiasm!
The idea with the Patchwork Party concept is that each shop is responsible for a single block in a 12-block quilt project. This Patchwork Party project will use the just-released fabric line 'Sanctuary' by 3 Sisters at Moda.
In addition to a very beautiful fabric choice, each shop will design a different finishing option for the 12 blocks. When you visit the on-line shop to purchase the block you can also view the shop's finishing design and purchase a fabric kit for the project of the one you like the best.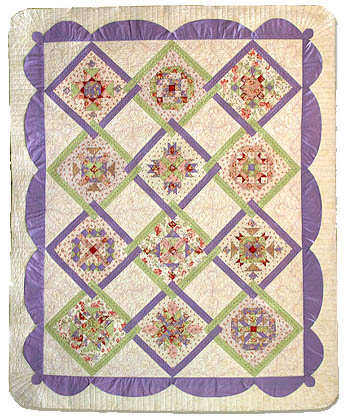 Each of the 12 block designs at the Patchwork Party website is linked directly to the participating store that hosts that block. Start at the party website, then click on each block to mingle from one store to the next. Be sure to print your Patchwork Party Planner so you can remember who you've mingled with (purchased from) at the party.
 – Lazy Girl Deb Luttrell
Patchwork Party 2007 – Spring Edition
    When: February 14 – May 31
    Where: www.patchworkparty2007.com
    How: Click, Print, Shop, and Hop
    Who: You!
Kudos to all twelve of the participating shops for hosting such a great event! I'm so glad Deb invited us – I hate to miss a party! Quilt shown here from Jerry Stube of Quilter's Quarters.


You can keep up with Queen Deb (or try to anyway)
at her blog here and her website here. Read more about Deb's great ideas at Quilter's Buzz.
Leave a Lazy Comment
One Response to "A Special Patchwork Party Invitation Just For Lazy Girls – Shhhh, Don't Tell Anyone!"