1,806,791 Blankets and Counting – Touch a Child's Life Through Project Linus
Lazies, Project Linus has donated 1,806,791 blankets as of the end of 2006. That number is sure to go up this Saturday for Project Linus' eighth annual 'Make a Blanket Day' event.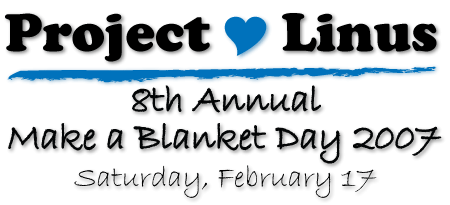 Here's more info from the Project Linus website:
– Join us for Make a Blanket Day (MABD) 2007! Each year, participating chapter coordinators around the country band together to make blankets and spread the Project Linus word. Some may have blanket making events, open houses, collection sites, etc. Please contact your local chapter for more information about local activities. Due to limited resources, some chapters may not be participating.
Be a Blanketeer — How You Can Help
– The Project Linus website is loaded with information and resources. Become a 'Blanketeer', and donate a handmade blanket of any size.  They accept all styles of blankets are welcome, including quilts, tied comforters, fleece blankets, crocheted or knitted afghans, and receiving blankets in child-friendly colors.
Project Linus also accepts donations of material, batting, yarn, etc. Contact your local chapter to donate.
Kudos to everyone, including the Lazy Girls at the Project Linus headquarters!
Joan Hawley
Lazy Girl Designs
Image courtesy of Project Linus
Leave a Lazy Comment
One Response to "1,806,791 Blankets and Counting – Touch a Child's Life Through Project Linus"