Clover + Joan Hawley = Press Perfect: The New Basics
Lazies, If you've been hanging around with me for any time, you've probably noticed I'm a big, big fan of Clover Needlecraft products. I love their innovation, quality and precision. Somehow, they always seem to know what my next obsession or need will be, and come out with just the right thingy or dooflinger that I now can't live without.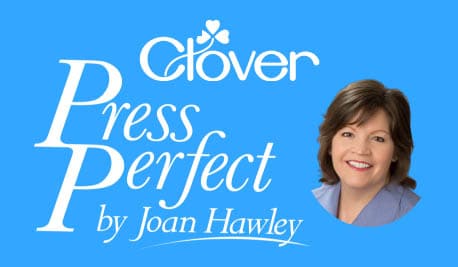 The New Basics
Hold onto your ironing boards, I am proud to introduce Press Perfect, my new line of pressing notions from Clover Needlecraft. A while ago I proposed a line of pressing thingies and dooflingers and Clover said yes! I've been busy, petrified, and excited ever since. Can you say 'awesome'…times ten? Clover is launching our line with 10 items next week at International Quilt Market in Houston. So, let's get to know Press Perfect: the new basics you can't live without!
It's About Time!
There hasn't been much innovation in the ironing department for quite some time, yet the things we are making have changed. Our tools and notions haven't kept up, until now. Press Perfect is a collection of pressing surfaces, hand tools, and notions. This big box of AWESOME with all of my products arrived just this past Friday.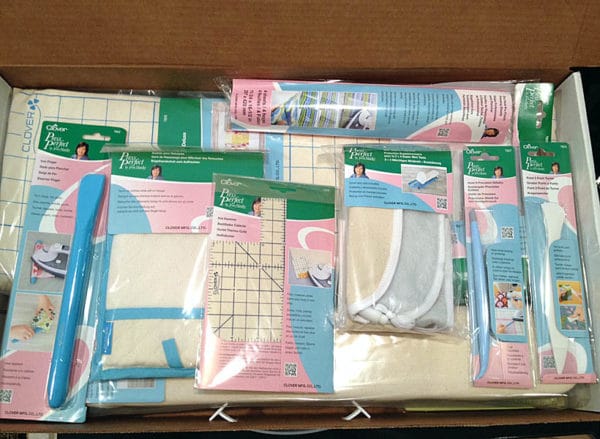 The Press Perfect Line Includes:
2×4 Mighty Mini Board, (and replacement cover): The board you didn't know you needed! Shaped like a 2×4, it goes where no board has gone before.
Iron Finger: Takes the place of your finger at the iron, can be pressed.
Point 2 Point Turner: 2 turning points, gentle curves, hera marker all in one.
Iron Safe: Teflon shoe to protect your iron sole plate and fabrics. Adhesives won't stick.
Deluxe Take & Press Mat: Luxurious portable mat for pressing, pin blocking.
Hot Hemmer: Measure, mark, fold, press in one step
Hold It Precision Stiletto: Heat resistant tip for gripping at the iron, bent tip stiletto for great visability
Touch Up Pressing Mitt: A pressing surface for your hand, reach inside a garment on hanger or dress form and press.
Dry Heat Pro Finish Pressing Sheets: Press the unpressable! For use with vinyl, PUL, laminates and more.
Gettin' Groovy
Press Perfect's styling and colors were borne out of the inspiration of crossing a vintage 1950's stitcher with Judy Jetson, all dressed in an updated yet timeless blue.
Press Perfect
Fun, funky and functional is how I'd describe the really cool tools we created. Shown here are our Hold It Precision Stiletto, Iron Finger and Point 2 Point Turner. Different tasks, different shapes/sizes, different materials. We work on different sizes and shapes of things, we need a variety of tools to cover all the basics. More on all items in future posts.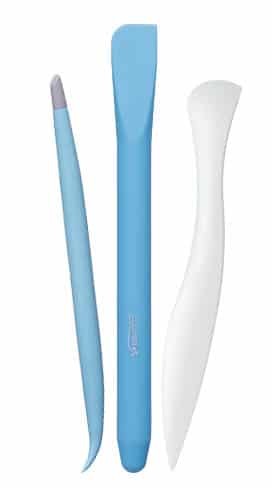 Tell Me More!
Hop over to the products section of… our new website!…to see the items and read more about them here: Clover Press Perfect. Additionally, they are available to order on Clover's website and will begin shipping very, very soon. I'll have more info about each item in coming posts!
Quilt Market
If you are attending Quilt Market in Houston next week, find me at the Clover booth, Schoolhouse and a Take & Teach.

Let's Hash It Out!
Use #pressperfect when you post about Press Perfect in social media so I can follow along with you.
New Website
Last, but not least, we launched our new website last week. Surf around, check things out. We are still plugging in some images, so you may come across a blog post or two that shows a pink Lazy Girl placeholder image.
Enjoy!
Joan
Leave a Lazy Comment
23 Responses to "Clover + Joan Hawley = Press Perfect: The New Basics"