Mighty Mini Giveaway: The Small Board You Didn't Know You Needed!
Lazies, Get ready to fall in love! When it comes to pressing small projects or small details, the ironing board doesn't get the job done. Meet my secret weapon for perfectly pressed purses and more: the 2×4 Mighty Mini Board from my Press Perfect line with Clover. Finally, we can reach those corners, nooks and crannies for a perfectly pressed finish.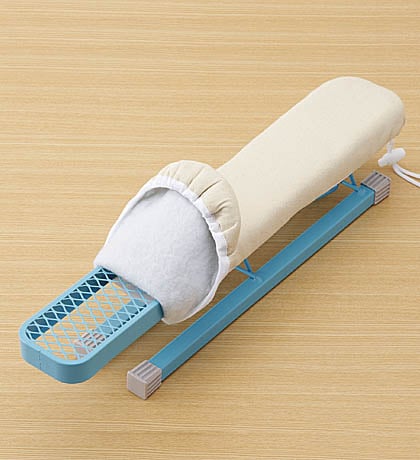 The Mighty Mini is a small board that's all function!
– Squared nose for full function
– Long free-arm
– Sturdy base, metal frame, heavy duty cover/pad
– Low center of gravity for stability and ease of use
– Sized for your hand so you can hold/control the board
– A little longer than two average irons: 21″ long x 3 1/2″ wide x 4″ tall
– Portable, legs tuck neatly beneath for compact storage
– Clover #7800, $46.95 list price
– Order through your local quilt shop, online or click here to order any of the Press Perfect items
The Nose Knows
The squared nose of the Mighty Mini free-arm is revolutionary and it addresses one of my major grievances with all sizes of ironing boards – the elongated rounded nose.
The rounded nose lacks support for our projects right where we need it. It creates pull and drag, allowing our project to droop or sag during pressing. It's the same on the regular board, table topper and the sleeve board.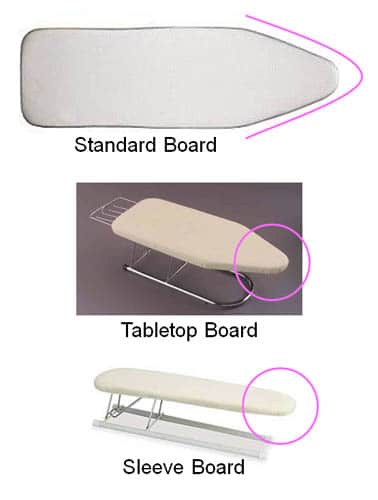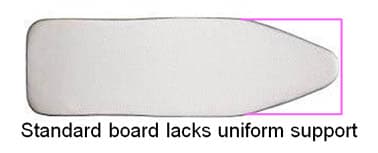 Gosh It's Shaped Like A Piece of Wood
Yes, exactly. It reminds me of a 2×4 plank of wood. That's where it got its name.
Square Gets The Job Done
The squared nose of the Mighty Mini is ideal for pressing small projects like my bag designs. Look how the board fits inside my Claire Handbag design. Imagine how useful this will be for all kinds of projects and details.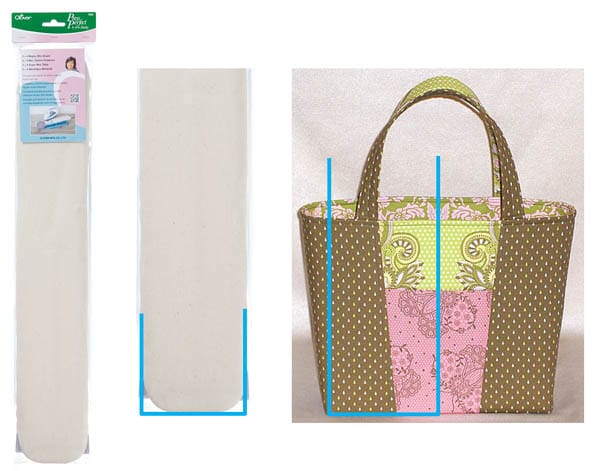 Sleeve Board?
If you are thinking this is just another sleeve board, I understand. I've owned a good number of sleeve boards over the years and I have been disappointed by all of them. Rounded nose, bad shape, unstable, poor quality, bad leg placement, blah, blah, blah. It's enough to make a Lazy Girl develop hard feelings for the whole category.
Well, the Mighty Mini is a smart, functional small board. Don't call it a sleeve board, you'll hurt its feelings. You can certainly use it to press sleeves and collars, but it's so much more than that. It's the new basic you didn't know you needed. Use it in conjunction with your regular board or alone. It literally fills the gaps your big board leaves.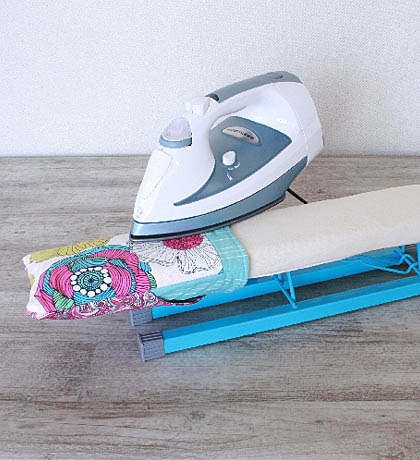 Quilt Market
I'll be in Clover's booth #1802 at Quilt Market in Houston this week. Come by to see me and play with the new goodies. I also hope to see you at my Schoolhouse and Take & Teach in Houston.
Schoolhouse Rm 352A at 1:30, intro and overview of Press Perfect
Take & Teach Sunday 8:00-9:30, hands-on fun with Press Perfect!
Giveaway
I'll select one winner to receive one 2×4 Mighty Mini Board item #7800 from Clover Needlecraft.
Enter To Win
– Enter by posting a comment below. Tell me – what do you think of the Mighty Mini and isn't it about time for some updates at the ironing board.
– One comment per person.
– Be sure you type your email address correctly so I can contact you.
– I'll pick 1 winner using the random number generator.
– Enter by Friday October 25, 2013, 10 pm Eastern time.
– I'll contact winner via email.
Thanks for joining in on the fun of the Mighty Mini and Press Perfect. Remember, comment below to enter the giveaway.
Lazy All Over
Use #PressPerfect when posting to Facebook/Twitter/Pinterest!
Order Press Perfect
Order through your local quilt shop, online or click here to order any of the Press Perfect items.
Enjoy!
Joan
Leave a Lazy Comment
340 Responses to "Mighty Mini Giveaway: The Small Board You Didn't Know You Needed!"