Potpourri: Garbage Bag Fabric, A Big Cat, and Videos Galore
Lazies, There seems to be more and more good stuff for us on the internet all the time. And some silly stuff, too. Today, we have a few new video links, a remedy for a cold tree (or a tree with a cold), and a dandy way to make fabric from plastic garbage bags. Oh, and a really big, expensive cat.
Clover Needlecraft
First, I'm excited to tell you that Clover Needlecraft has their new website up and running. They are offering tips, videos, a free project library and they are starting a Designers' Circle. And I'm very honored to be a member of their Designers' Circle. One of the videos is a demonstration for the Yo-Yo Makers – and it includes using wool to make yo-yos. I had not seen that demo before. Thanks Clover!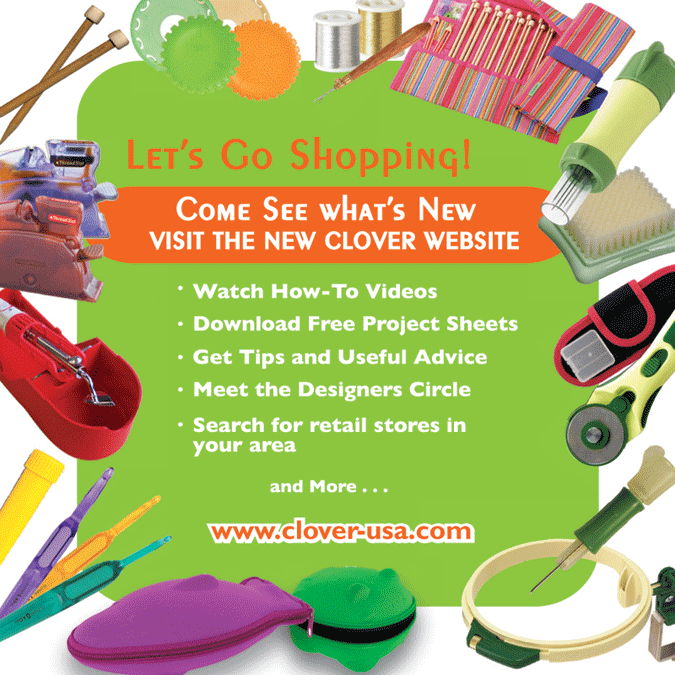 My Blog
New for next week, I'll be hosting, or posting, a mini-series right here on my blog Monday, Tuesday and Wednesday. You'll laugh, you'll cry. Tune in!
Sewing With Nancy
The fabulous Sewing With Nancy program is now online. I love Nancy Zieman. Okay, I'm fond of her and respect the stitches out of her. That's more accurate.
Quilt Stream Online Video
More wonderful programming available at Quilt Stream. I was terribly impressed with the Thread Painting episode.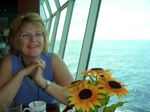 Pat Sloan
Are you a fan of Pat Sloan? That makes you a Sloanie, but you probably already knew that. Pat has a lot going on. As a Sloanie, you can catch up with her at her blog, her Yahoo group or her website. Look at her – she makes it all look so easy. How does she do that?
Candle Pin Cushion
On Pins and Needles – From the BeSewStylish blog. Use a scented candle for a pin cushion. Freshen and straighten at the same time. Nice.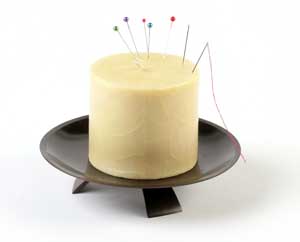 Fabric From Garbage Bags
From: Create "Fabric" From Trash bags: Sewing for Dudes, No. 5.
My college roommate learned this technique in an art class, after which we used to "borrow" garbage bags from the maintenance closet and make rain covers for our bikes and portable hampers/laundry baskets.
A Tree Cozy
Crochet Street Art – From Wheat Wrote What. I have 21 trees in my yard, and if they are all getting cozies, I had better get started. My neighbors would love me.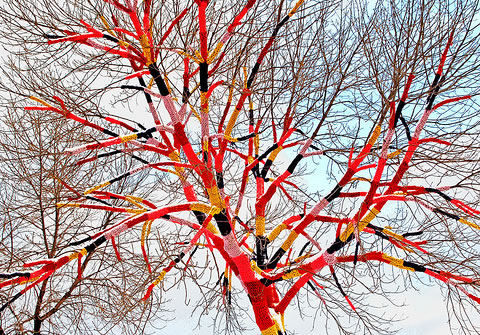 Totally Stitchin'


Totally Stitchin' from Baby Lock.
Everything you need to get started or to step up your sewing is just a click away. Be sure to check out our one-hour projects section, which is full of current fashions that you'll actually wear! There's also a sewing glossary, great tips that will save you even more time, and a gallery to see what other stitchin' women like you have been up to!
Part Time Pet
You probably already know I'm a pet lover. Ready for a part-time pet commitment? Why not rent a pet.
Here Kitty, Kitty, Kitty
Do you like Hello Kitty and Swarovski crystals? Well, then according to Geekologie, you'll need at least one of these: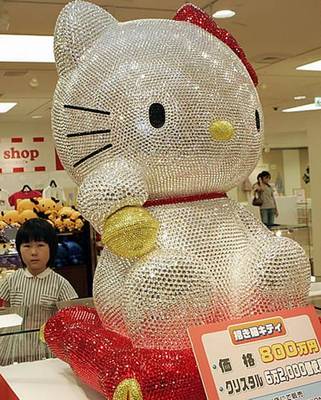 Enjoy!
Joan
Leave a Lazy Comment
3 Responses to "Potpourri: Garbage Bag Fabric, A Big Cat, and Videos Galore"