News and Notes From My Lazy Desk
Lazies, I have some updates and news from my desk today.
New Girl in the Works!
First up, I'm thrilled to tell you I am in the final stages of a new purse design. Her name? Not so quick! They'll be plenty of time for introductions in the coming weeks. Let me tell you a bit about our new Girl. She's a zip-top purse, with two large front pockets, plenty of inside pockets and all kinds of attitude. The zipper is especially exciting. I've developed a new installation for the zipper and it sits down below the top of the bag. So, our new Girl has a dip-down, or sunken zippered top. Since she's a dip-down, there is a little lip around the top edge of the bag which is ideal for grabbing while working that zipper. Oh baby, I cannot wait to unveil our new special Girl.
Flying Geese Ruler
We've recently given our Flying Geese ruler packaging a much needed face lift. You might not find this as exciting as I do, but when as many of these cross before my eyes as they do, it is really refreshing to have this updated look. Here's what the new packaging looks like, with our current logo and the same coloring and styling as our website. Same great instructions, of course. Details about the ruler here: Flying Geese x 4 ruler. There is a wonderful step-by-step post about our Flying Geese x 4 ruler by 'Hedgehog' of Vaasa, Finland, at Life's a Quilt blog.
Sweden, Anyone?
I have accepted an invitation to teach a couple of classes in Sweden this Fall. The event is Quiltkoping in Lidkoping, Sweden in early September. My friend Carolyn Griffin of Far-Flung Quilts will be teaching with me. We've just submitted final class proposals and don't have much more to share at this time. Marti Michell and Terry Atkinson are also scheduled to teach at Quiltkoping.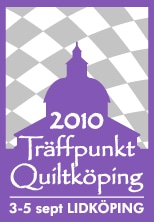 I'll keep you posted as details develop. And, I hope to update the blog during our trip. Here's a link to the show: http://www.quiltkoping.se/ And here's a link to Far-Flung Quilts: http://www.farflungquilts.com/hnewinfo0.html
My Dad
Lazies, my dad is doing great. His cancer surgery is two months behind us already and dad is feeling and looking great. He continues with healing and follow-up protocol and is busy setting the world on fire. We appreciate all of your support and love for dad, me and my family. It means a great deal to us, thank you.
Speaking of cancer, I wish this resource had been available to me earlier. I'm reading the book 'Anticancer, A New Way of Life' by Dr. David Servan-Schreiber and I highly recommend it. I have found this book to be both encouraging and informative with regard to cancer and supporting your body's natural defenses. Dad is following many of the Anticancer nutrition and lifestyle recommendations from this book. If you want to check it out, here's a link for the book: Anticancer, A New Way of Life.
So, there will be more news to come on our new Girl, I'll keep you posted about Sweden and I hope you find some time to enjoy the beautiful spring weather when it comes your way.
Enjoy!
Joan
Leave a Lazy Comment
20 Responses to "News and Notes From My Lazy Desk"