Cecile McPeak on Buttons: What Comes First, the Chicken or the Egg?
Our Guest Blogger series continues today with Cecile McPeak of Just Another Button Company.
Thanks Joan and Lazy Girl for inviting me to talk to you!
As head Buttoneer here at Just Another Button Company (JABC), I'll share a little bit about our buttons. Then hop over to our JABC blog to enter our Giveaway!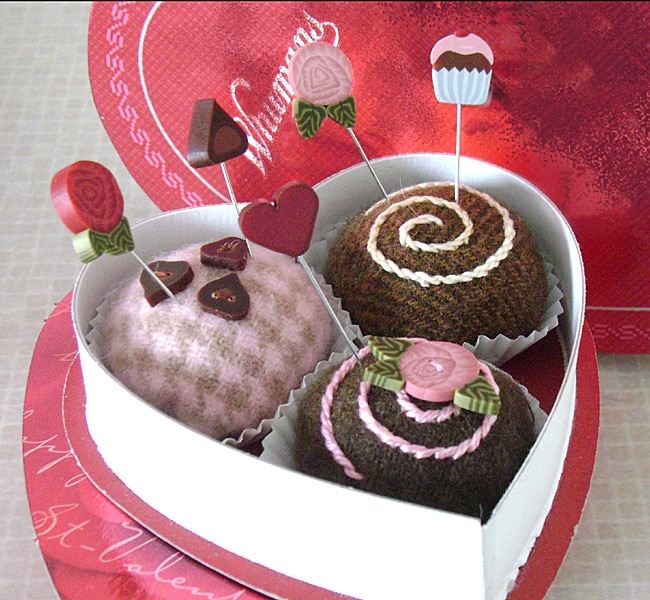 One of JABC's 15th anniversary pincushion kits.
At JABC, we live amidst buttons, thousands of them, tens of thousands. And we make more every day.
What Comes First?
To the proverbial question of what comes first, the chicken or the egg, our answer is both.
– Chickens: Sometimes projects come first and we design buttons to fit them.
– Eggs: Other times we make buttons with no project in mind.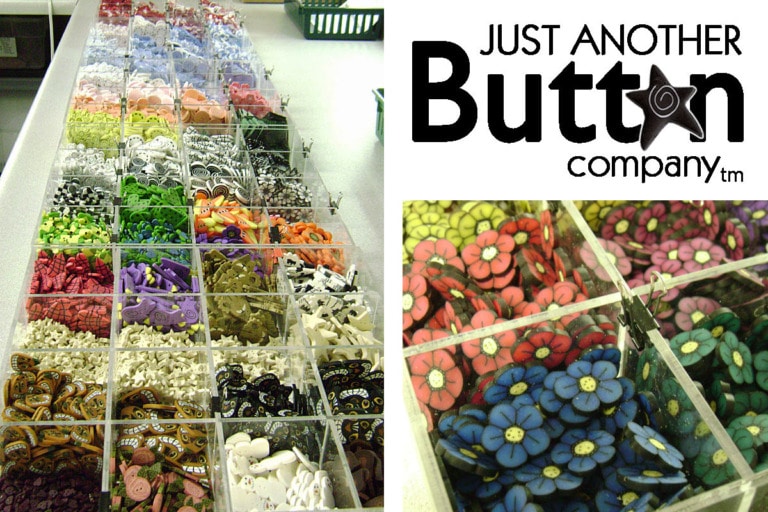 Lots and lots and lots of JABC buttons.
Chickens First
We do actually have buttons that look like chickens, but really what I mean is that sometimes the chicken comes first, and we are challenged to create a button to fit someone else's vision.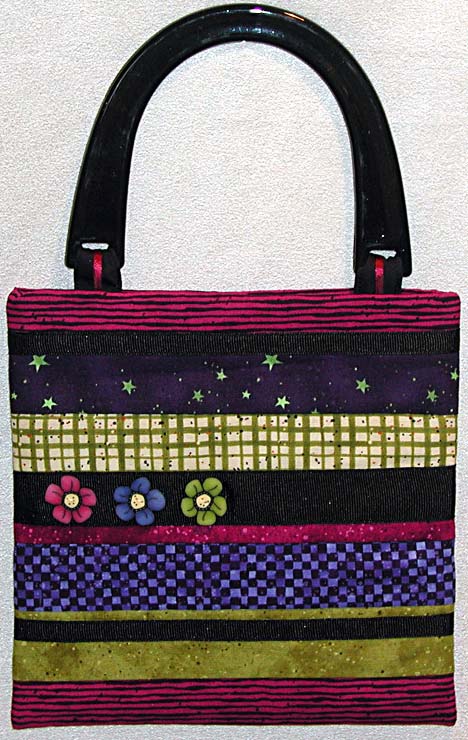 Joan's Inspiration
The JABC Crayon Box wildflowers were chicken buttons, created to embellish a Lazy Girl Katy bag. Joan invited us to create a bright and bold button for a Lazy Secret project sheet. (Click here for project sheet.) The result was this fun project of fabric strips and ribbons, and we made the wildflower button in 12 colors so Lazies everywhere could coordinate with their favorite fabrics.
Nancy Halvorsen
Designer Nancy Halvorsen interprets her whimsical art into fabric and Art to Heart books. As she plans quilted projects for a book, Nancy sends us artwork with a request for new buttons. In May, a new Art to Heart book debuts in quilt shops, showing three new JABC buttons–an elf, a sleigh and a reindeer. We are busy figuring out how to produce and package the buttons, but because the chicken came first, we already know how button customers will use them.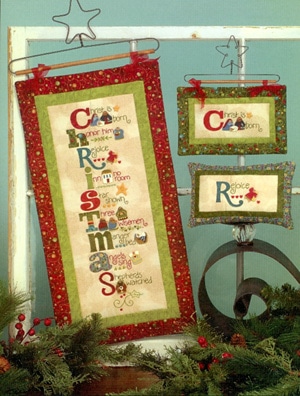 The Art to Heart book, Tidings, shows button lovers
a perfect project to use our line-up of nativity buttons.
Other Designers
You'll find our buttons in lots of books, charts and kits. We create custom buttons for Patch-abilities, Shepherd's Bush, Quilt Company, Raise the Roof and many more of your favorite designers. We love hearing from designers because they encourage us to stretch our imagination. Countless times we have wondered how in the world to fill a special request, and yet we met the challenge–a camel, a drumming mouse, a flying reindeer… Right now we're stumped by a horseshoe of all things, but we'll get it right. We have to–it's a chicken button and the designer is waiting!
Eggs First
What about the other buttons–the eggs? And yes, we do have egg buttons too, in farm fresh brown and a variety of Easter shades to please any bunny. But I'm talking eggs, as when the egg comes before the chicken and we have a fantastic idea for a new button, but need to show consumers how to use it. Sometimes we just feel the world needs more buttons–before there is any pattern in print that calls for them.
It's a safe bet that other button lovers can relate to the person who told me recently that she created an entire garment just to use a favorite button. I've done that–garments, embroideries, wall hangings, and soft sculptures. Fifteen years ago I went a step further and started with the idea of a button that would lead to the fabric project. I made bee and ladybug buttons from polymer clay, and then designed a silk ribbon embroidery garden for the bug buttons. That's what I think of as the egg approach–make the button, then figure out what to do with it.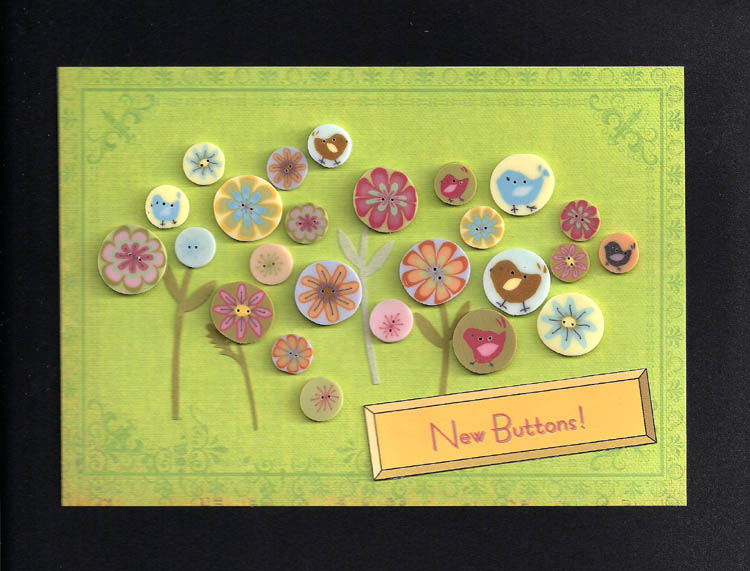 Beautiful Lemonade From Lemons
It was the egg-first thing that led to our Lemonade Collection of buttons. We use polymer clay to build buttons, but a few years ago, the clay was reformulated to remove phthalates. The new formula challenged our tried-and-true color palette, and we were often frustrated. But seeing the fresh summer-y colors in scrapbook stores, I realized they looked familiar. They were the colors we were calling "mistakes" with the new clay, so we turned lemons into lemonade–the Lemonade Collection to be precise.
Introducing Pincushions
Now what? The egg came first, and we needed to suggest how to use it. In addition to drilling the standard two holes for button stitching, we drilled a single hole on the edge of some lemonade buttons, then glued in a stainless steel straight pin. Oooh, baby, we had a new way of using buttons as embellishment–pins!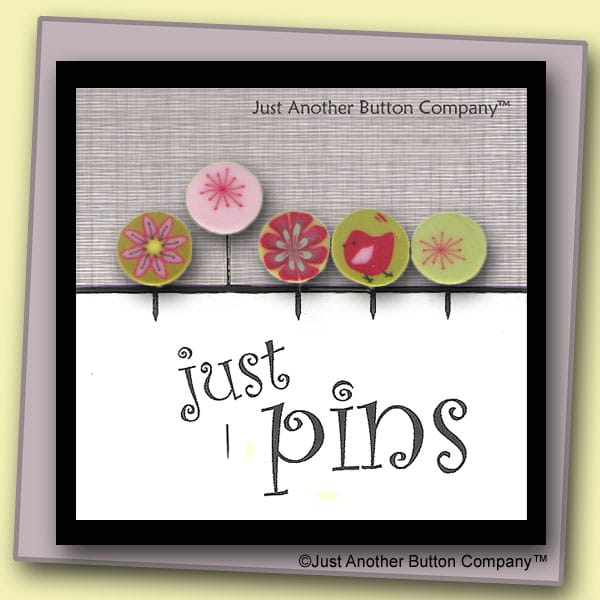 With a multitude of cross stitch charts, Button Backgrounds (crayon on muslin), and wool applique patterns on hand, this year we decided to focus on pincushions to promote egg buttons. To celebrate our 15th year of button making, in 2011 we are introducing 15 fun new pincushion kits using our buttons and pins to embellish felted wool. Five pincushion kits are released so far. Come celebrate with us as we reveal a new design each month!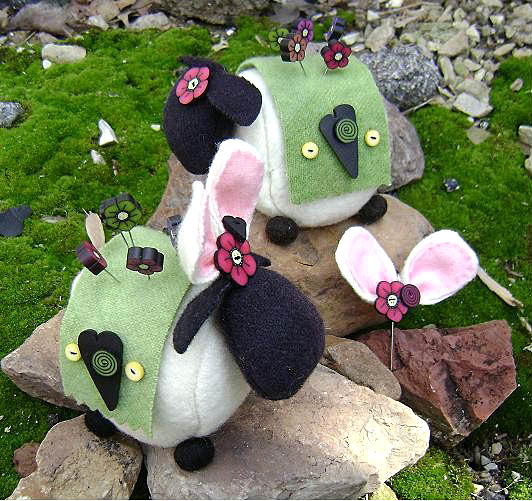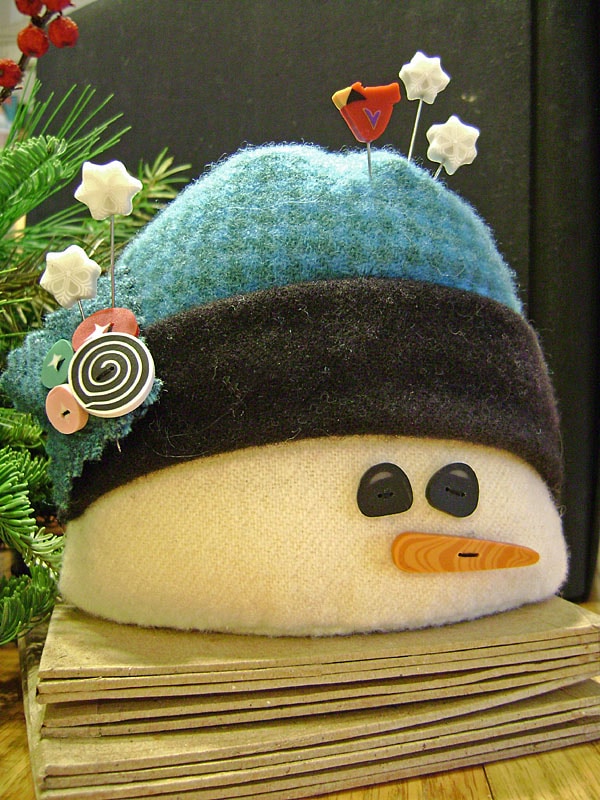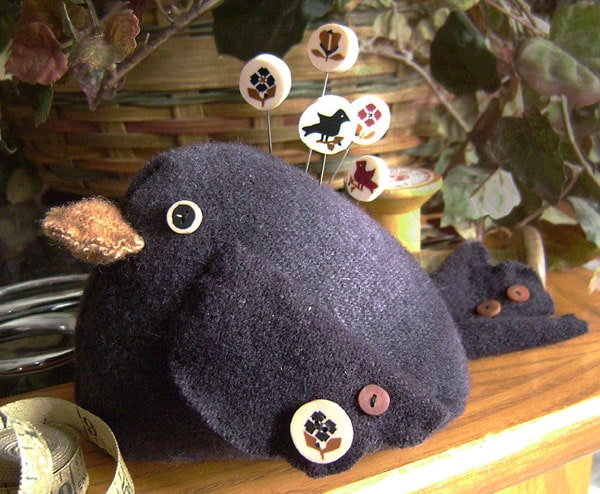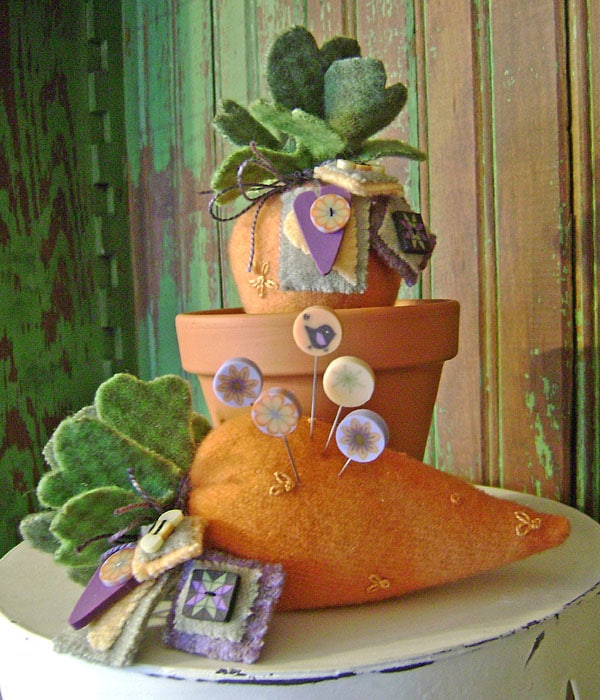 We hope you visit our website to see all our buttons, pins, needle threaders and pincushion kits. There are also lots of chicken and egg projects to show you, too!
Giveaway: Pincushion Kit
Hop over to our blog to enter to win one of our anniversary Pincushion kits. Click here to go to our blog to enter.
Where To Buy
Purchase JABC products exclusively at independent quilt and needlework shops.
Click here to find a quilt shop or needlework store near you.
Join Us!
Follow our blog, The Daily Button, and visit us on Facebook.
Web: www.JustAnotherButtonCompany.com
Blog: www.justanotherbuttoncompany.blogspot.com
Facebook: www.facebook.com/pages/Just-Another-Button-Company/87377875926
Cecile McPeak
Just Another Button Company
–Where we are 15 and Fabulous!
Note: The winner of the Amy Barickman book and pattern giveaway from last Monday is Kathy Knapp. Amy will be contacting Kathy directly.
Leave a Lazy Comment
29 Responses to "Cecile McPeak on Buttons: What Comes First, the Chicken or the Egg?"