Awesome: From Poison Ivy to Sewing
Lazies, Let's celebrate Awesome, shall we? It's all around us and worth noting. A while back I heard about Neil Pasricha's '1,000 Awesome Things' blog and had to check it out. During a rocky stretch in his life, Neil started the blog to ensure savoring one positive thing in life each day. One awesome thing. I just got my copy of his recently released book 'The Book of Awesome'.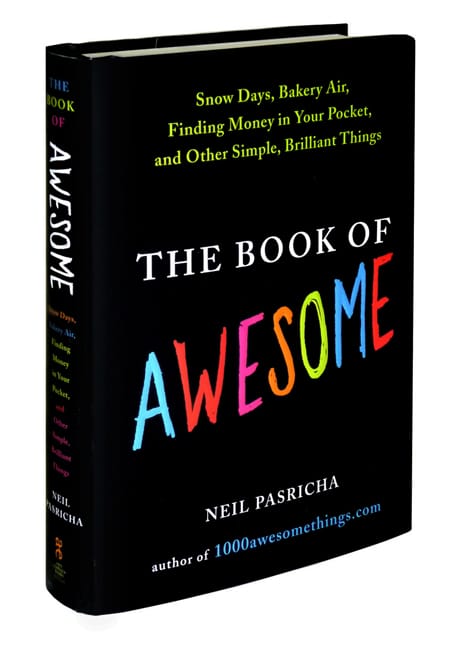 The Book of Awesome.
Snow Days, Bakery Air, Finding Money in Your Pocket and Other Simple,
Brilliant Things. By Neil Pasricha in April 2010
from AEB/Putnam, a division of Penguin Publishing.
Neil got me to thinking that I could use a little awesome lately since my last few weeks have been a series of challenges. So, from poison ivy to sewing, here's my short list of recent awesome.
Lazy Awesome
It is absolutely awesome when you share pics of your Lazy Girl creations. It makes my day to see your successes and hear about your enjoyment of my designs. Post pics online at our Yahoo group, Facebook page or your blog. Show and tell is one of my favorite sewing awesomes listed below.
Poison Ivy Awesome
Oh boy, poison ivy – vile weed. Wow, it's been four years since my last poison ivy adventure. Since then, I've hired the guy next door to do the weeding because of the vile weed. Apparently, I'm quite allergic. He's much less sensitive to it and is a real dear to help this old pathetic soul out.
Well, I lost sight of my own reality, decided the yard was free of poison ivy and set about to do some weeding. This was nearly two weeks ago when our weather was hot and humid and we had pop-up showers most days, so I did a little at a time. No surprise – I have two bouts of poison ivy that started a few days apart. Worse still, I didn't realize it was poison ivy. It started at my waist and I thought it was heat rash from being caught in the steamy miserable rain a few times. I was naively surprised a week later when my dermatologist proclaimed it poison ivy and gave me a prescription. This is awesome because of what it wasn't. It wasn't MRSA, staph, or shingles. My mind had time to latch onto the possibility of worse issues. It's only poison ivy and I hope to never pick weeds again.
Early Wisdom Awesome
Here's a dandy little blog post you might enjoy from Mighty Girl (wonder if she's a Lazy Girl, too). 20 Things I wish I knew at 20.
Around The House Awesome
A light switch blew and I installed a new one. My first time ever. I felt invincible. It only took three calls to Dad, two trips to Home Depot, two online videos and three hours. I know what to do, what not to do and how to do it.
Kitchen sink backed-up and flooded the dishwasher, causing it to stop working – don't ask. Roto Rooter was here right away and took care of the sink – awesome. The appliance guy came the next day and fixed the dishwasher. He gave me a few insider tips and now I'm a pro on the dishwasher. Rinse aid – for streaks, use less; for spots, use more. To clean the dishwasher, run an empty cycle using lemonade mix in the soap dispenser and throw a little inside the dishwasher, too. Awesome sparkly clean.
Computer Awesome
New Lazy Girl computers and network – ack! It was a battle to get everything in place and running, but with the help of my awesome tech guys, we did.
Dad Awesome
Dad is doing great since oral-cancer surgery 5 months ago. Good follow-up visit with the surgeon yesterday and a CT scan showed no signs of cancer. Atta boy Dad!
Sewing Awesome
This is an easy list and I bet you can add to it.
– When there is just enough thread on the bobbin to finish. Sweet!
– Threading a needle on the first try. Yes! I can still see!
– Finding the perfect fabric in your stash. Oh baby!
– An all-day marathon of your fav TV show or movies to keep you company.
– Always having your scissors at hand. Always!
– Visiting your fav quilt shop, any time, any where.
– Finding a cool new notion.
– Friend's show and tell. They do the work, you get to enjoy the eye candy!
Neil, in honor of your awesome inspiration, we are making you a Lazy Girl. Welcome to the club!
What's on your awesome list? Post a comment and tell me about the awesome in your life.
Enjoy!
Joan
Leave a Lazy Comment
29 Responses to "Awesome: From Poison Ivy to Sewing"