A Sweet and Simple Valentine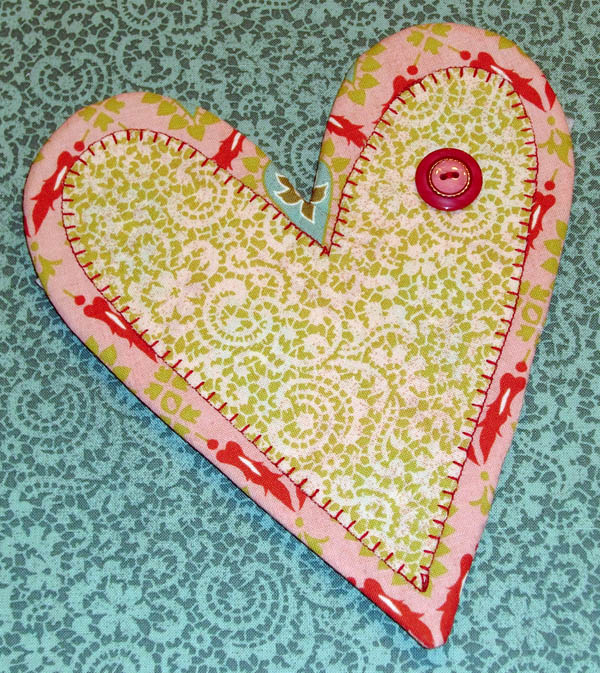 Lazies, Happy Valentine's Day! Consider yourself hugged and smooched. Above is the Valentine I made for my nephew. I used a pattern I found at PatternSpot.com as a launching point (link below), but that design is shown as little stuffed heart pillows. I need to mail this to my little Valentine, so I used a flat, sew-in batting.
My crafty heart would be perfect for a drink coaster, but my six-year-old little guy doesn't need one of those. I'm hoping his mom will hang it on the fridge with a magnet. It weighs nearly nothin' and it's thin, so your average magnet should hold it just fine. My finished heart is approximately 7″ tall by 6.5″ wide.
I did the buttonhole stitching by machine. I used Nancy Zieman's great tip of narrowing the stitch width as you stitch around the bottom point. I wrote about this on my blog earlier as part of Nancy's blog hop.
The project worked up quickly, but I only had time to make this one. I look forward to trying more projects with the sew-in batting from Them O Web, it's perfect for projects like these. Keep it in mind for placemats and table runners.
Supplies
Thread: Aurifil Mako 28 in color #2260 for the buttonhole stitching
Fabric: 'Hello Luscious' by BasicGrey for Moda
Pattern: 'Funky Valentine' found at PatternSpot.com
Fusible: Heat n Bond Feather Lite #3531
Batting: Therm O Web Non-Woven craft sew-in firm #2435
Have a wonderful Valentine's Day!
Enjoy!
Joan
Leave a Lazy Comment
3 Responses to "A Sweet and Simple Valentine"