Foster A Love Of Crafting With Rosie O'Donnell's New Book 'Crafty U'
Lazies, I love Rosie O'Donnell's new book Rosie O'Donnell's Crafty U: 100 Easy Projects the Whole Family Can Enjoy All Year Long. In fact, I can't remember being more impressed with a craft or project book. I wish I had a book like this when I was growing up.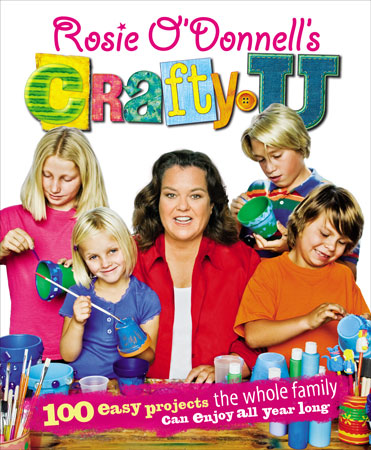 Crafty U publishers Simon & Schuster offered a copy of Rosie's new book (released in April) to enjoy and possibly blog about. I'm so glad I said yes and had a chance to see Crafty U.
Why I Like Crafty U
As I read the entire book cover to cover, I made each of these interesting, diverse and simple projects in my mind. Crafty U is a book you can use. With clear and understandable instructions, and excellent photography, you can make these projects and explore these crafts with ease and confidence.
Who Needs This Book?
Aimed at children ages 5-12, I thought of my long-time friend Emily and her daughters as I read Crafty U. Emily is not a crafter and she lives out of town. So I can't be there with my aunt-ly craftiness in person all the time. However, with this book, she can be a craft teacher for her girls and give them the opportunity to start a life-long love of all things crafty. I plan to gift this book, along with the supplies needed for one project, to help my non-crafty friend start her girls on a crafting journey of their own.
Where Would You Be Without Crafts?
What role has crafting played in your life? Crafting has had an enormous impact on my life. Without all of my years of crafting, I don't know that I would be Lazy Girl. Running and being Lazy Girl is the best job I ever could have hoped to have.
Getting Started
Want to see how easy these projects are? Amazon.com hosts a video of Rosie making the 'Light Up Your Life Switch Plates' project here. There are more resources at Rosie's website here.
Rosie uses many items and resources you'll find around your house. Her projects span many areas of crafting: sewing, beading, painting, paper crafts, etc. Crafty U could be the foundation for an at-home crafting program.
Rosie, I applaud you for this wonderful book. I whole heartedly recommend Crafty U for the crafter wanna-be or child in your life.
A Lazy Perspective
If you enjoy my patterns for their ease of use and successful outcomes, you'll find the same enjoyment from Rosie's book with regard to her projects. Crafty U offers the opportunity to instill confidence in young crafters. I feel strongly that building confidence through successful efforts will bring a crafter back for more. More of the same, or more in general. For this reason, I'm making Rosie O'Donnell an honorary Lazy Girl.
Enjoy!
Joan
Image courtesy of Simon & Schuster.
[tags]Rosie O'Donnell, craft[/tags]
Leave a Lazy Comment
3 Responses to "Foster A Love Of Crafting With Rosie O'Donnell's New Book 'Crafty U'"